Terry Wallace
Senior Web Content Editor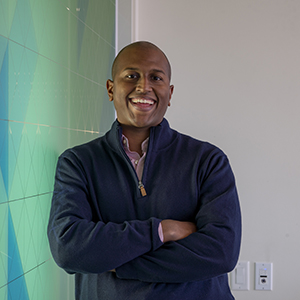 "I am a natural go-getter and I love engaging in community outreach initiatives. T. Rowe Price has helped me cultivate my leadership skills by providing me with a wide variety of opportunities to lead events in and around Baltimore. I take pride in knowing my company is as committed to the wellbeing of the surrounding community as I am."
Six years ago, Terry Wallace had just won a video game development competition at a convention in Washington, D.C. Then, a recruiter for T. Rowe Price approached him. "The firm was not even on my radar," recalls Terry, now a Senior Web Content Editor at the company. "It shows how they hire from all types of backgrounds."
With degrees in both art and video game development, Terry works with the firm's business units to promptly publish essential web content. He also ensures it is consistent with best practices and the T. Rowe Price brand. "We are primarily responsible for content edits and implementing approved digital enhancements within content management systems," he says. "I partner with designers to create and develop new web pages and custom microsites for the Retirement Planning Services business unit."
He never expected his career path to lead him to T. Rowe Price, but his unique background has enabled him to approach projects from varying viewpoints. "I'm able to be creative and think outside of the box to design better web solutions," Terry says. "Artists can see things from a different perspective and help make the material, which are web sites in this case, more appealing for the audience."
Thinking outside the box has also led Terry to explore unique opportunities in community outreach and personal growth while at the firm. Four years ago, he became involved with PRIDE @ T. Rowe Price, the firm's lesbian, gay, bisexual, and transgender business resource group. A passionate conviction that everyone should be treated equally prompted him to seek an active role in the organization. After forging a partnership with the Baltimore Chamber of Commerce, Terry helped T. Rowe Price obtain a spot in the city's annual Pride Parade.
The current pandemic has, unfortunately, put a damper on this year's festivities. The firm's Colorado office, however, is still participating in a virtual parade. "T. Rowe Price also has so much internal social engagement," Terry says. The firm has encouraged associates to add a Pride month banner as part of their signatures. "It still brings awareness, and everyone gets to see it. This image is a way of celebrating and letting everyone know that we haven't forgotten."
A colleague who was also active in PRIDE introduced Terry to a charitable event a 140- mile bike ride to support Moveable Feast. This nonprofit organization provides meals to those in need who are dealing with cancer, H.I.V., and other severe health conditions. "Each year the team raises over $25,000," he says, adding that this is his fifth year riding and his third year as a team co-captain. "I ride because I can and for those who cannot. Not everyone is as fortunate as I am to be mentally and physically capable, work for an awesome company, and eat three healthy meals a day."
Terry is also involved in MOSAIC, the firm's business resource group that aims to advance cultural diversity. As part of the group, he has assisted in organizing various events. "For Black History Month, I helped bring in doctors from different backgrounds to speak about how diversity and representation affect patients' healthcare outcomes," he explains. "In January, we did events for the Chinese New Year, and in December, we celebrated Kwanzaa."
One day, after stopping to speak with another associate who was volunteering in the campus garden, he, too, became involved with the firm's sustainability efforts. "Before I knew it, I became an active leader within the garden community and now run the garden in Owings Mills," he remembers. And as a dedicated member of the Maryland Sustainability Team Steering Committee, Terry has worked on initiatives that reduce plastic waste on campus and ensure all buildings can compost.
A natural go-getter, Terry has cultivated his leadership talents through the firm's branch of Toastmasters International. He served as both vice president of public relations and president of the public speaking and communications club. And as an area director, he became familiar with other Toastmasters clubs in the region. "I was able to grow, develop and get out of my shell to feel comfortable to talk and lead," he explains.
During his six-year tenure at T. Rowe Price, Terry has felt incredibly supported to pursue interests or opportunities. "I've had a ton of shadow sessions to get to know what others at the firm are doing," he says. "It has helped me find direction and realize there is more that I would like to know from a business lens."
To that end, Terry is now also pursuing an M.B.A. degree. He credits the firm's support for making this opportunity possible through an education assistance program for tuition, online resources for stress management, and flex work arrangements. He's continued to attend classes online during the shutdown while also working from home. "My experience has been a blessing. T. Rowe Price has been very supportive during the pandemic. And the culture continues to shine through. The online engagement has been amazing I still feel connected, although I'm not on campus."
Terry is grateful that he has been able to build his professional skills through training and education while working at T. Rowe Price. But he's also felt extremely encouraged to pursue his passion for community outreach. "Keep your eyes open for all the opportunities," he advises others. "I've learned how to garden, organize a parade, speak at public events, and plan networking opportunities through the many business resource groups," he says. "It's because of the amazing T. Rowe Price culture and leadership that I can pursue these and feel supported. It has allowed me to grow and give back in ways that I could not have imagined."
* All currency is in U.S. dollars unless otherwise stated.