T. Rowe Price Foundation
Supporting change and
enhancing community life.
"The foundation has allowed us to maintain exemplary student outcomes and build organizational capacity to support future expansion."
-Sarah Hemminger, Cofounder, Thread, Baltimore, Maryland
AREAS OF INTEREST
Addressing community issues from every angle.
The foundation is enhancing community life with grants in the following areas:
23 Little Free Libraries across Baltimore were funded by the T. Rowe Price Foundation through a grant to the Fund for Educational Excellence.
The T. Rowe Price Foundation hosted a capacity-building workshop series attended by nearly 100 nonprofits to support the buildout of their capabilities.
New Boundaries Coalition and Strength to Love Farm II received a $200,000 grant to increase the accessibility of fresh produce in West Baltimore.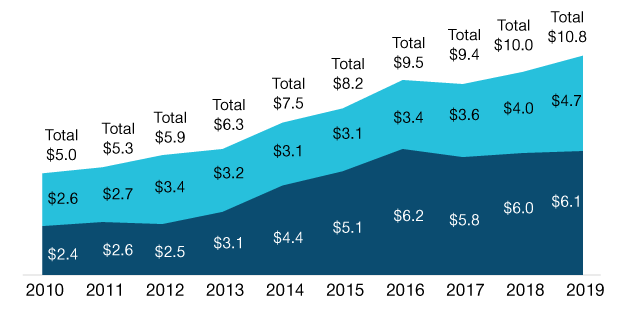 MATCHING GIFTS
Encouraging and empowering associate giving.
The foundation is powered by the generosity and talent of the firm's associates, who have a strong commitment to their communities. Through the Global Matching Gift Program, the foundation doubles the impact of associate donations by matching their contributions. The program also encourages volunteer service by awarding grants to organizations in which associates volunteer. In 2017 alone, matching gifts topped $6 million.
given by associates through the workplace in 2017

DIRECT GRANTS
Supporting
innovative solutions.
The foundation provides direct grants in communities where the firm's associates work and live. With a primary focus on education and youth development, the foundation works closely with nonprofits to identify new and effective ways to meet the challenges in our neighborhoods.
 
direct grants awarded by the
T. Rowe Price Foundation in 2017

Highlights
Bard High School Early College gives students a jump-start on college.
 
With the help of a $100,000 grant from the foundation, Bard High School Early College (BHSEC) opened their first school in Baltimore, Maryland. The school provides urban students with a tuition-free high school education as well as the coursework required for an Associate of Arts degree. In 2014, BHSEC schools across the country achieved 100% graduation rates―for an A+ in public education.
New Leaders for New Schools is transforming school leadership.
 
New Leaders is developing transformational school leaders and designing effective school leadership policies and practices. The foundation recently bolstered its ongoing support of this award-winning organization with $25,000 in additional funding for their Emerging Leaders program, which strengthens the leadership skills of talented teachers, coaches, and assistant principals.  
The foundation is supporting student success at the University of South Florida.
 
From sponsoring the "25 Under 25" program that recognizes the best business undergraduates to mentoring first-generation college students, T. Rowe Price has a longstanding relationship with the University of South Florida (USF). Since 2009, the foundation has provided more than $80,000 in grants to fund scholarships for first-generation college students, which the state of Florida has matched dollar for dollar.
All data as of December 31, 2017, unless otherwise stated.
All currency stated in U.S. dollars.
1Charitable gifts made by our associates outside the U.S. are matched by T. Rowe Price Group, Inc. Total matching gift numbers may be higher than what is shown in this chart.