SPOTTING ALPHA IN ESPORTS
Capturing growth from increasing video game engagement.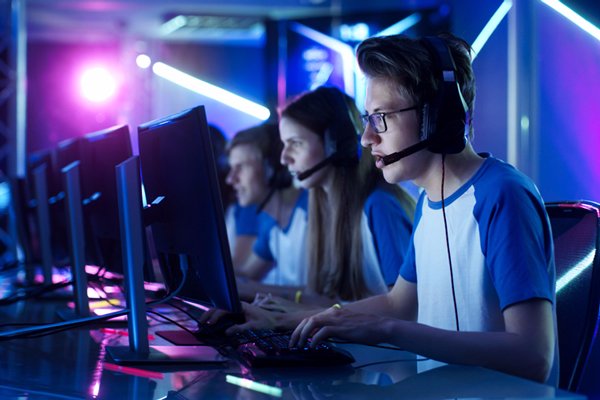 For video gaming enthusiasts, T. Rowe Price investment professional Emily Scudder may have one of the most coveted jobs in the world. She gets to see the latest games while they're still being developed and attend the major developer and gamer conferences, as well as esports league matches in which professional and amateur video game players vie for cash prizes before live spectators and online enthusiasts.
But Emily is not playing games. In this fast-paced sector, it's her job to thoroughly assess the investment potential of publishers that produce and market the games and stay on the pulse of developments—such as the next big esport—that could to lead to opportunity for investors.
"It's important to understand the trends within the industry," says Emily. "At T. Rowe Price, I focus on what these businesses could look like and how they might perform several years out."
Balancing data analysis and field research.
While Emily spends a lot of time reading reports, studying game reviews on outlets like Metacritic, poring over industry data, and conducting traditional financial statement analysis—she also meets with company managers and game developers; talks with advertisers; and interviews game consumers, competitive esports players, and other league participants—all in order to go beyond the numbers for the full story on the investments she recommends.
Public companies that Emily follows in the video game publishing space include Electronic Arts and Activision Blizzard.
Esports and digital trends drive video game growth.
The shift to digital downloads and streaming means instant access to video games as well as to updates and add-on features. The result: People are playing games longer and publishers that can continuously deliver compelling content are gaining more revenue, and digital offers higher margins than physical products.
In addition to playing longer, data reveal growing numbers of people watching others play video games on sites like Twitch, a leading platform.
"Esports viewership is strong and growing, and game publishers are starting to show signs they can monetize that viewership with new revenue streams…"
For several years, enthusiasts have participated in competitive events. But until recently, publishers haven't monetized this viewership. Now they're looking at ways to do so such as in-game sales of add-on features and content, advertising revenue, media entertainment, and esports.
Activision is pursuing this path most aggressively. In 2018 the company had the inaugural season for its Overwatch League and this year it has expanded to a 20-team league, based on its popular "Overwatch" game franchise, with matches broadcast on Twitch. According to Emily, "Esports viewership is strong and growing, and game publishers are starting to show signs they can monetize that viewership with new revenue streams, including broadcast rights and advertisements."
Going out into the field provides the full story.
When Emily meets with a company, she prefers to talk to people at different levels of management. She believes this provides a sense of message consistency. "You hear what the strategy is, and how the company is executing on it. That helps inform whether or not the company management is actually putting into practice what they are saying."
"You can never know everything…That's why it's very helpful to go out into the field and get firsthand knowledge…"
Industry conferences, like E-3—Electronic Entertainment Expo—provide opportunities to meet company management teams as well as people who design games and play them. And consumer conferences like BlizzCon, sponsored by Activision Blizzard, enable Emily to meet enthusiasts and take in esports matches. "As an investment analyst, it's informative just to observe the crowd cheering for players and holding signs like you might see at other professional sports.
"It's another indicator of how big the esports opportunity is—and how serious the fans are."
Emily never stops at surface-level analysis.
She's always striving to uncover new avenues of growth to provide investment recommendations that could deliver results for investors.
"You can never know everything," she says, "and you're constantly looking to challenge your views. That's why it's very helpful to go out into the field and get firsthand knowledge by talking to experts and people who are living the business day in and day out."
INVESTMENT PROFESSIONAL, U.S. EQUITY DIVISION
"Continuously challenging your thesis by incorporating new information is a key aspect of investing, and in an evolving space like video games, it's imperative to get out into the field and stay connected to the industry."
HOME BASE
Baltimore, Maryland
COVERAGE
IT hardware and services, video game publishers
EDUCATION
M.B.A., The Wharton School, University of Pennsylvania
INTERESTING FACT
Former public accountant
YOU MAY ALSO BE INTERESTED IN
Let us help you get started.
Speak to an investment specialist about solutions that might be right for you. Or choose from a broad range of funds with 4- or 5-star Overall Morningstar Ratings.
Electronic Arts Inc. represented 0.21% of the Blue Chip Growth Fund as of 3/31/20; Activision Blizzard was not held by the Blue Chip Growth Fund as of 3/31/20.
Technology stocks historically have experienced unusually wide price swings, both up and down. The potential for wide variation in performance reflects the special risks common to companies in the rapidly changing field of technology.