INNOVATING IN HEALTH SCIENCES
Investing in breakthrough therapies.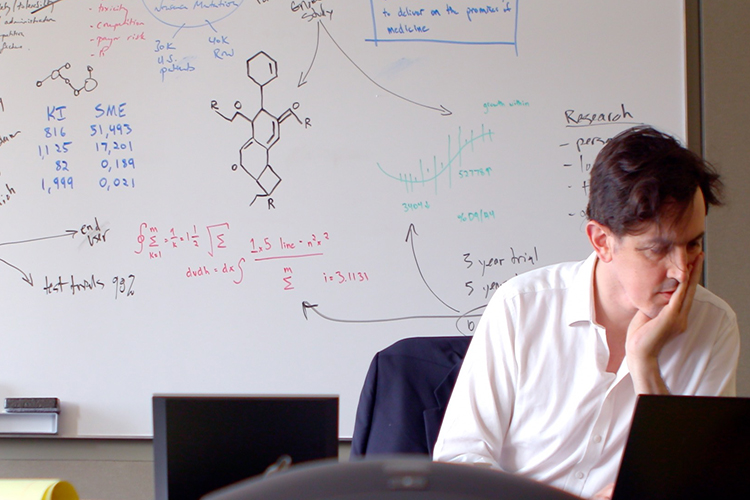 Portfolio manager Ziad Bakri puts capital behind ideas with the most potential.
Ziad visits biotech labs in a quest for the best investing ideas—like a firm that engineers a patient's own cells to fight cancer.
Imagine that your disease is going to kill you in less than a year, but a company develops a way to genetically engineer your own blood and your own immune cells to actually recognize the cancer and attack it. Instead of poisoning the cancer cells with toxic chemicals that wreak havoc on the immune system, you tweak the patient's blood and let the body's natural immune defense take care of the rest.
After medical school in the UK, I worked as an emergency room doctor. What drew me to capital allocation in health sciences was the potential to help many people for years to come through investments that help fund medical innovation.
My team and I often choose to invest at the very early stages of human trials, and sometimes when it's just a concept. It's exciting to see innovations shift from concept to reality.
The human body is made up of proteins. Any disease caused by too much of a bad protein can be controlled or cured by blocking protein production at the cellular level.
It's a priority of mine to go out into the field so I can see firsthand if this is something real. Making the right investment decision is important not only for our investors but for mankind in general—because today's treatment, which took years to develop, can have long-term future benefits for generations to come.
Investing lets me use everything I've learned as a doctor, to help make a positive impact on the world.
So that's why I go beyond the numbers.
"It's a priority of mine to go out into the field so I can see innovations firsthand."
PORTFOLIO MANAGER OF THE HEALTH SCIENCES FUND
"Investing lets me use everything I've learned to help make a positive impact on the world."
HOME BASE
Baltimore, Maryland; born in the UK
COVERAGE
12 years of investment experience, six of which have been at T. Rowe Price. Before transitioning to the investing world, was an emergency medicine resident at the Royal London Hospital.
EDUCATION
Bachelor of medicine, bachelor of surgery (M.D.), University of Nottingham Medical School
INTERESTING FACT
Entered medical school in the UK at age 18, following in the footsteps of his father and siblings—all of whom are physicians.
YOU MAY ALSO BE INTERESTED IN
Let us help you get started.
Speak to an investment specialist about solutions that might be right for you. Or choose from a broad range of funds with 4- or 5-star Overall Morningstar Ratings.
This material is being furnished for general informational purposes only. The views and opinions expressed are those of the investment analyst at the time of production and are subject to change without notice. There is no guarantee that these views will come to pass, and may differ from those of other T. Rowe Price group companies and/or associates. Information and opinions are derived from proprietary and non-proprietary sources deemed to be reliable; the accuracy of those sources is not guaranteed.
All investments are subject to risk, including the possible loss of principal. Health Science stocks face special risks, including adverse legal or regulatory developments, patent expirations, market competition, and rapidly changing industry dynamics.
This material does not constitute a distribution, offer, invitation, recommendation, or solicitation to sell or buy any securities; it does not constitute investment advice and should not be relied upon as such. Investors should seek independent legal and financial advice, including advice as to tax consequences, before making any investment decision.