TURNING WASTE INTO OPPORTUNITY
Seeking superior returns and sustainability in waste management.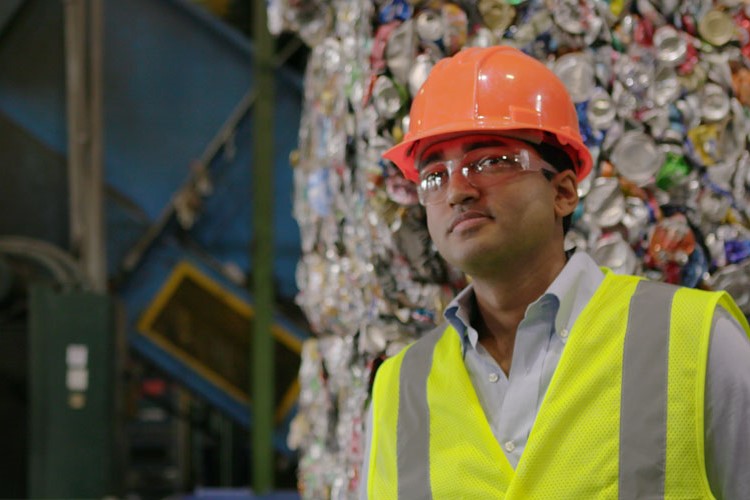 Equity analyst Vivek Rajeswaran explores opportunities in the life cycle and future of trash.
From collection to processing, Vivek evaluates the infrastructure and operations of efficient and sustainable waste management companies.
I love trash.
Okay, let me qualify that. The average American creates roughly 5.9 lbs of trash per day. If you do the math that's upwards of 260 million tons of waste per year in the U.S. alone. A number that increases exponentially when you consider the waste being created around the globe. That's a lot of trash.
It's not the actual 'garbage' part of trash that fascinates me. It's the infrastructure around it. The systems required to move it from point A to point B. The enormity of such an operation, undertaken on a daily basis in every neighborhood around the globe – this is what fascinates me about trash.
Most of the trash we create ultimately ends up in landfills, which are essentially long-term storage sites for our garbage. Think about it—we store our garbage underground. These companies have a huge responsibility. Beyond the epic challenges on the collection side, landfills can emit methane into the air or leach chemicals into the water supply. I need to know that the companies we invest in are managing their operations in an efficient and sustainable way. Failure to do so could result in significant liabilities.
Since the garbage that's buried isn't going anywhere for decades to come, the need for more landfill real estate grows every year. Most people don't want to think about these things. But the companies we invest in play an important role in the world economy… and in our daily lives.
The future of trash is recycling. But recent regulatory changes in East Asia have up-ended its economics. While this hurts the industry today, it is forcing companies to reimagine the way that they collect, sort, and process recyclable material. Over time, these changes should result in a more efficient and profitable business.
As an analyst for T. Rowe Price, my job is not just to find companies that generate superior returns for our clients over the long-term, but to find those companies that also value sustainability. It's not enough to examine numbers on a screen, I have to go into the field and meet with the teams who are driving these changes.
That's why I go beyond the numbers.
"My job is not just to find companies that generate superior returns for our clients, but to find those that also value sustainability."
INVESTMENT PROFESSIONAL, U.S. EQUITY DIVISION
"Focus on quality businesses with strong managers that compound value over time, using a risk/reward overlay"
HOME BASE
Baltimore, Maryland
COVERAGE
Natural Resources Sector
EDUCATION
M.B.A., Columbia Business School
INTERESTING FACT
When traveling, enjoys face-timing with his dog, Lucy
YOU MAY ALSO BE INTERESTED IN
Let us help you get started.
Speak to an investment specialist about solutions that might be right for you. Or choose from a broad range of funds with 4- or 5-star Overall Morningstar Ratings.
This material is being furnished for general informational purposes only. The views and opinions expressed are those of the investment analyst at the time of production and are subject to change without notice. There is no guarantee that these views will come to pass, and may differ from those of other T. Rowe Price group companies and/or associates. Information and opinions are derived from proprietary and non-proprietary sources deemed to be reliable; the accuracy of those sources is not guaranteed.
All investments are subject to market risk, including the possible loss of principal. International investments can be riskier than U.S. investments due to the adverse effects of currency exchange rates, differences in market structure and liquidity, as well as specific country, regional, and economic developments. These risks are generally greater for investments in emerging markets.
This material does not constitute a distribution, offer, invitation, recommendation, or solicitation to sell or buy an securities; it does not constitute investment advice and should not be relied upon as such. Investors should seek independent legal and financial advice, including advice as to tax consequences, before making any investment decision. Past performance is not a reliable indicator of future performance.