REIMAGINING COMMERCIAL REAL ESTATE
Evolving warehouses for the e-commerce age.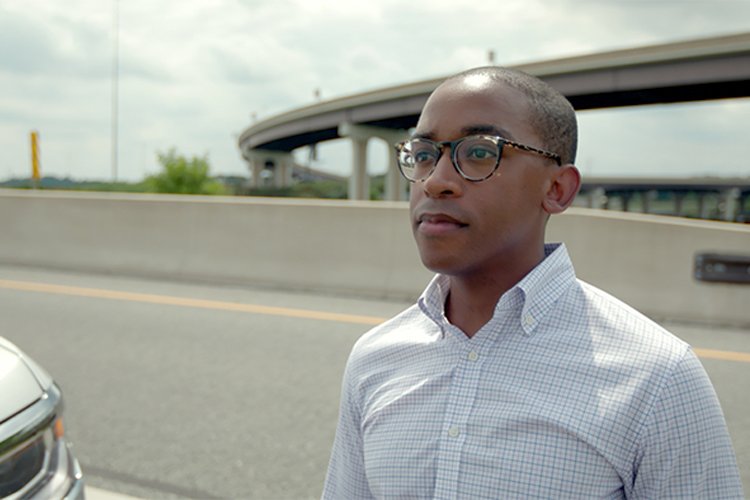 Equity analyst Dante Pearson considers Baltimore real estate possibilities.
On the road, Dante evaluates potential warehouse sites and what warehouses of the future could be to accommodate the growing demand for e-commerce.
A failure of imagination. That's what keeps me up at night.
That there are data points all around us that we may be missing.
Maps are helpful. But they really don't capture the whole picture. You can't see the energy of Silicon Valley on a map. You can't see the intellectual engine of Boston on a map.
You have to leave the office to experience where people live, work, and play.
People want to know that they can order a new toaster and have it on their doorstep the very next day. So is next day really fast enough?
The question becomes: how do we move goods faster?
And I think the answer might be pretty simple: store them closer.
Developers have become very creative in finding ways to get warehouses closer to consumers. Offices go up. Apartments go up. But why not warehouses?
It's my job to understand the "why not," and then imagine "well, what if?"
On a map it's easy to see parcels of land that are orphaned by a highway. Or a vacant lot in the middle of a residential downtown neighborhood.
But the map doesn't tell you why it isn't being developed.
At ground level, a new perspective is gained and future possibilities become visible.
With a little imagination just about anything is possible.
That's why I go beyond the numbers.
"It's my job to understand the 'why not' and then imagine 'well, what if?'"
INVESTMENT PROFESSIONAL, U.S. EQUITY DIVISION
"My favorite part of the job is using data points to figure out when narratives in the stock market are wrong, or perhaps completely spot on. It's this intersection between the quantitative and the qualitative that makes it an intellectually challenging and rewarding profession."
HOME BASE
Baltimore, Maryland
EDUCATION
M.B.A., The Wharton School, University of Pennsylvania
INTERESTING FACT
Delivered student address at 2017 Wharton M.B.A. graduation
YOU MAY ALSO BE INTERESTED IN
Let us help you get started.
Speak to an investment specialist about solutions that might be right for you. Or choose from a broad range of funds with 4- or 5-star Overall Morningstar Ratings.
This material is being furnished for general informational purposes only. The views and opinions expressed are those of the investment analyst at the time of production and are subject to change without notice. There is no guarantee that these views will come to pass, and may differ from those of other T. Rowe Price group companies and/or associates. Information and opinions are derived from proprietary and non-proprietary sources deemed to be reliable; the accuracy of those sources is not guaranteed.
All investments are subject to market risk, including the possible loss of principal. Investments in the real estate sector involves additional risk and volatility.
This material does not constitute a distribution, offer, invitation, recommendation, or solicitation to sell or buy an securities; it does not constitute investment advice and should not be relied upon as such. Investors should seek independent legal and financial advice, including advice as to tax consequences, before making any investment decision.