FIXED INCOME
How to Benefit From the Dynamic Global Bond Fund
July 2016

We designed the T. Rowe Price Dynamic Global Bond Fund to be the defensive anchor in client portfolios. It's custom built for Australian Investors and aims to:
Deliver sustainable income
Manage downside risk
Diversify from equities
The Fund is managed by Arif Husain and his highly experienced investment team, each averaging two decades of experience. The team selects diverse opportunities from across geographies, sectors and capital structures, seeking to help investors thrive in all environments, even in times of market turmoil.

How does the Fund work?
The Fund seeks to achieve potential performance enhancement over cash and diversification to equities by striking the right balance between core stable, return-seeking and defensive positions. The size of each position reflects the team's level of conviction, liquidity and risk/return expectations.
Actively managed also provides us with the ability to manage against negative returns yet prepare us for the unexpected. This approach collectively allows us to seize opportunities and help our clients thrive in all market environments.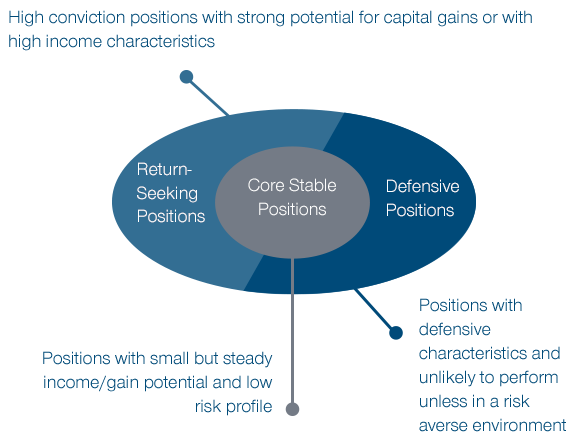 Income generated
The Fund seeks to deliver on its objective of delivering sustainable income by diversifying across geography and markets. With this approach, since inception (14 February 2014), the Fund has delivered an annualised quarterly distribution of 3.24% p.a. (effective 31 December 2017).
201708-240180
Important Information
Equity Trustees Limited ("Equity Trustees") (ABN 46 004 031 298 AFSL 240975) is a subsidiary of EQT Holdings Limited (ABN 22 607 797 615), a publicly listed company on the Australian Stock Exchange (ASX:EQT). Equity Trustees and T. Rowe Price International Ltd ("TRPIL") (ABN 84 104 852 191) are, respectively, the responsible entity and investment manager of the T. Rowe Price Australian Unit Trusts. TRPIL is exempt from the requirement to hold an Australian financial services licence in respect of the financial services it provides in Australia and is regulated by the Financial Conduct Authority under UK laws, which differ from Australian laws. For Wholesale Clients only.
Past performance is not a reliable indicator of future performance. The price of any fund may go up or down. Investment involves risk including a possible loss to the principal amount invested. . For general information purposes only, does not take into account the investment objectives, financial situation or needs of any particular investor. For further details, please refer to each fund's product disclosure statement and reference guide which are available from Equity Trustees or TRPIL.
Information and opinions presented have been obtained or derived from sources believed to be reliable and current; however, we cannot guarantee the sources' accuracy or completeness. There is no guarantee that any forecasts made will come to pass. The views contained herein are as of the date noted on the material and are subject to change without notice; these views may differ from those of other T. Rowe Price group companies and/or associates. Under no circumstances should the material, in whole or in part, be copied or redistributed without consent from T. Rowe Price.