INVESTING APPROACH
Strategic investing takes us beyond the numbers.
We believe in strategic investing. It has guided how we do business for more than 80 years, and it's driven by independent thinking and rigorous research. So our clients can be confident that we'll strive to select the right investments as we help them achieve their objectives.
Strategic investing means that we don't stop at surface-level analysis. Instead, we go beyond the numbers. More than 400 of our investment professionals travel the world, visiting the companies they evaluate. It's this passion for exploration and understanding that has helped inform better decision-making and prudent risk management for our clients since 1937.
T. Rowe Price recognized by Bloomberg as a "winner" among active investment managers
A recent article on Bloomberg singled out T. Rowe Price as one of the "rare winners" among active investment managers during a decade of dominance by passively managed index funds.  "Stock pickers may be under siege after decades of ruling Wall Street, but not every old-school champion of active mutual funds is losing ground to cheaper rivals tracking indexes," reported Bloomberg.  "T. Rowe Price Group is one of the rare winners."
During a decade when cash flows into index funds soared while many active managers saw outflows, T. Rowe has seen assets under management grow from nearly $400 billion at the end of 2009 to more than $1 trillion by the end of 2019.
The article added that T. Rowe garnered net inflows from clients in all but one of the five years through 2018, buoyed by strong investment performance and reasonable fees. 
Looking for specific products and services?
STRATEGIC INVESTING
We leverage our size, resources, and rigorous proprietary research to go deeper.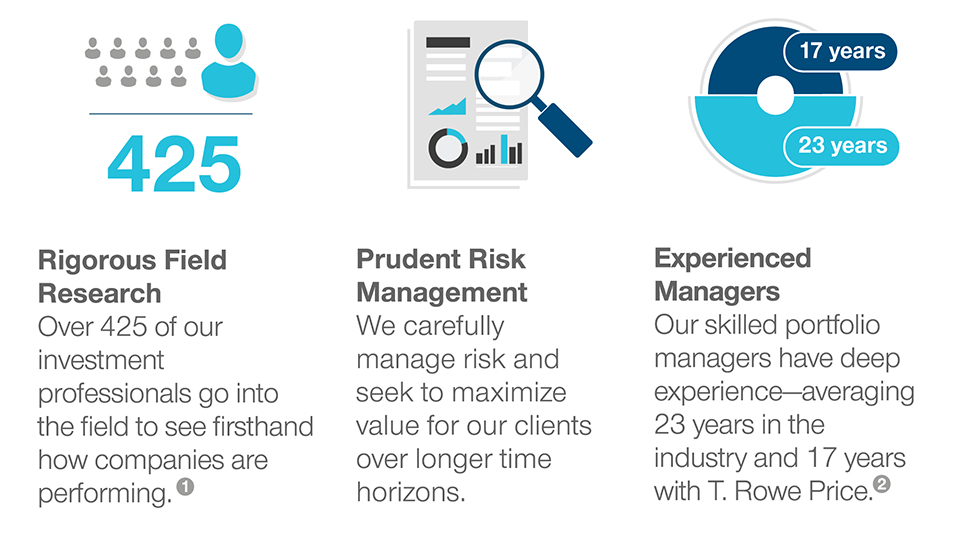 THE SEARCH BEGINS
Turning expertise into insights
IN THE FIELD
Covering every market in which opportunities exist
BACK HOME
Vetting and debating ideas with colleagues
THE INVESTMENT
Deep understanding that informs better decisions
LOOKING FORWARD
Renewing the process
All data as of December 31, 2019, unless otherwise stated.
1Investment professionals as of December 31, 2019

2As of December 31, 2019.