Javi Bermudez
Regional Sales Specialist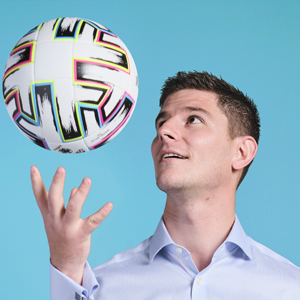 "There's no one type of person that thrives at T. Rowe Price, and I think that's what makes us great. We're able to take multiple personalities, processes, and approaches and combine them to ultimately deliver value to our clients."
For Javi Bermudez, you could say his career in sales started on the pitch — first, at a youth academy in Spain and later as a Towson University student, where he attended on a soccer scholarship. "Soccer shaped my personality," he says. "The athlete within me wants to be a team player, to challenge myself. I think that's why I'm in sales. I like to win, and I like having those metrics to quantify my efforts and results." As a regional sales specialist at T. Rowe Price for just over five years, Javi also serves as the Latinx Heritage Community chair within MOSAIC @ T. Rowe Price, one of the firm's business resource groups. We recently spoke to him about his experiences.
What inspired you to join T. Rowe Price?
After college, I was an investment advisor for a bank, where I quickly realized that decisions were made from the bank's point of view. Personally, my investment philosophy aligns more towards active management and trying to add value for clients, which is one of the core values at T. Rowe Price. The firm has a "clients-first" mentality, and to me, that's very important.
How would you describe your role?
My job is to get our funds available within 401(k) plans. By partnering with consultants and advisors, I can bring insights from the top of the house to clients.
What skills or training do you need to succeed in your role?
I think that, first and foremost, you have to be able to build relationships with everybody. At the end of the day, people do business with people they like. From a skill set perspective, you have to be highly organized. The ability to retain a lot of information is essential so you can be a resource for your client. A finance background is important, too. You need to know the industry.
Let's talk about the T. Rowe Price work culture. What type of person thrives there?
There's no one type of person that thrives at T. Rowe Price, and I think that's what makes us great. We're able to take multiple personalities, processes, and approaches and combine them so that we're ultimately delivering value to our clients. We're able to bring our whole selves to work, share our views, and then have a conversation about it. I've never felt isolated. Whenever there's been a problem, there's always been somebody to provide the answer or help me find it. That cooperation and the collaborative environment make us unique. That's what makes us successful.
How does having people from diverse backgrounds make the culture at T. Rowe Price stronger than at competing firms in the financial industry?
Having a diversity of personnel brings diversity of thought, which is hugely beneficial. We have global clients; we're a global asset management firm. There will be client behaviors and client opportunities that we won't be able to tackle if we don't have that diversity of thought. So I think it's pretty intuitive that you want decision-makers who understand what you're thinking, what you're feeling, and what you need.
Tell me about your experiences volunteering or participating in working groups at T. Rowe Price.
Right now, within the Latinx business resource group, we're working on an initiative to help develop the Latinx population within the firm. If you look at the demographics across the U.S., Latinx people are the second largest group, but we're the smallest within the firm. Plus, there's very little Latinx representation in management roles. So we've put together a program to focus on developing talent internally, focusing on career progression. How can you be a better leader? How can you learn how to navigate the corporate structure, become better at speaking, or be more efficient?
We're also reaching out to Latinx people who might want to join the firm. We welcome them and let them know there are people like them here. We share things about our home countries, not just the difference in languages or food and drinks, but culturally. We talk about some of our employees' journeys to get to where they are today. The diversity of the journeys has been quite impactful.
Beyond that, we've been working to better understand what our nonprofit partners need. Then, we're committing time or capital to help them move forward. We're doing a lot, and I think that's what makes it so exciting!
What's the biggest takeaway from your career at T. Rowe Price?
Since day one, T. Rowe Price is a firm that has challenged me to be better, to get better. There hasn't been one day that I've been in cruise control. We are a top firm within our industry, and we're always trying to improve on what we can deliver for clients. So I challenge myself to ensure that the learning curve remains steep because if you don't learn something here every day, you're not doing it right.