Emma Tookey
Vice President, Senior Retirement Sales Executive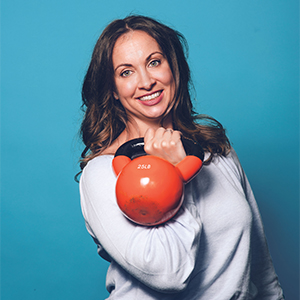 "Our business resource group for veterans, VALOR @T. Rowe Price, is very active in the community. We recently had a fundraiser where associates walked, hiked, swam, and worked out to support suicide prevention for veterans."
Emma Tookey achieved the rank of Petty Officer 2nd Class during her time in the US Navy, which developed the self-confidence she used to succeed in her second career. In finance—just like in the military—Tookey was comfortable in a leadership position and had no trouble exceeding the expectations of her superiors.
"I wasn't looking for a new job," she says, recalling how she first began to consider a career at T. Rowe Price. "My mentor started working there, and from day one, she was in my ear. She pretty much recruited me." In 2018, she made the move, starting her position as vice president, senior retirement sales executive at the firm.
Tell me about your passion item. Why did you choose it for your photoshoot?
I used to do Crossfit before I had kids, and then I couldn't be consistent anymore. Following the COVID-19 pandemic, my husband and I built a backyard gym, and we've been doing Crossfit-style workouts at home. I don't mean it to sound braggy, but we always joke that we're the people who didn't gain the "COVID 15." Actually, I finally lost my baby weight.
How would you describe your role at T. Rowe Price?
I work in Retirement Plan Services as a wholesaler. I spend about 90% of my time having conversations with financial advisors and registered investment advisors who work with 401(k)s. I familiarize them with the T. Rowe Price product, solutions, and service model.
We're a recognized brand, so most people already know about us, but frequently, they aren't aware we do retirement plan recordkeeping. When I have the opportunity to work directly with an employer on their retirement plan, it is my job to ensure we are putting together the best service model and team to meet their needs. For example, do they need a conversation with our Compliance team for guidance around the rules and regulations that go into having a 401(k)? Are they concerned with how the operations of the plan work? If so, I bring an account manager into the presentation. My job is to get the right experts in the meeting or coordinate with them behind the scenes to address the prospect's specific needs.
How does your job at T. Rowe Price make use of what you've learned in the military?
In the past, the financial industry was very male-dominated, as well as the Navy. The military taught me how to handle myself and instilled a lot of confidence. I was never intimidated. I remember speaking at a seminar about 401(k)s with a group of financial advisors. When I walked in, the receptionist said, "Oh my goodness, aren't you so nervous?" She told me there were 20 men in there. I hadn't even thought of it.
Do you volunteer or participate in any working groups at T. Rowe Price?
I'm on the Women in Sales advisory committee, which aims to boost the number of women in sales roles. It also helps women to challenge the ways they've been conditioned to perceive their career prospects. Women sometimes think, "Oh, I can't apply for that job because I'm missing two of the five criteria." Men tend not to do that. I'm also part of the business resource group for veterans, VALOR @ T. Rowe Price, which is very active in the community. For example, there was a Ruck March fundraiser this past month to support Stop Soldier Suicide. In the military, a ruck, or hump, is a drill [while] wearing your gear and carrying a load from point A to point B. Associates walked, hiked, swam, and worked out to raise both awareness and funds for suicide prevention for veterans."
How does T. Rowe Price actively promote diversity?
There are initiatives like mentorship programs or the return-to-work program for women who have been away from the workforce. I feel like, these days, every company says they're all-in on diversity and equity, but there's a lot of lip service. It's just really, really refreshing to be a part of a Fortune 500 company that truly walks the walk, you know?
What's the biggest takeaway from your career at T. Rowe Price?
One of the things I really appreciate about working here is how I'm empowered to give feedback. When things are broken, it's acknowledged. I've also achieved the best work-life balance here that I have in my working career. At T. Rowe Price, I've been given the space, support, and recognition from management that our jobs are not our lives. They want me to have that balance.