Eric Seale
Regional Sales Specialist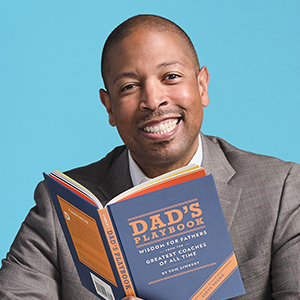 "I didn't always see people that looked like me in the groups where I worked. But I've seen the culture change."
Eric Seale was aware of the distinguished reputation of T. Rowe Price long before he moved to Maryland. In 2008, he and his then-fiancée, Daina, were living in Pennsylvania and planning to relocate there. "T. Rowe Price was known for consistency and performance of the products and also the quality of the management team," he recalls. "I thought I'd be a good fit from a culture and qualifications perspective, and it would be a phenomenal organization to work for."
Shortly after Eric was hired, he and Daina married. They had a son in 2011, followed by a daughter two years later. As a gift to the new father, a colleague at T. Rowe Price gave him Dad's Playbook. "It's a collection of quotes from some of the greatest coaches in the history of sports and how to take their wisdom and apply it to fatherhood." Though it's been years since he first read it, Eric thinks it might be time for a review. "My son's starting to get into sports—baseball specifically—and I'm one of the coaches on his team."
That's just one of the many cherished memories Eric, who currently works as a regional sales specialist, can recall from his 13-year career at T. Rowe Price. With that in mind, we sat down to speak with him about the work culture at the firm.
How would you describe your role and primary tasks at T. Rowe Price?
I cultivate relationships with financial advisors, offering them T. Rowe Price products and resources to support their clients and businesses. There are many skills required to be a regional sales specialist, you're part economist, part investor, and part marketer, but the greatest skill is being able to approach conversations with clients in a consultative way. 
What type of person thrives at T. Rowe Price?
Someone who is willing to build a network of people within the company who are stakeholders in that individual's success and career. A person who likes to share ideas and can offer a different perspective but is also willing to accept the views of others. I think the people that tend to thrive the most are those with high emotional intelligence or "EQ."
How does T. Rowe Price actively promote diversity or cultivate a sense of belonging?
I didn't always see people that looked like me in the groups where I worked. But I've seen the culture change, especially over the last year and a half.
There are several business resource groups and heritage communities at T. Rowe Price that offer support and resources for all the employees while also fostering that sense of belonging, including MOSAIC and the African Heritage Community, which I am a member of.
With everything that has transpired in the world over the last 20 months, we've seen the true value that groups like MOSAIC, WAVE, VALOR, and PRIDE can bring to the organization.
What's changed in the last year and a half?
Given the circumstances that played out in 2020, I think it became top of mind for T. Rowe Price to make concerted efforts to attract, develop, and retain diverse associates and put in place some measurements for success toward our goals. And with the pandemic, there was another pandemic: structural racism. So I think that was a catalyst for those at the highest levels. Many may not feel comfortable discussing these issues in a work setting. Still, it's something that we have to start doing, however uncomfortable it is.
Do you volunteer or participate in any working groups at T. Rowe Price?
Yes, in addition to being a member of MOSAIC, I also serve as the liaison between T. Rowe Price and an organization called the Association of African American Financial Advisors (AAAA). AAAA is a nonprofit membership organization of black financial services professionals that works to increase awareness around financial literacy in the Black community, support financial planning programs at historically Black colleges and universities, and provide access to career resources and information for its members. T. Rowe Price is a corporate sponsor of their annual VISION Conference.
How do you think cultural diversity and diversity of thought intersect?
Part of what shapes who we are is our backgrounds and experiences. This could be a city we grew up in, companies that we've worked for, and places we've traveled to that can influence our behaviors and style of communication.
I think the most progressive ideas and impactful change happens when there is mutual understanding of people's cultural backgrounds and differentiated way of thinking. There is often an intersection of this when it comes to how we hire, manage, and promote talent within the company and make sure we are aware of any unconscious biases that might influence decisions.
What's your biggest takeaway from your career at T. Rowe Price?
Part of working at T. Rowe Price is building relationships. Once you establish those, you have people invested in your success and career. They're always looking out for you.
Knowing what you know now, what kind of career advice would you give your younger self?
I think the advice to the younger Eric would be, "Don't be afraid to explore new opportunities. Don't be scared to be uncomfortable because that's ultimately how you grow."