Environmental, Social, and Governance
Take a look at our thinking on ESG
"Integrating ESG considerations into our fundamental research has helped the firm identify well-managed companies that are leaders in their industries, more forward-thinking, better at anticipating and mitigating risk, and focused on the long term."

-Bill Stromberg, President and CEO, T. Rowe Price

Our ESG Integration Approach

Insights Webinar 2020: How COVID has Accelerated the Sustainability Agenda
March 2020 / Investment Insights
Introducing our 2019 ESG Annual Report


ESG Integration in Action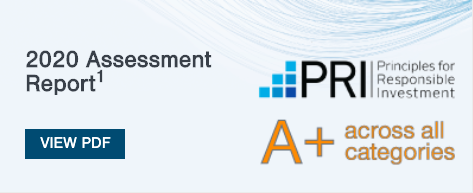 November 2019 / Investment Viewpoint
In Emerging Markets, Does it Pay to Worry about ESG Factors?
Guiding Principles & Key Information
*Launched in 2006, the Principles for Responsible Investment (PRI) are a set of voluntary best practice standards that asset owners and asset managers pledge to uphold in order to incorporate environmental, social, and governance (ESG) issues into their investment processes.

1. Used with permission. PRI is not affiliated with T. Rowe Price. For reference, please refer to the PRI assessment methodology and the T. Rowe Price Transparency Report.