Sierra Garrison
Global Client Investment Reporting Specialist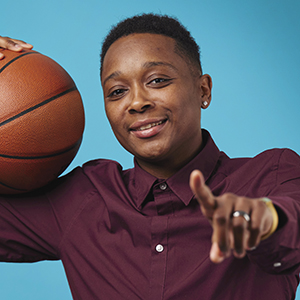 "My son and my wife mean the world to me. T. Rowe Price actually played a big part in that. With my benefits, we were able to go through IVF. Now, I have a retirement plan and can pass on my financial education to my son."
Sierra Garrison is a global client investment reporting specialist at T. Rowe Price. In this Q&A, learn more about her advice for those just beginning their career journey. She also discusses her day-to-day life on the job and the instrumental role that T. Rowe Price has played in her personal life.
When Sierra Garrison began working at T. Rowe Price in 2015, she saw a whole new world of potential unfold before her. After attending college at West Virginia Tech on a basketball scholarship, Sierra landed a call center job at a payment processing company that felt stifling and limited.
But after several years of taking incoming calls, Sierra felt stuck. That's when her wife, Lynnea, suggested she apply to work at her employer, T. Rowe Price. Although Sierra didn't have a background in finance, she has thrived in her position within the Retail Account Management (RAM) Group. We sat down to speak with her about her personal experience working at the firm.
What was it that attracted you to T. Rowe Price at first?
Working at RAM was the first professional job I ever had. It was my first job with a salary—I didn't know what it was like to have the same pay. I didn't even really understand about the benefits of health care.
What's your current role? What's a typical day at work like for you?
I'm a global client investment reporting specialist. When the investment staff goes to meetings, they bring information kits. We create and update them, so they're current.
We really work on the back end. We pull a lot of data and do a lot of formatting in PowerPoint and Excel. We also work closely with the investment liaisons to ensure that everything is accurate and up to date before presenting to the client.
What skills and education or training would someone need to do your job?
You have to be really good with critical thinking. For example, when requests come in from the investment staff, they can require a bit of triage to understand how to best approach and deliver on the request. You also need to adapt to changes and have excellent time management. So it would help if you also had that communication piece, whether it's communicating with your peers, your manager, or the requester of the kit. And PowerPoint and Excel skills are crucial.
How does your work with Global Client Account Services contribute to the overall T. Rowe Price mission?
Our work is very much for the client. We work closely with the U.S. Intermediaries Group to make sure that we're representing the client in their portfolio, as it should be.
Could you share something you've learned while working at T. Rowe Price?
I always thought you had to be able to network and be very friendly to succeed, even outside of doing your job. I felt that if you were an introvert, you wouldn't advance. But I had a lot of growing up to do. When you're starting to build goals for yourself, you have to think about how to get to the next level. I've learned that people have to get to know you outside of your job. It's not so much having to change who you are but just adjusting to your environment.
How has finding mentorship helped you find your feet at the firm?
T. Rowe Price asked my wife and me to be in the Pride parade because we'd just gotten married. That's where I met Danni Davis and Jesse Terpstra. They created a safe space for me to talk about my career. Danni kept it real with me—she encouraged me, gave me confidence, and helped me better prepare for interviews.
What does T. Rowe Price do to cultivate a sense of belonging for its associates?
Having the PRIDE @ T. Rowe Price work group is good, where I see many more individuals like me than I used to. I've also seen some of the supervisors who are Black women become lead managers of certain departments. It's amazing.
How do cultural diversity and diversity of thought intersect?
When I look at the top, there's always been this standard of who runs business in America. But now it's just a little more diverse, with more women being in those places and more men of color. It's big. It shows me that everybody can have this generational wealth. Everybody can get this knowledge. Are we entirely there? No, but it's a start.
What inspires you to keep working at T. Rowe Price?
Benefits. I'm very family-oriented. My son and my wife mean the world to me. T. Rowe Price actually played a big part in that. With my benefits, we were able to go through IVF. Now, I have a retirement plan and a plan for my son— or college or whatever he wants to do. I know how to save beyond just a bank account and prepare for a better life. Now I know that if something were to happen to me, my family would be OK.
Also, there's the knowledge piece. I've obtained my license as a broker through T. Rowe Price. I have my Series 7, which the firm sponsored, and it opened up another world for me professionally.
I've been able to share some of this knowledge when I go to family functions, and it feels good. Nobody in my family ever talked about saving for retirement. I'd never heard of mutual funds. My mom worked as a manager, and she was always getting these letters from Vanguard. Still, she had absolutely no idea that she was investing in a retirement plan. Because I was working here, I could explain to her what that meant. She never would've known that she had all this money for her retirement—and now she's retired! I often think about people like my mom who have no idea that you can invest in your retirement or actually retire.
What kind of advice would you give to somebody who wants to work at T. Rowe Price?
You want to have the ambition and the motivation to build yourself up professionally and present yourself without losing who you are. Of course, you can still be your authentic self, but there are certain things you have to learn to do in a professional world that will help you get to those places.