Gregory Fraser
Senior Legal Analyst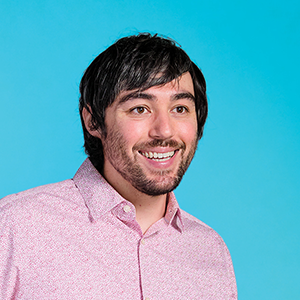 "There's enough information, there's enough support within the firm, and you can grow into a career that you maybe didn't even see for yourself. It's all within grasp."
Gregory Fraser, a Maryland native, was aware of T. Rowe Price long before deciding he wanted to work there. "It's a big firm that does a lot of work in the community," he says, adding that driving past the campus initially piqued his interest. "I felt like the campus reflects the way the company runs. It's well maintained and always progressing," he explains. But as an English major with a keen interest in British literature and music, Gregory wasn't sure he'd find an opportunity within an asset management firm.
Then, when a writing role became available, Gregory jumped at the chance to apply. "I was so excited and eventually landed that job," he recalls. All of that was eight years ago— these days, Gregory is a senior legal analyst in the Global Communication Compliance department. We caught up with him to find out more about his work life at T. Rowe Price:
How would you describe your role? What deliverables do you manage?
Our department reviews most of the marketing material that leaves the firm for compliance with FINRA (Financial Industry Regulatory Authority) and S.E.C. (U.S. Securities and Exchange Commission) rules.
I look at everything from email to web properties, social media posts, commercials, and reports. There are also materials from retirement plans, individual investors, and institutional investors. It runs the whole gamut.
What skills and education do you need to succeed in your role?
In college, I studied English and did some creative writing. I think that helps with being analytical, having attention to detail, and reading between the lines. In this job, we say, "Words do matter." Things are subjective, and we have to make sure we're not guaranteeing something that we can't necessarily produce.
In my role, I spend most of my time reviewing materials. My college education was helpful in that sense because I'm happy doing so much reading. I also had to get specific licenses from FINRA like the Series 7, the Series 63, and the Series 24. T. Rowe Price sponsored me for these, which was a big plus.
Then there's all the industry knowledge I've learned on the job. It's been a nice trajectory in the sense that you start at a certain point, and you keep learning. Then you get incremental opportunities to take on new responsibilities and build your knowledge each time.
Let's talk about the T. Rowe Price work culture. What type of person thrives here?
I read a lot about investments, and they talk about "slow and steady compounders." These aren't super flashy. It's not a wild ride, but they have sound fundamentals and a good background. They have a longterm growth trajectory. I think that's the type of personality that thrives here. It can be a slow and steady grind at times, but you make progress, and it's a long-term investment in your development and skill set. It's not like you rocket to the top. You continue to grow year over year.
Knowing what you know now, what kind of advice would you give your younger self before beginning your career?
I love music. I never saw myself in a financial role, much less compliance, so my advice to my younger self would be to trust the process. The financial industry is complex, and it takes time to learn regardless of your natural abilities. There's enough information, there's enough support within the firm, and you can grow into a career that you maybe didn't even see for yourself. It's all within grasp.
What's the biggest takeaway from your career at T. Rowe Price?
Financial compliance is kind of rigid, right? There are rules and regulations, but I talk about it like any art form. It has inherent limitations, but there's a way to get the material where it needs to be. My job is to guard against particular compliance issues, so I'm just going to make small micro-adjustments. I look out for very specific things to shepherd the material through.
What advice would you give someone that wants to work at T. Rowe Price?
When you get in and have a job, I would definitely utilize it to learn as much as possible. You might feel like the position isn't exactly in line with your pre-college trajectory. However, it's still worth taking because you'll learn. Each department offers steps you can take to advance, so be open and learn as much as you can. There are many opportunities within the firm.