Rome Flores
Financial Intelligence Unit Manager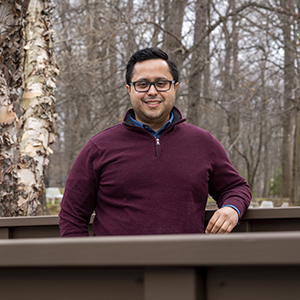 "Just as I learned from and served clients by listening to their needs as a phone representative, I respond to the needs of my team by continuing my servant-leadership philosophy and growing as a leader for them."
In just seven short years, Rome Flores, the Financial Intelligence Unit manager at T. Rowe Price, has had the opportunity to grow in his career. He first joined the firm in 2013 as part of the phone group in Retail Investment Services. "The job market in California was still recovering from the 2008 financial crisis, and after graduating from University of Redlands in 2011, I wasn't just competing with recent college graduates for entry-level positions," he remembers.
A friend from college told him how much he liked working at T. Rowe Price, so Rome expanded his search to the East Coast. "I moved from California to Maryland for a job with the firm in the 12pm to 9pm shift, which is hard on a person's social life. But, it was also where career opportunities were available. It's where my first senior role and supervisor opportunities came up," he says. Management noticed that Rome enjoyed helping clients, supporting his team, and wasn't afraid to ask for help, so they tapped him for a senior associate role.
In Rome's current position overseeing the Financial Intelligence Unit, his team investigates and monitors for suspicious activity and supports the firm in complying with the PATRIOT Act. "We're there to make sure no bad actors are trying to take advantage of our clients. It's not just about identifying fraudulent activity. We're also talking to clients about their experiences. I'm bringing the skills I developed when I was on the phones. Just as I learned from and served clients by listening to their needs as a phone representative, I respond to the needs of my team by continuing my servan t-leadership philosophy and growing as a leader for them."
During his tenure at the firm, Rome has moved through roles with increasing managerial responsibilities. "The firm offers so much training to make sure you have the skills to be a leader, which helps build your confidence to perform the role." He remembers participating in the firm's EDGE training program. "It stands for experience, discover, grow and evolve," he explains. "I learned to be more aware of different perspectives and my own unconscious biases."
For Rome, it felt natural to manage and support associates right out of college. Still, it wasn't quite as effortless when working with those with more life experience and expertise. "I needed to be mindful in my approach," he admits. "I asked myself, 'Am I giving everybody on my team the same amount of time? Am I being flexible in how I'm meeting with people?'"
There was one training session in particular that introduced Rome to different management and learning styles. "Some people are more analytical than expressive, for example. Learning about those styles made me think about where a person exists on a behavioral-styles grid, and it helped me flex my style to better work with them," he says.
Rome continues to support and promote diverse perspectives as a member of the firm's MOSAIC @ T. Rowe Price business resource group and the Latinx Heritage Community. "Although I'm Latino, I don't just participate in the Hispanic programs," he explains. "The firm encourages associates from all backgrounds to engage with events that celebrate the heritage of all of us."
T. Rowe Price also recently helped Rome join ALPFA, the Association of Latino Professionals for America. "I've met with other Latino professionals that I may not have had the opportunity to meet from various companies in Maryland such as Constellation, Black and Decker, and McCormick to name a few. The backgrounds of the members there matched mine and it was a pleasure to see them in positions that don't have a lot of diversity yet," he says. "T. Rowe Price is investing in this initiative because they understand that it's essential to grow your career and skills through learning from different experiences and training you get in professional associations."
Rome's Spanish language skills have been invaluable in his different roles. He even worked as part of a pilot group to better serve Spanish-speaking clients. "For those coming from a minority background like myself, investing and saving can be a fairly new concept. So I can identify with the client who calls in and is concerned about their $1,000," he explains. "It may seem like an insignificant amount to some, but I know that, for most others, it's a big deal to save and invest that much."
According to Rome, his tendency to solicit feedback, instead of sitting back and waiting for it, is the personal characteristic that has served him best. "Asking for feedback shows people that you're serious and not wasting their time," he says. "Just break the ice and say, 'Here's what I've been working on and how I did it. Do you think I should have done it differently?'"