Things to consider when deciding when to claim Social Security.
When to claim Social Security is a big decision with a potentially big impact. While each person's situation is different, knowing some basics can help you see how Social Security fits into your overall retirement plan.
Social Security can be an important source of retirement income. Did you know:
of workers say Social Security will be a major source of income in retirement.
of retirees say Social Security is currently a major source of income in retirement.*
*2017 EBRI Retirement Confidence Survey
Here are three retirement benefits Social Security provides:
A guaranteed lifetime income stream, which can help meet the challenge of outliving your savings.
Annual cost-of-living adjustments (if applicable), in an attempt to protect purchasing power.
Income for a surviving spouse, since benefits are often carried over when the first spouse dies.
What's your full retirement age (FRA)?
Your benefit is calculated based on your full retirement age (FRA), according to the year you were born. Visit ssa.gov for more information about other factors that may affect your benefits.
65 if you were born before 1937
65+ if you were born between 1938 and 19421
66 if you were born between 1943 and 1954
66+ if you were born between 1955 and 19592
67 if you were born after 1960
Source: Social Security Administration.
1For people born between 1938 and 1942, FRA is between age 65 and 2 months and age 65 and 10 months, depending on birth year.
2For people born between 1955 and 1959, FRA is between age 66 and 2 months and age 66 and 10 months, depending on birth year.
How to increase the size of your check
Judith Ward, T. Rowe Price Senior Financial Planner, covers three factors that can impact your Social Security benefits.
For more perspectives on retirement and personal financial planning, follow Judith Ward on Twitter.
Delaying Social Security benefits
You can start collecting benefits at age 62, but that doesn't mean you should. Here's why: Each year you can wait increases your annual benefit amount by 7% to 8%, up to age 70. That could make a difference of thousands of dollars for your retirement income.
Consider your individual financial situation.

If married, coordinate your claiming strategy with your spouse. For example, to maximize the benefit for a surviving spouse, the higher earner should wait as long as possible before claiming benefits.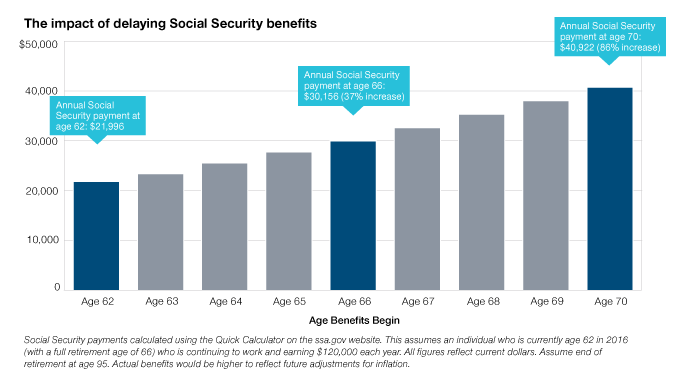 Factors that can influence Social Security benefits
Your Social Security retirement benefits can be affected by a number of life circumstances, including those listed here. It's important to know your options, and any rules that apply, to take full advantage of your benefits.
Marriage
Divorce

Widowed

Working while collecting benefits (before your FRA)
All investments are subject to market risk, including the possible loss of principal.
This material has been prepared by T. Rowe Price Retirement Plan Services, Inc., for general and educational purposes only. This material does not provide fiduciary recommendations concerning investments or investment management. T. Rowe Price Retirement Plan Services, Inc., its affiliates, and its associates do not provide legal or tax advice. Any tax-related discussion contained in this website, including any attachments/links, is not intended or written to be used, and cannot be used, for the purpose of (i) avoiding any tax penalties or (ii) promoting, marketing, or recommending to any other party any transaction or matter addressed herein. Please consult your independent legal counsel and/or professional tax advisor regarding any legal or tax issues raised in this material.