Finding the right place to invest in your future means more than just higher returns, it means finding a partner that helps you stay on track in good times and bad. Since 1937, we've had one simple goal: to help you achieve yours.
For the past 20 years, our 17 active, diversified U.S. equity funds have beat their benchmarks most of the time in both up and down markets.
When the market was up, we outperformed the benchmark over
70% of the time.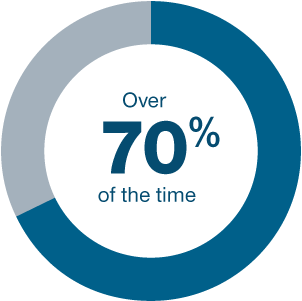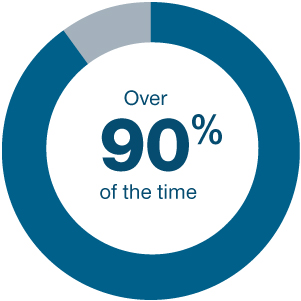 And when markets were down, that number jumped to outperforming the market over
90% of the time.
Over a 20-year period from 6/30/2001 - 6/30/2021, our U.S. equity funds analyzed beat their benchmarks over 70% of the time in trailing five-year monthly rolling periods when their designated benchmarks were positive1. Perhaps more importantly, our funds helped investors limit losses better than the benchmark during that same period, outperforming over 90% of the time when benchmarks were down.
1Results based on an analysis of T. Rowe Price's active, diversified U.S. equity mutual funds (oldest share class). Index, sector, specialized, and institutional clones of our retail funds were excluded. Funds with less than a 15-year track record were also excluded due to limited performance data availability. Of T. Rowe Price's 25 diversified U.S. equity funds, 17 met the criteria for the analysis and are represented within. One of the 17 funds, the Capital Appreciation Fund, also has the ability to invest in fixed income assets but is primarily an equity portfolio and benchmarked to the S&P 500 Index. The funds included in the analysis represented almost 75% of total U.S. equity assets in the domestic and global equity mutual funds advised by the firm as of 6/30/21. Results for other time periods will differ. Past performance is no guarantee of future results.
All investments are subject to risk, including the possible loss of principal.