Thomas Byrd
Cyber Security Senior Manager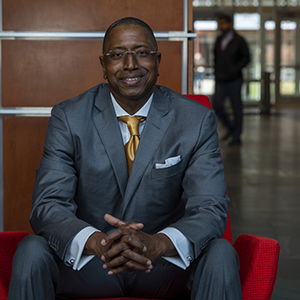 "Management is clearly interested in enhancing associates' coaching, mentoring, and leadership skills. You can see there's a clear synergy between human resources and leadership development."
When Thomas Byrd accepted a position at T. Rowe Price almost two years ago, he was eager to join a recognized leader in the financial services industry. "I was excited by the opportunity and the role and responsibilities associated with the job," recalls the current Vice President and Senior Information Security Manager in Enterprise Security. "It would allow me to draw upon all of my skills, creativity, and experience."
With a distinguished professional background that includes stints at Johns Hopkins University and government agencies like the FBI, Thomas has been on the cutting edge of the cyber world throughout his career. His myriad accomplishments include developing best practices to determine underlying userbased behaviors that may jeopardize an organization's infrastructure and designing curricula to assist business leaders in mastering sophisticated technology. He also established evaluation protocols for the information technology programs at the Department of Defense and the Department of Homeland Security.
Thomas views his work as an extension of his natural curiosity. "When I was young, I always wanted to know how things worked," he explains. "I would look for spare parts and other things people get rid of to use to make my bike go faster. Racing cars really fascinated me." This keen interest in building and reengineering would lead him to earn an engineering degree and, eventually, a law degree, as well.
In his current role, Thomas is head of T. Rowe Price's Cyber Security Awareness program that educates employees about security risks and threats in the cyber realm. "Our goal is not only to inform others how to recognize these risks and threats but also to teach associates how to combat and prevent them," he says.
Although his position at T. Rowe Price is his first at a financial services firm, he emphasizes the fundamental nature of working in technology regardless of the industry sector. "As a culture, we've undergone a digital transformation that now touches almost every aspect of our lives," he explains. Thomas cites the expanding Internet of Things as an example of a development that creates a host of cyber security challenges for device manufacturers, developers, owners, and users of smart technologies. "Within an organization like T. Rowe Price, cyber security is a collaborative effort, so we work with every business unit within the firm to enhance business processes."
Today's widespread reach of technology is especially beneficial for those just entering the field. According to Thomas, they can apply their knowledge in almost any sector of their choosing. "There are plenty of opportunities to explore ways to improve business processes and procedures through the integration of technology," he says. "Mathematicians and computer science majors can go in many different directions like transportation, retail, or health care. Digital technology has a touchpoint everywhere."
While those with technology backgrounds have seemingly endless career opportunities, Thomas believes T. Rowe Price offers unique benefits to its associates. "Management is clearly interested in enhancing associates' coaching, mentoring, and leadership skills," he says. The firm sponsors corporate leadership courses, available in person or online, about strategic thinking or becoming a more effective communicator. "You can see there's a clear synergy between human resources and leadership development. The firm is interested in ensuring that the resources are in place," he adds. "We constantly update and refresh the content to reflect what's happening in the rest of the ecosystem."
In addition to this excellent library of courses, Thomas is also impressed by the firm's leadership that cares deeply about each associate's well-being. "It's also concerned about the ecosystem and the community in which we live, locally and globally," he continues. "T. Rowe Price sponsors and participates in many outreach programs. The firm is a good global citizen."
Ultimately, Thomas advises those who are just entering the tech sector to keep an open mind. "Ten years ago, there was a tech explosion. Before that, others might have thought you were eccentric for having a smartphone. But look at how common they are now. It's just mind-blowing to me," he says. "Having an adventurous heart, being open to new possibilities, and a willingness to learn will take you a long way in life."