In 1937, Thomas Rowe Price, Jr., set out to create an organization "with a reputation for the highest character and the soundest investment philosophy."
Mr. Price and four associates opened their first office in downtown Baltimore and began building their legacy of strategic investing and dedicated client service. Though the firm struggled to take off during the turbulence of the Great Depression and World War II, the team worked hard to build T. Rowe Price into a world-class asset management firm.
T. Rowe Price's Early Days
Below are some artifacts from the first few decades of T. Rowe Price's history, from our founding in 1937, through the growth of our fundamental research process in the 1950s, to the unprecedented expansion of our associate ranks in the 1960s.

Click on the image to display the full view.
From the Beginning: Women at T. Rowe Price
From T. Rowe Price's first days in the summer of 1937, women have been key associates, serving in a variety of roles as writers, accountants, portfolio managers, client relationship specialists, administrative assistants, sales representatives, and research analysts. In fact, of the first four associates to join Mr. Price, two were women. See them and others below.
For more than 80 years, T. Rowe Price has been expanding investment capabilities to best serve our clients' needs to help them achieve their financial goals.
1950
Recorded its first full profitable year, launched first fund, and gained first institutional client
1971
Established a Fixed Income division and began launching a host of new fund strategies
1974
Introduced innovative company-sponsored defined contribution plans, leading the industry
1979
Began a joint venture with UK partner Robert Fleming, who managed many new international strategies
1986
Grew to 17 funds, held its IPO, and began trading on the Nasdaq as TROW
1990
Created Retirement Plan Services (RPS), a full-service retirement plan recordkeeper
1996
Launched its corporate website and surpassed $100 billion USD in AUM; joined the S&P 500 Stock Index three years later
2000
Acquired full ownership of Rowe Price-Fleming International; rebranded it as T. Rowe Price International
Forty Years of the Bighorn Sheep
A sure-footed and agile climber with sharp vision, the bighorn sheep is an apt symbol for T. Rowe Price and our mutual funds services. Its ability to navigate rough terrain reflects the way investors rely on our firm to follow a disciplined path through all market conditions.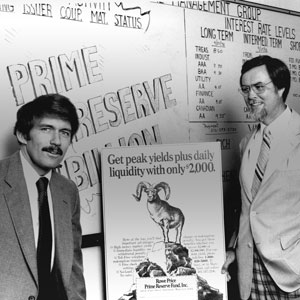 Our symbol, the bighorn sheep, reflects many important aspects of our culture, values, and investment philosophy. Its sure-footed and agile ability to steadily navigate rough terrain represents the way investors rely on us to follow our disciplined process through all market conditions. Originally chosen to represent the T. Rowe Price Prime Reserve Fund1 in the 1970s, our bighorn sheep symbol has since been embraced by the entire firm. It is one of the key visual elements of our brand.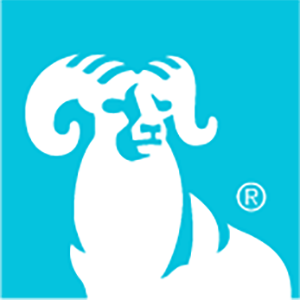 The Bighorn Sheep, the T. Rowe Price Symbol
The bighorn sheep embodies many of the qualities that distinguish T. Rowe Price and our investment approach. He is sure-footed and agile in even the roughest terrain, reflecting investors' ability to rely on our investment expertise to navigate all market conditions. We adopted it as our corporate symbol in 1983, creating a more consistent brand image. The bighorn has appeared in all T. Rowe Price marketing since then, and is now one of the key elements of our brand.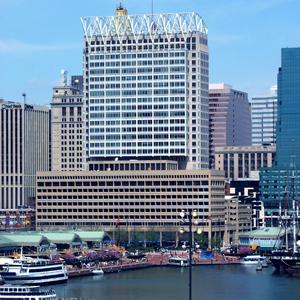 T. Rowe Price has always been headquartered in the same few blocks of downtown Baltimore. First, at 10 Light Street, then at One Charles Center, and, since 1975, at 100 East Pratt Street. What began in the 1930s as a small, five-person firm handling accounts for local clients swiftly grew to a bustling 300 people serving clients across the United States by 1979 – the year T. Rowe Price launched its international joint venture with Robert Fleming.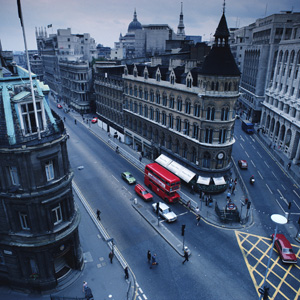 The joint venture, Rowe Price-Fleming International (RPFI) brought together the trusted management and capabilities of T. Rowe Price in the United States and Fleming globally outside the United States. This enterprise brought new investment professionals and research offices into the T. Rowe Price fold, in locations including London, Tokyo, Hong Kong, Singapore, Buenos Aires, and Paris. In the same period, T. Rowe Price also began to open new investment centers and corporate campuses across the United States.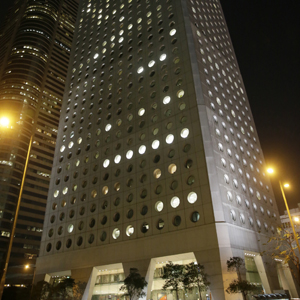 In 2000, T. Rowe Price became a global company upon taking full ownership of the RPFI joint venture, greatly expanding its number of investment professionals and research capabilities over time. Operating on the ground with local associates allows T. Rowe Price to better understand and serve our clients' needs to help them achieve their financial goals.
A tradition of excellence continues.
1For informational purposes only. The fund mentioned is a U.S. registered mutual fund and is not available to investors outside of the United States. It does not constitute a distribution, offer, invitation, recommendation, or solicitation to buy or sell any products or services.
2 For informational purposes only. Products mentioned are not available in all jurisdictions from T. Rowe Price.
3 As of 31 March 2018. The combined assets under management of the T. Rowe Price group of companies. The T. Rowe Price group of companies includes T. Rowe Price Associates, Inc., T. Rowe Price International Ltd, T. Rowe Price Hong Kong Limited, T. Rowe Price Singapore Private Ltd., and T. Rowe Price (Canada), Inc.