GROWING POTENTIAL IN AGRICULTURE
Making everyday food healthier through technology.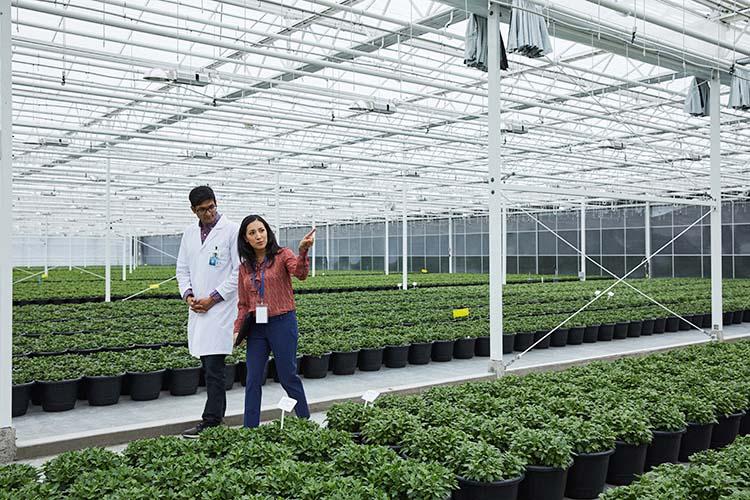 Suppose you could adjust a favorite food to take out what you don't want, or add what is beneficial—like removing the part of peanuts that makes people allergic to them? While allergy-free peanuts are a ways off, says Jon Hussey, a T. Rowe Price investment professional who analyzes the U.S. agriculture industry, the technology is here now to edit the genes of seeds to produce healthier crops at low cost—and make them more accessible for consumers.
Scrutinizing an early biotech disrupter.
Jon explains that the key companies investigating gene editing for consumer benefit are smaller public or private companies. While there are "mega-multibillion-dollar companies" in the agriculture industry, such as Monsanto and DowDuPont, they appear to be focusing on the technology's benefit to the farmer, like enhancing resistance to insects or drought, and leaving the smaller companies to pursue the risks—and potential rewards—of charting a new path on the consumer side.
Jon's research has led him to Calyxt, one of those small public biotech companies. This firm is working on editing seeds to help farmers reap higher-quality, profitable crops, and consumers find healthier food.
"Gene editing, I believe, will be one of the biggest themes in agriculture over the next decade."
Calyxt's customized gene-editing technology is helping the firm improve the health profile of soybean seeds without introducing foreign DNA into the seed. The process changes the fatty acid profile of soybeans to contain about 80% oleic acid (a monounsaturated fat), and 20% less saturated fat.
Monounsaturated fats, which can be found in high levels in olives, have been linked to reducing LDL (bad) cholesterol and triglycerides while raising HDL (good) cholesterol. Now closing in on commercial distribution, Calyxt's soybean seeds produce beans that can be processed into soybean oil offering consumers the health qualities of olive oil at a lower cost.
In addition to soybeans, Calyxt is working on editing wheat seeds to yield more fiber, and to yield high fiber/low gluten crops. "Gene editing is a precise technology allowing a faster time to market than other methods of gene modification, and the results resemble methods that occur naturally.
"Gene editing, I believe, will be one of the biggest themes in agriculture over the next decade."
Getting the full story on investment ideas.
Jon believes that going out into the field is integral to fully investigating investment opportunities.
"When I go on site, the goal is to gain a better sense of management—to understand how they think—to experience the culture and see operations in action."
In the case of Calyxt, Jon's conviction in the company's potential strengthened after meeting with senior managers who had gained expertise working in the big agriculture companies. "They have a strong understanding of the space, and the potential of the technology to disrupt the business."
"Talking to actual decision makers illuminates nuances that are hard to quantify and don't show up in the numbers."
To gain ever wider perspectives in the industry, Jon taps interdisciplinary networks of industry professionals, as well as his own network of contacts. He also attends key conferences to meet with gene-editing researchers who often present on current projects.
"Talking to actual decision makers illuminates nuances that are hard to quantify and don't show up in the numbers. So the qualitative aspect helps me get to the full story on the companies I consider."
Building out many different avenues of research—from reading up on a complex industry and analyzing data, to visiting company offices—all contribute valuable information to making thoughtful investment recommendations that can reward investors down the road.
INVESTMENT PROFESSIONAL, U.S. EQUITY DIVISION
"I love how investing combines analytical skill with abstract thinking, and while most of the market focuses on the short term, I can add value for clients by building a vision of how an industry will evolve over the long term."
HOME BASE
Baltimore, Maryland
COVERAGE
U.S. agriculture
EDUCATION
M.B.A., University of Chicago Booth School of Business
INTERESTING FACT
Earned a bachelor of music in jazz studies
YOU MAY ALSO BE INTERESTED IN
Let us help you get started.
Speak to an investment specialist about solutions that might be right for you. Or choose from a broad range of funds with 4- or 5-star Overall Morningstar Ratings®.
The securities mentioned were not held by the Blue Chip Growth Fund as of 3/31/20.
Technology stocks historically have experienced unusually wide price swings, both up and down. The potential for wide variation in performance reflects the special risks common to companies in the rapidly changing field of technology.