It's Never Too Early to Start Saving
Congratulations on your new addition! We know there are a lot of decisions to make and it can feel overwhelming. That's why we've made it easy to help you start saving for college—even before your baby arrives. Although college may seem far away, opening a T. Rowe Price College Savings Plan account early puts the power of time and earnings potential, on your side.
Why the T. Rowe Price College Savings Plan?
Our 529 plan is a simple, affordable way for families to put aside money for college tuition and education-related expenses as well as K-12 tuition expenses for public, private, and religious schools. You make contributions to your plan using after-tax dollars, but earnings are tax-deferred while invested and tax-free when used for qualified higher educational expenses such as tuition, fees, room and board, books, supplies, computer technology, and equipment as well as certain expenses for special needs students. The "529" refers to the section of the Internal Revenue Code that created these plans.
Benefits of the T. Rowe Price College Savings Plan
Right Now Is the Right Time to Start Saving
The sooner you start saving, the more you could potentially have for higher education expenses. It's that simple. The sooner you start investing, the longer you have for your savings to potentially grow. So put time on your side and start saving today.
You can start saving even before your baby arrives. In fact, opening an account today not only means you'll have one less thing to remember to do later, but it will give your investment more time to potentially grow. Plus, you have the flexibility to make changes to your account whenever you want.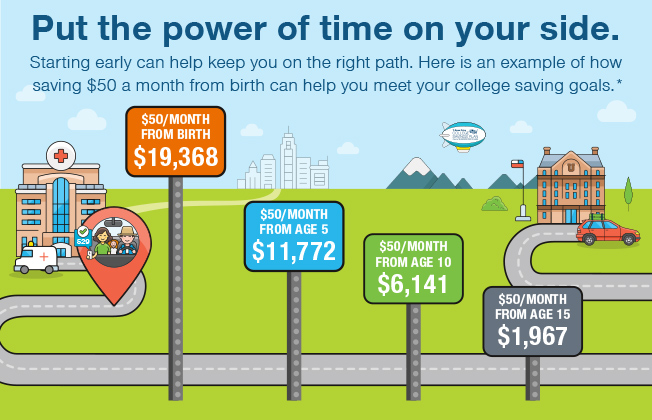 *Chart assumes a hypothetical 6% rate of return compounded monthly. This chart is for illustrative purposes only, and does not predict or project the return of any specific investment option. Investment returns in the T. Rowe Price College Savings Plan will vary and may be higher or lower than this example.
1While distributions to cover K-12 tuition are tax-free on the federal level, state tax treatment will vary, and you should check with your tax professional for details.