At T. Rowe Price, we have one business – investments, and one purpose – to help our clients confidently achieve long-term financial success.
Founded in 1937 during the Great Depression, T. Rowe Price is built on the enduring philosophy of our founder – meeting clients' individual needs. For over 80 years and through changing investment and economic environments, the core principles that guide our business have remained the same.
At a Glance*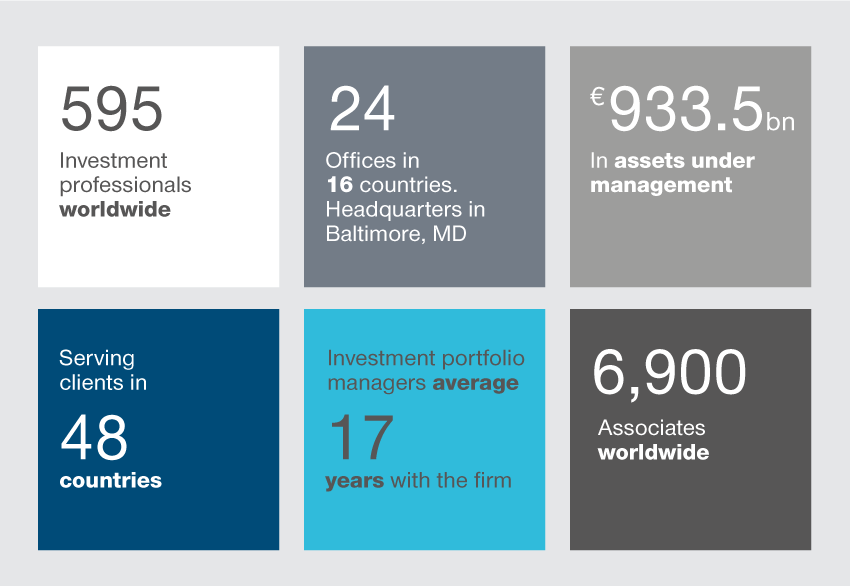 Our History
Founded in 1937 by Thomas Rowe Price Jr., the firm focused on building a reputation for the highest character and the soundest investment philosophy. This philosophy has continued as we have grown from the 1930's to today.
In 1979 the firm partnered with Robert Fleming Holdings to open our first international office in London and began to expand globally. Since then, T. Rowe Price has expanded to Asia and Europe, and is now one of the largest investment firms in the world, managing €933.5 bn* for clients in 48 countries.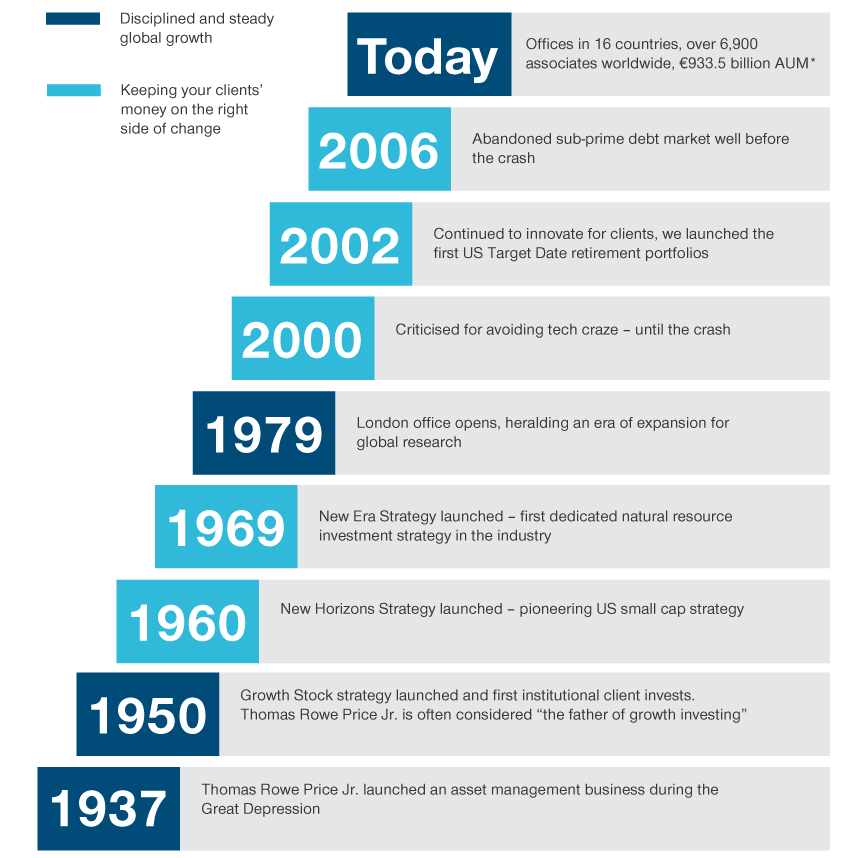 Our Philosophy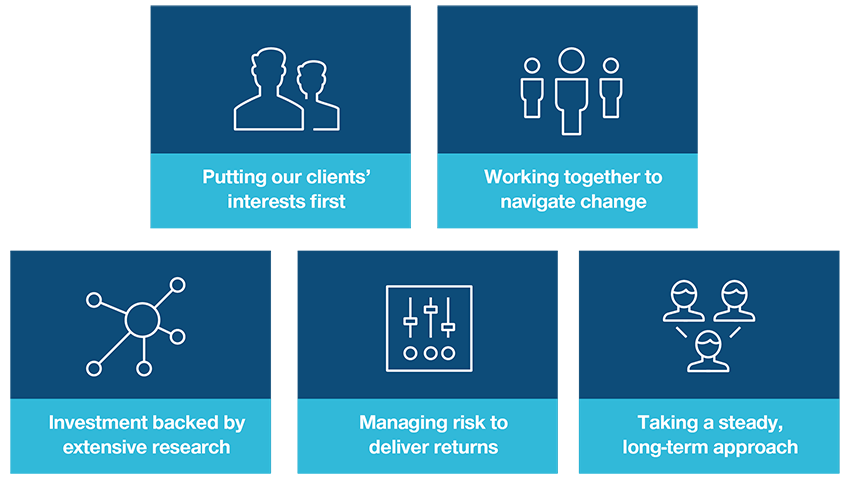 Going Beyond the Numbers
Research informs our decision making and guides our culture of collaboration and diverse thinking.

Our global research platform is the engine behind our portfolios. We have 275* specialist equity and fixed income research analysts based in 9 offices around the world, collaborating through joint analyst meetings and regularly sharing their research across asset classes and regions.
Our team provides a 360-degree view on all investments, delivering insights and best ideas to our portfolio managers. Going beyond the numbers to keep our investors on the right side of change.

Cornerstones of our Investment Approach
Since 1937, our investment approach has remained the same*.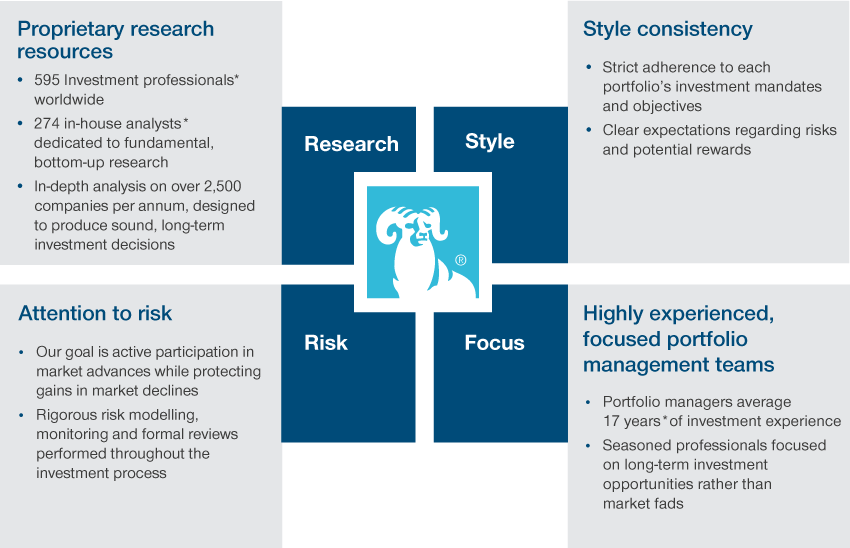 Our Culture
From the beginning, having diverse perspectives has been a cornerstone of our approach at T. Rowe Price. It ensures we have the best talent available and a culture that leverages different backgrounds, perspectives and experiences to meet our clients' needs. We have always embraced a culture of diversity and collaboration, and we consider this indivisible from the firm's mission to help clients succeed.

This same philosophy guides our community efforts. By helping to improve the quality of life for those around us, we believe our own lives will be enriched in the process. We are committed to making a positive social impact in our global communities, from financial education for children to local volunteering. In 2017 alone, the T. Rowe Price foundation provided US$10 million to non-profit organisations.
Important Information
1Past performance is not a reliable indicator of future results. As at 30 June 2018. © 2018 Morningstar. All Rights Reserved. The information contained herein:
(1) is proprietary to Morningstar; (2) may not be copied or distributed; and (3) is not warranted to be accurate, complete or timely. Neither Morningstar nor its content providers are responsible for any damages or losses arising from any use of this information. The outperformance figures are based on rankings of our A share classes where available and I share classes for those funds that do not have an A share class.


Fund outperformance bar chart:
Past performance is not a reliable indicator of future results. Source: Copyright © 2018 FactSet Research Systems Inc. All rights reserved.


*All figures as at 30 September 2018. Firmwide AUM includes assets managed by T. Rowe Price Associates, Inc. and its investment advisory affiliates. Assets under management are calculated in U.S. dollars and converted to pound sterling using an exchange rate determined by an independent third party.