BLOG
Disruption Driving Dispersion among Equities
September 2019
Our outlook for the global economy is informed by a view that the world continues to pass through an ongoing cycle of Crisis, Response, Improvement and Complacency (CRIC). The world is now moving out of stimulus-driven Complacency and back into the Crisis and Response phases.
Low probability of a near-term recession
Coming into 2019, we were of the view that we had passed "peak growth" in economic and earnings terms that had been fuelled by US corporate tax cuts and fiscal stimulus globally, and that we would have a slower-growth year.

While the term "crisis" is too strong to describe what is actually happening in the US (too much debt, too much oil, and too much automation), GDP growth is indeed decelerating. However, we believe the probability of a near-term recession remains low.
China has been in the Crisis part of the cycle for a couple of quarters already, driven by falling GDP growth and the impact of a potential trade war. This fade into Crisis is arguably inevitable given the intense period of Chinese (and more recently US) stimulus that is now rolling off.

The deceleration at macroeconomic level is significant, as this change is marking a shift in regime change. The world is moving away from the stimulus-driven period that has benefited investors so much – and investors typically dislike regime change. As expectations adjust, there is naturally uncertainty and volatility in markets. In our view, this provides us with a refreshed ability to acquire stocks that are misunderstood.
Authorities undertake measures to stimulate growth
We believe enough policy tools exist to shepherd the economy back toward the 'new normal' – i.e. a low-growth and low-return environment. However, our base case remains that politicians will avoid the worst cases of economic self-harm when rhetoric ultimately meets reality and defines policy.
Dispersion among equities – what now for investors?
Investors are having to navigate their way through this low-growth economy and fundamentally disrupted markets. However, a world of relatively low growth and inflation does not imply a world absent of positive change, progress or opportunity.

We appreciate that volatility does not sit comfortably with investors, but it is still an environment that we can work with as stock pickers searching for fundamental improvement, wherever it may exist.

We are witnessing secular change across politics, economics and corporate earnings power.

The impact of this level of disruption is strong and lasting, and it has led to significant dispersion among the returns of global stocks that are driving or harnessing disruption, and those losing market share.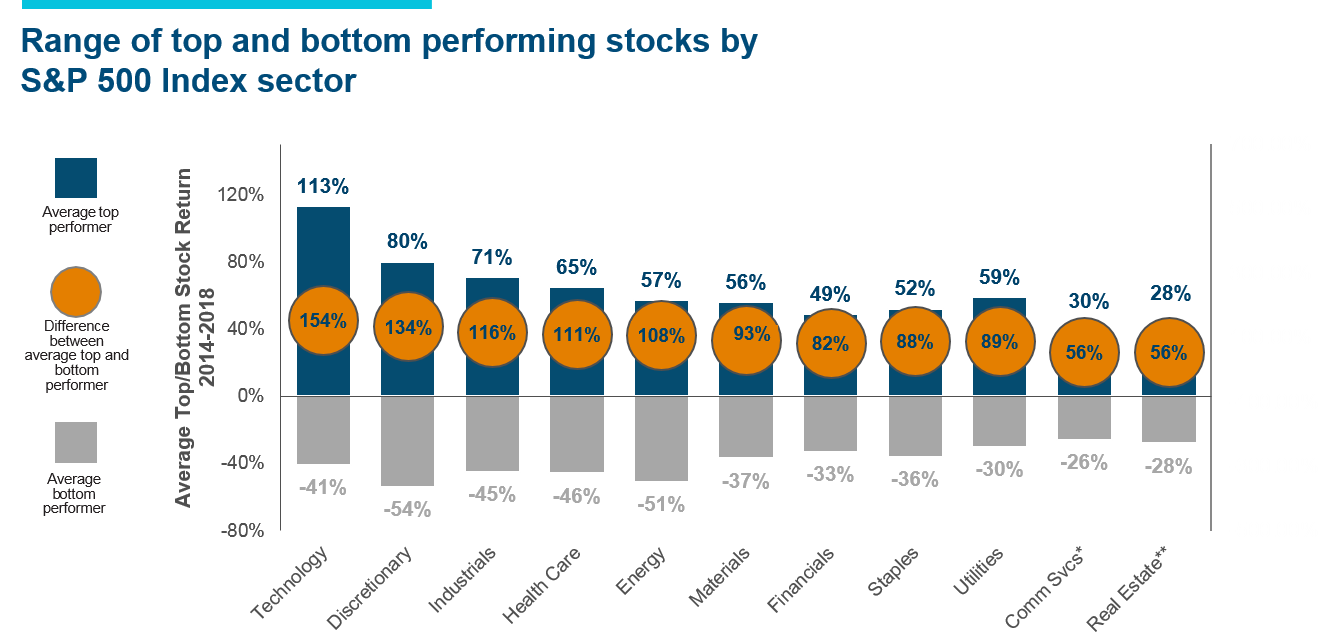 Past performance is not a reliable indicator of future performance.
As at 31 December 2018
* Effective 28 September 2018, S&P Dow Jones Indices and MSCI broadened and renamed the Telecommunication Services Sector as Communication Services.
** On 31 August 2016, S&P Dow Jones Indices and MSCI moved stock-exchange listed Equity REITs and other listed real estate companies from the Financials Sector of their Global Industry Classification Standard (GICS®) to a new Real Estate Sector.
Source: Wilshire Atlas and Financial data and analytics provider FactSet. Copyright 2019 FactSet. All Rights Reserved.
S&P 500 Index shown as representative of global equity markets.

In these conditions, it is more important than ever to be on the right side of change. We believe this is the time to intensify your search for high-quality companies with improving fundamentals. We look for companies that are beneficiaries of fading growth and inflation expectations, coupled with a specific insight about positive change.
IMPORTANT INFORMATION
This material is being furnished for general informational and/or marketing purposes only. The material does not constitute or undertake to give advice of any nature, including fiduciary investment advice, nor is it intended to serve as the primary basis for an investment decision. Prospective investors are recommended to seek independent legal, financial and tax advice before making any investment decision. T. Rowe Price group of companies including T. Rowe Price Associates, Inc. and/or its affiliates receive revenue from T. Rowe Price investment products and services. Past performance is not a reliable indicator of future performance. The value of an investment and any income from it can go down as well as up. Investors may get back less than the amount invested.
The material does not constitute a distribution, an offer, an invitation, a personal or general recommendation or solicitation to sell or buy any securities in any jurisdiction or to conduct any particular investment activity. The material has not been reviewed by any regulatory authority in any jurisdiction.
Information and opinions presented have been obtained or derived from sources believed to be reliable and current; however, we cannot guarantee the sources' accuracy or completeness. There is no guarantee that any forecasts made will come to pass. The views contained herein are as of the date noted on the material and are subject to change without notice; these views may differ from those of other T. Rowe Price group companies and/or associates. Under no circumstances should the material, in whole or in part, be copied or redistributed without consent from T. Rowe Price.
The material is not intended for use by persons in jurisdictions which prohibit or restrict the distribution of the material and in certain countries the material is provided upon specific request.
It is not intended for distribution to retail investors in any jurisdiction.
RELATED FUND
SICAV
Class Q USD
A high conviction global equity fund for which we seek to identify companies on the right side of change. The portfolio typically consists of typically 60-80 stocks representing our most compelling bottom-up growth ideas, often derived from technological innovation and secular disruption.
View More...
3YR Return
(Annualised)
18.61%