NEWS
Salone del Risparmio 2018 – 80 years of investment experience now available for you
March 2018
Here's a few things that you probably don't know about us:
We can count on 80 years of history
As at January we've reached US$1 trillion assets under management1
We are one of the largest active US equity investors
Come and visit us at our stand F18 on the 10th -12th April at Salone del Risparmio 2018.
At T. Rowe Price, we know that each of our clients is unique. We want to get to know you better so visit our stand and get your unique caricature created by our talented artist.
Meet the team and find out more about how T. Rowe Price can help you and your clients.

A success recognized in Italy, again this year
Best Foreign Fund House 1st Place2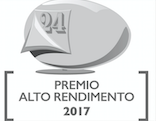 Time period: 12/2014-12/2017
ABOUT THE EVENT…
Il Salone del Risparmio is the main event in the Italian investment management sector and offers investment professionals, financial advisors and media players a common platform to share insights and new ideas with key players in the industry. The three day event is organized by Assogestioni and hosts hundreds of conferences and seminars, rich in educational and investment content.
1Data as at 31.01.18 for T. Rowe Price group of companies.
2Premio Alto Rendimento is awarded by GRUPPO 24 ORE. Past performance is not a reliable indicator of future performance. Based on funds evaluated by CFS. For further information please click here.