BLOG
What Next for the Yield Curve?
September 2018
Key Points
The US Treasury yield curve has flattened to its lowest level since 2007, and it might invert at the next Fed meeting.
The yield curve has traditionally signalled the direction of interest rates and the economy, with an inverted yield curve seen as a harbinger of recession.
However, we do not believe the situation is as clear cut as in the past; investors need to understand the yield curve in the context of the current economic landscape.
The slope of the US yield curve – i.e. the spread between two- and 10-year Treasury yields – can reveal a lot about where the market thinks the economy and interest rates are heading.
The reason for this is simple. While the US Federal Reserve (Fed) controls short-term interest rates through monetary policy, supply and demand set the yields of two- and 10-year Treasuries. The two-year yield is much more likely to be influenced by current policy measures than the ten-year yield, which reflects market expectations of interest and inflation rates a decade into the future. Because this means it is riskier to hold, the 10-year bond typically boasts a higher yield than that of the two-year bond, leading to a typical positive slope of the yield curve.
But the yield curve has been flattening recently, indicating the market expects US interest rates to remain relatively stable. And a possible next step is an inverted yield curve.
WHY SHOULD YOU CARE?
One of the biggest risks to global financial markets is a US recession. The oft-quoted saying "when the US sneezes the world catches a cold" encapsulates this risk: due to its sheer economic size, a US slowdown has the ability to drag down the rest of the world.
In the past several decades, an inverted yield curve – when short-term yields trade above long-term yields – has been the economy's proverbial canary in a coalmine. As Figure 1 shows, when the slope inverts, a recession tends to follow.
Figure 1: The yield curve is the economy's canary in a coalmine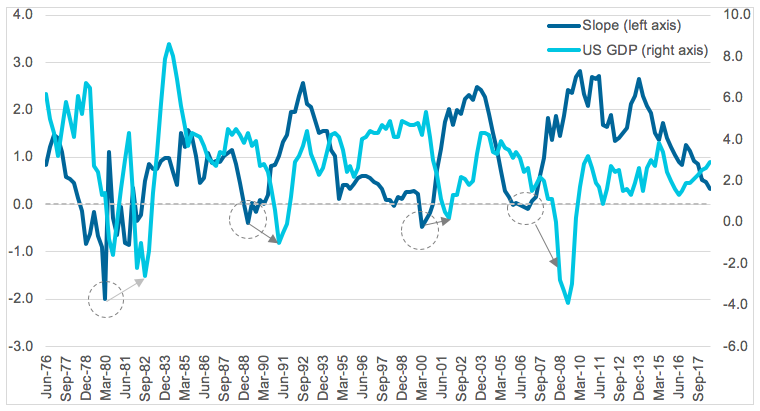 Source: T. Rowe Price and Bloomberg, June 1976 to June 2018. US Generic Govt 10 Year Yield, US Generic Govt 2 Year Yield, GDP US Chained 2012 Dollars YoY.
One possible reason why the inverted slope is seen as a harbinger of recession is that it indicates the market anticipates decreasing interest rates, which is in turn understood as a sign of an economic slowdown. Another reason could be that investors rush to the safety of long-term Treasuries when they are afraid of a selloff in risky assets, such as equities.
The yield curve is not currently inverted. However, is has fallen from over 2.6% at the end of 2013 to around 0.2%. While a flat slope isn't an issue – it could indicate a healthy economy with low interest and inflation rates – it has flattened uncomfortably, to the lowest spread since August 2007. An inverted slope might spook the market.
The Fed has been hiking its policy rates since December 2015, at 0.25% each time. When the Fed hikes, the two-year yield typically moves higher, but the 10-year yield doesn't always react. So if, at this month's expected Fed rate hike, the slope remains at a level close to 0.25%, it may invert.
WHAT SHOULD YOU DO?
First, it is important to acknowledge that an inversion does not always precede a recession. Yield curve inversions typically occur when policy rates are high, with the inversion caused by 10-year yields falling. This time, monetary policy in the US and elsewhere is still accommodative and the flattening is caused (partly) by rising rates.
Second, in the last four economic cycles, an initial inversion preceded an economic recession by around two years, while equity markets tend to peak about six months before a recession. So while being defensive too late could have a large negative impact, being defensive too early could also have a negative impact in costing investors potential late-cycle gains. While a recession in late-2019 or 2020 is possible, the US economy seems healthy: a recession is not upon us yet. So, it is probably still too early to go completely defensive.
Our advice is to keep a close eye on the yield curve, as well as many other factors influencing markets. The slope of the yield curve contains important information, but it is not the only indicator of the strength of the economy.
IMPORTANT INFORMATION
This material is being furnished for general informational purposes only. The material does not constitute or undertake to give advice of any nature, including fiduciary investment advice, and prospective investors are recommended to seek independent legal, financial and tax advice before making any investment decision. T. Rowe Price group of companies including T. Rowe Price Associates, Inc. and/or its affiliates receive revenue from T. Rowe Price investment products and services. Past performance is not a reliable indicator of future performance. The value of an investment and any income from it can go down as well as up. Investors may get back less than the amount invested.
The material does not constitute a distribution, an offer, an invitation, a personal or general recommendation or solicitation to sell or buy any securities in any jurisdiction or to conduct any particular investment activity. The material has not been reviewed by any regulatory authority in any jurisdiction.
Information and opinions presented have been obtained or derived from sources believed to be reliable and current; however, we cannot guarantee the sources' accuracy or completeness. There is no guarantee that any forecasts made will come to pass. The views contained herein are as of the date noted on the material and are subject to change without notice; these views may differ from those of other T. Rowe Price group companies and/or associates. Under no circumstances should the material, in whole or in part, be copied or redistributed without consent from T. Rowe Price.
The material is not intended for use by persons in jurisdictions which prohibit or restrict the distribution of the material and in certain countries the material is provided upon specific request.
It is not intended for distribution to retail investors in any jurisdiction.