BLOG
To Hedge or Not to Hedge?
July 2018
KEY POINTS
Investors seeking global diversification are faced with the decision of whether or not to hedge their exposure to assets denominated in foreign currencies.


Previously, it made sense to hedge conservative assets to avoid currency risk. However, with the US Federal Reserve hiking rates, it is now much more expensive to hedge dollar-denominated assets into European currencies.


Today's investment environment requires UK, Switzerland and Eurozone-based investors to get creative in their search for diversification.

Famously christened "the only free lunch in finance" by economist Harry Markowitz, diversification is a key tool for mitigating risk. And while the virtues of global investing are well understood by any investor seeking to diversify his or her portfolio, the question of whether to hedge or not to hedge foreign currencies can be more difficult to answer.

This decision has only been further complicated by recent market developments – namely, US Federal Reserve (Fed) rate hikes.

IS THERE A RULE OF THUMB?
Traditionally, one rule of thumb has been to always hedge conservative foreign assets.

Every asset in a well-diversified portfolio has a role to play: risky assets should deliver growth; high yielding assets should generate income; and conservative assets should temper risk.

Risky assets – such as equities – remain risky regardless of whether or not the currency is hedged. As a result, it is best to use your discretion based on your view of the direction of the currency.

If you were to invest in foreign conservative assets without hedging the currency exposure, however, the asset could transform from a conservative to a risk asset due to currency risk, thereby losing its role in your portfolio.

THE RISING COST OF HEDGING
This is the principle. In practice, however, the picture for foreign currency hedging has changed due to central bank policy divergence: while Europe and the UK have kept interest rates at record lows, the Fed has hiked rates in recent years. This has created a new problem for investors, as one cost of hedging currencies is the difference between the short-term interest rates of the base and foreign currencies.

Say the base currency of your portfolio is euro and you invest $10 million in US equities. Hedging the US dollar exposure is akin to borrowing $10 million and depositing the money in euro. You pay dollar interest on the borrowed dollars and collect interest on the euro deposit.

Figure 1 shows the estimated costs of hedging dollar into euro, pound and Swiss franc. Since early-2015, hedging dollar-denominated assets into European currencies has become markedly more expensive.

Figure 1: Estimated cost of hedging US dollar into other currencies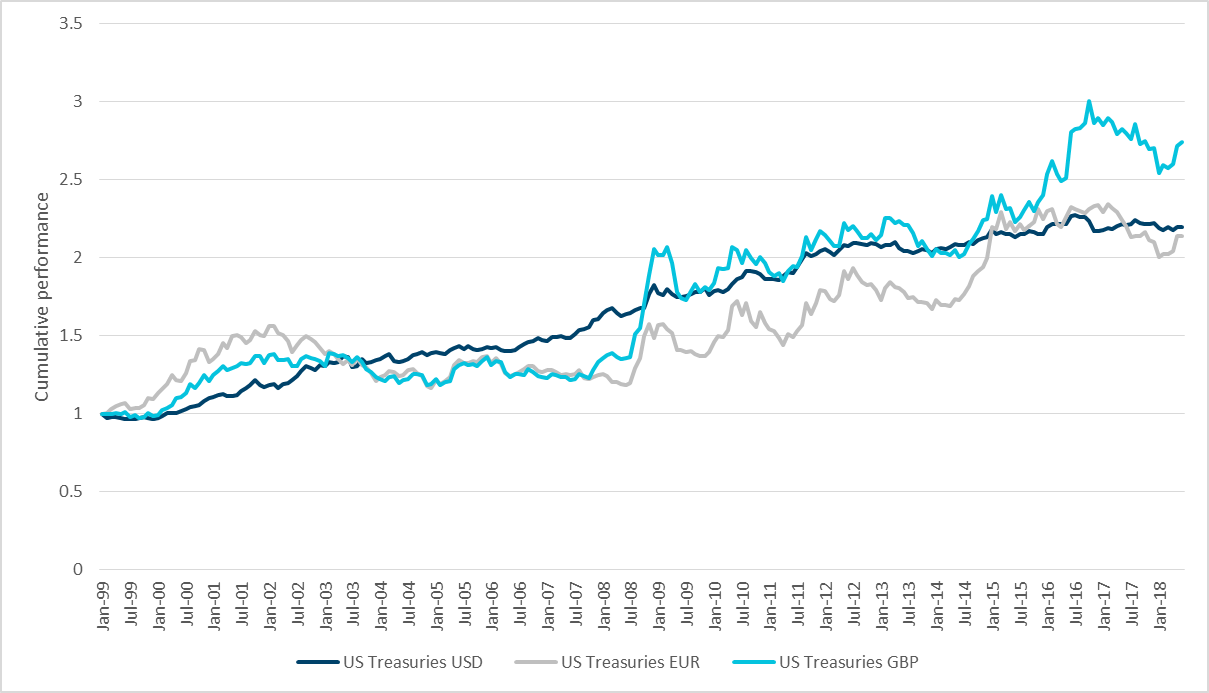 Sources: Source: Bloomberg Finance L.P. ICE LIBOR USD 3 Month, ICE LIBOR EUR 3 Month, ICE LIBOR GBP 3 Month, ICE LIBOR CHF 3 Month. Hedging costs are calculated as 3-month Libor in each currency less the 3-month US dollar Libor.

The problem for investors in the Eurozone, the UK and Switzerland is that a significant portion of global investments are denominated in US dollar. Hedging the currency exposure of those assets could be punishing. And if the Fed continues to tighten while central banks in Europe and the UK lag, these costs will only rise.

Investors in the Eurozone and Switzerland face yet another challenge: not only do they not receive interest on cash deposits, but they must also pay banks on their deposits. Swiss banks, for example, require a 0.75% payment.

Gone are the days when cash was boring.

FORGETTING WHAT YOU KNOW
When deciding whether to hedge foreign risky assets (such as equities), it is important to consider the cost of hedging in addition to the direction of the currency.

As for conservative assets, the question of hedging is increasingly complicated. One solution is to invest in conservative assets denominated in your base currency. However, not all domestic markets are as broad and deep as the global or US market: for example, the money market and ultra-short bond market in Europe might offer fewer opportunities than do those in the US.

The best course may be to construct a portfolio with a yield in US dollar which, after hedging, would still be a better alternative than your base currency.

For example, if you pay 0.4% on your cash deposit in your base currency, you may construct a portfolio of money market and ultra-short securities denominated in dollar and yielding 3.1%. After hedging costs it would pay you zero – better than paying 0.4% to the bank for keeping your money.

We live in interesting times, where hedging currencies can be expensive and even a cash deposit may become a negative-yielding asset. In this environment, it pays to be creative.

IMPORTANT INFORMATION
This material is being furnished for general informational purposes only. The material does not constitute or undertake to give advice of any nature, including fiduciary investment advice, and prospective investors are recommended to seek independent legal, financial and tax advice before making any investment decision. T. Rowe Price group of companies including T. Rowe Price Associates, Inc. and/or its affiliates receive revenue from T. Rowe Price investment products and services. Past performance is not a reliable indicator of future performance. The value of an investment and any income from it can go down as well as up. Investors may get back less than the amount invested.
The material does not constitute a distribution, an offer, an invitation, a personal or general recommendation or solicitation to sell or buy any securities in any jurisdiction or to conduct any particular investment activity. The material has not been reviewed by any regulatory authority in any jurisdiction.
Information and opinions presented have been obtained or derived from sources believed to be reliable and current; however, we cannot guarantee the sources' accuracy or completeness. There is no guarantee that any forecasts made will come to pass. The views contained herein are as of the date noted on the material and are subject to change without notice; these views may differ from those of other T. Rowe Price group companies and/or associates. Under no circumstances should the material, in whole or in part, be copied or redistributed without consent from T. Rowe Price.
The material is not intended for use by persons in jurisdictions which prohibit or restrict the distribution of the material and in certain countries the material is provided upon specific request.
It is not intended for distribution to retail investors in any jurisdiction.