BLOG
A Disrupted Market Leading to Deflationary Progress
September 2019
Investors attempting to make sense of the world have had to navigate their way around a low-growth economy with excess debt and oil, as well as low inflation driven by technology and automation. Does this mean that we are headed for a recession? And can investors still find yield in a low-growth economy?
So much money and no growth in sight
Our financial markets have been fundamentally disrupted. This is – in large part – due to an era of ultra-loose monetary policy and quantitative easing in an attempt to support the global economy in the aftermath of the financial crisis.

Despite all this liquidity and investment, there is virtually no inflation, mainly because there is very little growth. But we should not mistake this for stagnation or recession. We believe these conditions will cause the world to grow at a slower pace for longer, yet not without progress.
Enabling businesses to 'cross the chasm'
Research1 into disruption and innovation has led academics to call the period between a good idea developing, and the broad adoption thereof, the 'chasm'. In other words, those new technologies that are born, developed and successfully adopted would have crossed the chasm.

In the traditional worldview, the chasm is (generally speaking) quite significant: it is challenging for a company to introduce a new product and cross the chasm for the technology to become disruptive and broadly adopted.
However, over the past decade we have seen the chasm shrink markedly, in large part thanks to the extremely low cost of capital. Inventors and innovators can now bring an idea to market – supported by a flood of liquidity – at a speed that is highly unusual.

The foundation of the internet has acted as a platform for many companies to disrupt their industries and any historic pricing power that prevailed. Alongside the availability of cheap finance looking for yield, it has enabled disruption that would otherwise have taken much longer to achieve.
Deflationary progress for society
Over the past decade huge levels of funding have been available for companies capitalising on, among others, e-commerce (e.g. Amazon), social networks (e.g. Facebook) and content platforms (e.g. Netflix). Rewards for innovators creating market share and pricing power have been extremely favourable, especially for natural monopolies challenging global and large addressable markets. Those on the wrong side of market share redistribution have found it difficult to re-assert themselves in the face of changing tastes, preferences, advertising mediums and brand values.

The consequences of this framework are far-reaching, and cut across politics, economics and corporate earnings. We call this environment 'deflationary progress' and its structural foundations are strong and long-lasting.

In simple terms this is because the disruption that we face – broadly speaking – tends to improve the lives of consumers, offering more choice and ease of access, whilst lowering costs.
Can investors still find yield?
We are seeing liquidity funding a virtuous circle for innovators. Disruption has bred further disruption as investors are using excess credit and liquidity – often stemming from the gains of investing in disruption – for investment into even more disruption and innovation, in a search for yield. One outcome is that factors aren't behaving in the way many expect them to.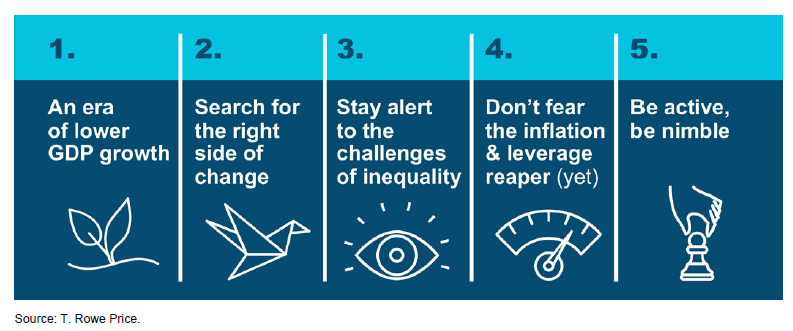 Importantly, a world of relatively low growth and inflation does not imply a world absent of positive change, progress or opportunity. If anything, it implies a broad dispersion of stock returns between those businesses that have been able to cross the chasm successfully, and those whose markets have been disrupted.

For investors this identifies a clear need to position portfolios actively on the right side of change, as it evolves. We believe this low-growth environment makes it more and more valuable to own companies that are structurally changing their industries and gaining market share, even if they trade at a premium.

1Clayton Christensen – an economist at the Harvard Business School – has done extensive research on the topic of disruption. In his book The Innovator's Dilemma, 1997, he coined the idea of 'crossing the chasm' to explain why some technologies can be broadly disruptive, and others.



The specific securities identified and described do not represent all of the securities purchased, sold, or recommended for the portfolio, and no assumptions should be made that the securities identified and discussed were or will be profitable.
IMPORTANT INFORMATION
This material is being furnished for general informational and/or marketing purposes only. The material does not constitute or undertake to give advice of any nature, including fiduciary investment advice, nor is it intended to serve as the primary basis for an investment decision. Prospective investors are recommended to seek independent legal, financial and tax advice before making any investment decision. T. Rowe Price group of companies including T. Rowe Price Associates, Inc. and/or its affiliates receive revenue from T. Rowe Price investment products and services. Past performance is not a reliable indicator of future performance. The value of an investment and any income from it can go down as well as up. Investors may get back less than the amount invested.
The material does not constitute a distribution, an offer, an invitation, a personal or general recommendation or solicitation to sell or buy any securities in any jurisdiction or to conduct any particular investment activity. The material has not been reviewed by any regulatory authority in any jurisdiction.
Information and opinions presented have been obtained or derived from sources believed to be reliable and current; however, we cannot guarantee the sources' accuracy or completeness. There is no guarantee that any forecasts made will come to pass. The views contained herein are as of the date noted on the material and are subject to change without notice; these views may differ from those of other T. Rowe Price group companies and/or associates. Under no circumstances should the material, in whole or in part, be copied or redistributed without consent from T. Rowe Price.
The material is not intended for use by persons in jurisdictions which prohibit or restrict the distribution of the material and in certain countries the material is provided upon specific request.
It is not intended for distribution to retail investors in any jurisdiction.
RELATED FUND
SICAV
Class I USD
A high conviction global equity fund for which we seek to identify companies on the right side of change. The portfolio typically consists of typically 60-80 stocks representing our most compelling bottom-up growth ideas, often derived from technological innovation and secular disruption.
View More...
3YR Return
(Annualised)
18.83%