BLOG
Passive Investing in Japan and the Cost Nobody is Talking About
October 2018
An interesting, and somewhat under-acknowledged, aspect of the Japanese equity market is its high association with passive investing. Indeed, for non-domestic investors, Japanese equities and passive investing have traditionally gone hand in hand given that (i) Japan is often confusing/misunderstood and (ii) many investors often want to trade Japan on a short-term, liquid basis rather than investing over the long term in Japan's best domestic and export-oriented companies.
Certainly, the irony here is not lost on us, as it is these very reasons that make Japan such a compelling proposition for active managers.
Passive and exchange-traded fund (ETF) investing still dominate non-domestic Japanese equity exposure (Figure 1). This is suboptimal in our view, especially given that passive exposure is often benchmarked against the MSCI Japan Index, which is only representative of the largest market capitalization segment of Japan.

Figure 1: Passive Investment Flows in Japan are Heavily Biased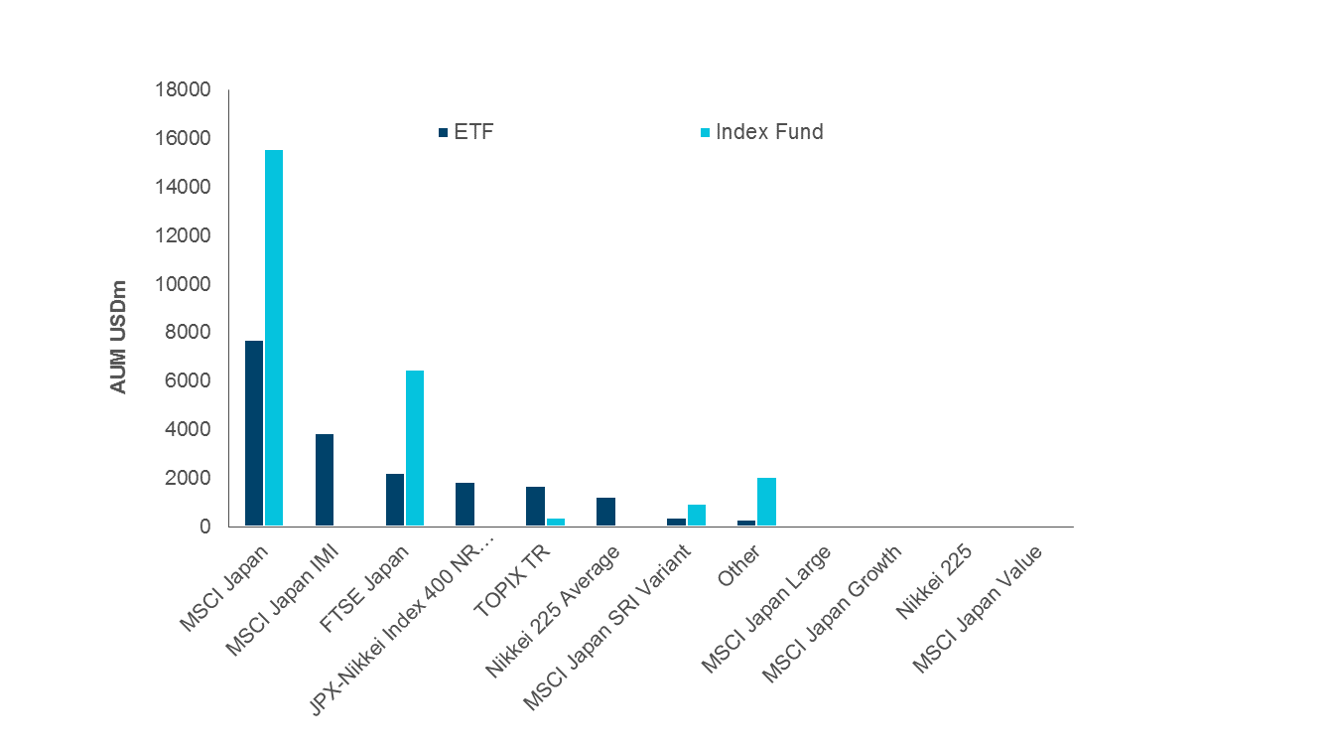 Source: Morningstar Direct as at 31 July 2018.


For passive investors, this has led to the unintended consequence of being exposed to the full absolute volatility characteristics of Japan, given the larger-capitalization segment tends to the most cyclical area of the market. The higher liquidity of the MSCI Japan Index also leads to being fully exposed to the ebbs and flows of international investor sentiment (and, hence, the full impact of passive investor flows as they churn in and out of Japan). Over the trailing 3-, 5-, 7- and 10-year periods, benchmarking to the MSCI Japan Index also led to lower returns versus an all-cap approach utilizing the broader (in economic terms) TOPIX Index1

Why is the MSCI Japan Index so widely used then? Because it is easier and cheaper to replicate for passive managers and commands a lower fee. Replicating a broader, all-cap index like TOPIX would mean more focus on smaller-cap stocks, adding time, difficulty, and cost. The pivotal question here is: Are investors aware of the return sacrifice and the volatility premium associated with passive investing in Japan versus alternatives? Only individual investors can answer definitively, but we believe that, in many cases, this is not the case.

Meanwhile, the changing nature of Japan, together with the market inefficiencies mentioned, has created a fertile environment for bottom-up, quality-oriented, and long-term-focused stock pickers in Japan.

Our approach to exploiting the opportunity in Japan is to use our local and global research knowledge to find stocks that are on the right side of change or undergoing positive transformation. We then construct a high conviction strategy using our best ideas to create a growth- and quality-oriented portfolio of stocks that can potentially deliver fundamental improvement over the long term. While Japan does ebb and flow on global macro data, we can demonstrate that bottom-up cash flow and earnings fundamentals matter over the long term.

The strong performance capture in a negative market of the T. Rowe Price Japan Equity Composite (Figure 2), coupled with robust, net of fees alpha generation over three, five, seven and 10 years, certainly seems to rebut the case for passive management in Japan (Figure 3).

Figure 2: The numbers tell the active versus passive story in Japan

Past performance is not a reliable indicator of future performance.
Sources: T. Rowe Price and Morningstar Direct. Figures are calculated in U.S. dollars, gross of fees. Returns shown with gross dividends reinvested.

While still a dominant force in the market, we believe that passive investing in Japan, at a minimum, carries opportunity cost. This is a consideration worth active thought, especially given the maturity of the global equity cycle and the very real structural changes that are happening in the Japanese economy and equity market. Both these fundamental realities require active management in our opinion.

IMPORTANT INFORMATION
This material is being furnished for general informational purposes only. The material does not constitute or undertake to give advice of any nature, including fiduciary investment advice, and prospective investors are recommended to seek independent legal, financial and tax advice before making any investment decision. T. Rowe Price group of companies including T. Rowe Price Associates, Inc. and/or its affiliates receive revenue from T. Rowe Price investment products and services. Past performance is not a reliable indicator of future performance. The value of an investment and any income from it can go down as well as up. Investors may get back less than the amount invested.
The material does not constitute a distribution, an offer, an invitation, a personal or general recommendation or solicitation to sell or buy any securities in any jurisdiction or to conduct any particular investment activity. The material has not been reviewed by any regulatory authority in any jurisdiction.
Information and opinions presented have been obtained or derived from sources believed to be reliable and current; however, we cannot guarantee the sources' accuracy or completeness. There is no guarantee that any forecasts made will come to pass. The views contained herein are as of the date noted on the material and are subject to change without notice; these views may differ from those of other T. Rowe Price group companies and/or associates. Under no circumstances should the material, in whole or in part, be copied or redistributed without consent from T. Rowe Price.
The material is not intended for use by persons in jurisdictions which prohibit or restrict the distribution of the material and in certain countries the material is provided upon specific request.
It is not intended for distribution to retail investors in any jurisdiction.
RELATED FUND
SICAV
Class I EUR
Diversified all-cap portfolio offering exposure to typically 60-80 of our best growth ideas in Japan. We seek to buy durable companies where we believe we have an insight into the potential for rising shareholder value typically coming from structural changes or fundamental transformation.
View More...
3YR Return
(Annualised)
10.65%