BLOG
Asian Diary - September 2015
settembre 2015
Read Nick's monthly column to get the latest perspectives on what we are seeing on the ground in Asia, with observations from the team's travels around the region.
Executive Summary
Headlines this month:
Third quarter proves tough for Asia, underperforming global markets
Korea and India posts positive market returns, Indonesia suffers most
On the road: the team visits India's southern state of Tamil Nadu
We remain optimistic on India long-term but cautious given the current market's consensus overweight

That was a tough quarter. The MSCI AC Asia ex Japan Index fell by -16.94% in Q3 2015, underperforming the MSCI AC World Index by -7.60 – the largest quarterly underperformance relative to the global index in over 10 years. Still, ever the optimist, September was a better month. The MSCI AC Asia ex Japan index fell just -1.74% in September compared to -3.58% fall for the MSCI AC World and -2.97% for MSCI Emerging Markets.
Within Asia, Korea (1.76%) and India (0.46%) managed positive returns for the month. Korea was aided by strong performance from the auto sector where weaker FX is being seen as a positive catalyst. India benefitted from a surprise 50bps rate cut by the Reserve Bank of India (RBI) on 29 September, the currency appreciated against the dollar and IT services and Financials were especially strong performers. Indonesia was the weakest market in Asia in September (-13.12%), hindered by a 3.7% depreciation of the rupiah.
Several members of the team were in India in September meeting companies covering a broad range of sectors. There was also a side trip across the large southern Indian state of Tamil Nadu, a follow-up to the trip across northern Indian states earlier in 2015 (see February's Asian Diary notes). Our broad take-away on the macro situation was that things are slowly moving in the right direction, although without a major pick-up as no major reforms have happened yet. We continue to hear that the private sector is reluctant to invest in infrastructure, and changing this will be important for India's success over time.
On a more positive note, it is becoming apparent that individual states in India are playing an increasingly important role in development. Road and rail construction is picking up in several states. Our visit to Tamil Nadu confirmed this trend, with some of the best roads to be found in India, even in the villages. The first photo below is a main highway, second is a road through a village with miles of smart tarmac – compare them to the muddy scenes in Uttar Pradesh from our February diary, in the third photo (all photos source T. Rowe Price).

Tamil Nadu is also an example of a state that has encouraged foreign direct investment and improved the ease of doing business. Industrialisation has had a powerful trickle-down effect into the economy. Part of Prime Minister Modi's 'Make in India' campaign is to encourage more states to follow this model. We heard that wages at these factories were growing significantly – not so good for the companies but great for consumption over time. Below is a photo of the Hyundai Mobis factory (source: T. Rowe Price). It is one of their top three global supply centres for auto parts and now sources 70% of its product from local vendors1.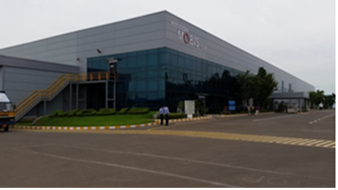 We remain optimistic on the longer term outlook for India. Progress on reform has been slow, but change is happening. Near term, the economy should gradually improve. Our main concern remains that India is a huge consensus overweight. We have not yet seen any improvement in earnings growth, and valuations remain at elevated levels relative to the rest of the region. That makes the market susceptible to disappointment, which tempers our enthusiasm.

1 Company information, Hyundai Mobis
Informazioni importanti

Il materiale ha solo scopo informativo e/o di marketing e non è un consiglio o una raccomandazione di investimento. Consigliamo ai potenziali investiori di richiedere una consulenza legale, finanziaria e fiscale indipendente prima di assumere qualsiasi decisione di investimento. I rendimenti passati non sono indicativi di quelli futuri. Il valore di un investimento puó oscillare e gli investitori potrebbero non ottenere l'intero importo investito.
Il materiale non è stato verificato da alcuna autorita di vigilanza in alcuna giurisdizione.
Informazioni e opinioni sono ottenute/ tratte da fonti ritenute affidabili ma non garantiamo completezza ed esaustivitá, né che eventuali previsioni si concretizzino. I pareri contenuti sono soggetti a cambiamento senza preavviso e possono differire da altre società del gruppo T. Rowe Price.
È vietata la diffusione, in qualsiasi forma, della pubblicazione e/o dei suoi contenuti. Il materiale è destinato all'uso esclusivo in Italia. Vietata la distribuzione retail.
FONDO CORRELATO
SICAV
Classe I
Portafoglio gestito attivamente, orientato alla crescita senza vincoli di capitalizzazione, composto da circa 70-100 titoli asiatici (Giappone escluso) che rappresentano le idee considerate più convincenti. Le considerazioni ambientali, sociali e di governance (ESG) sono integrate nel processo d'investimento, come parte delle decisioni di investimento. Il fondo rientra nell'ambito
dell'Articolo 8 del Regolamento sulla trasparenza della finanza sostenibile (SFDR)
.
Visualizza Altro...