NEWS
Highly-Rated Strategies
10 March 2020

CITYWIRE GROUP RATINGS1
T. Rowe Price achieved 27 Group Sector ratings. Of the 2,111 companies tracked by Citywire, T. Rowe Price was ranked 1st according to number of medals awarded and 2nd according to number of gold and platinum ratings.

MORNINGSTAR
Our investment strategies have on average delivered strong long-term performance.2

SICAV Fund Outperformance of Morningstar Category Median as of 31 December 2019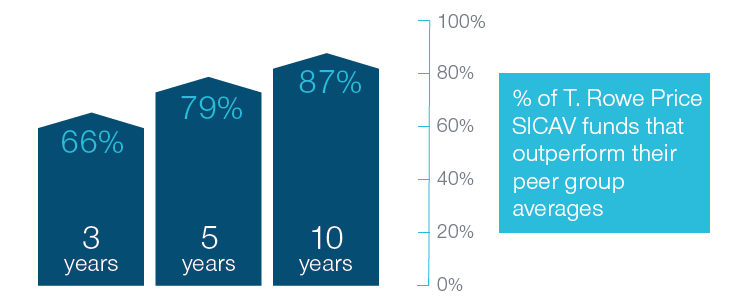 Past performance is not a reliable indicator of future performance.
1 As of 31 December 2019. Source & Copyright: Citywire. Group Ratings by Citywire for rolling risk adjusted performance, across all management teams in a sector, over the period 31/07/2012- 31/12/2019. Citywire take into account the complete stable of managers a group currently has in a sector. All the individuals' risk adjusted performance over a seven year period are factored in, as are moves people have made and changes in responsibility. The ratings are calculated over seven years and based on an average of their managers' three year rolling risk-adjusted returns. Where managers have moved, their track records will follow them. A final score is generated for each group, on a sector by sector basis, with current stable of managers taken into account. Those delivering excellent levels of outperformance are placed in the ratings pool. Ratings are awarded to any group that is at least one third ahead of the average score. Within this top group, 10% receive a platinum rating, the next 20% a gold rating, the next 30% a silver rating, and the remaining 40% a bronze rating. Not all strategies included in the group ratings are available in all jurisdictions. The ratings are provided for information only and are not intended to be an endorsement, offer or solicitation for the sale of any product or service.

2 © 2020 Morningstar. All Rights Reserved. The information contained herein: (1) is proprietary to Morningstar; (2) may not be copied or distributed; and (3) is not warranted to be accurate, complete or timely. Neither Morningstar nor its content providers are responsible for any damages or losses arising from any use of this information. The outperfomance figures are based on rankings of our A share classes where available and I share classes for those funds that do not have an A share class.
202003-1115010