NEWS
Highly-Rated Strategies
10 March 2020

CITYWIRE GROUP RATINGS1
T. Rowe Price achieved 27 Group Sector ratings. Of the 2,111 companies tracked by Citywire, T. Rowe Price was ranked 1st according to number of medals awarded and 2nd according to number of gold and platinum ratings.



FUND CALIBRE ELITE RATINGS2
Best Equity fund management group.
T. Rowe Price International Ltd has been awarded the Elite Provider for Equities Rating and placed 5th out of 86 groups in FundCalibre's annual Fund Management Equity Index.




FE CROWN FUND RATINGS3
In the January 2020 FE Crown Fund Rating Rebalance, T. Rowe Price received the following ratings:



FE ALPHA MANAGERS
The following T. Rowe Price Portfolio Managers are FE Alpha rated managers:

Ben Griffiths
David J. Eiswert
Eric Moffett
Larry J. Puglia
Michael Della Vedova





Morningstar
Our investment strategies have on average delivered strong long-term performance.5

SICAV Fund Outperformance of Morningstar Category Median as of 31 December 2019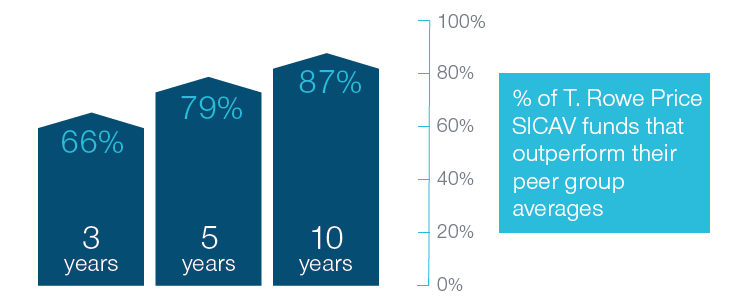 Past performance is not a reliable indicator of future performance.
1 As of 31 December 2019. Source & Copyright: Citywire. Group Ratings by Citywire for rolling risk adjusted performance, across all management teams in a sector, over the period 31/07/2012- 31/12/2019. Citywire take into account the complete stable of managers a group currently has in a sector. All the individuals' risk adjusted performance over a seven year period are factored in, as are moves people have made and changes in responsibility. The ratings are calculated over seven years and based on an average of their managers' three year rolling risk-adjusted returns. Where managers have moved, their track records will follow them. A final score is generated for each group, on a sector by sector basis, with current stable of managers taken into account. Those delivering excellent levels of outperformance are placed in the ratings pool. Ratings are awarded to any group that is at least one third ahead of the average score. Within this top group, 10% receive a platinum rating, the next 20% a gold rating, the next 30% a silver rating, and the remaining 40% a bronze rating. Not all strategies included in the group ratings are available in all jurisdictions. The ratings are provided for information only and are not intended to be an endorsement, offer or solicitation for the sale of any product or service.

2 All data used to compile the FundCalibre Fund Management Equity Index is taken from Financial Express Analytics, five years to 31.12.2019. To read more about the Fund Management Equity Index methodology, visit https://www.fundcalibre.com/about-us/what-is-the-elite-rating. This Equity Index looks at all actively managed equity funds recognised by the Investment Association and compares them with their sector averages over a five year time frame. The award of an Elite Fund rating does not infer suitability or constitute a recommendation to buy or sell. FundCalibre is an authorised representative of Chelsea Financial Services.

3 This rating relates to the SICAV fund range. © 2020 FE. All Rights Reserved. The information, data, analyses, and opinions contained herein (1) include the proprietary information of FE, (2) may not be copied or redistributed, (3) do not constitute investment advice offered by FE, (4) are provided solely for informational purposes and therefore are not an offer to buy or sell a security, and (5) are not warranted to be correct, complete, or accurate. FE shall not be responsible for any trading decisions, damages, or other losses resulting from, or related to, this information, data, analyses, or opinions or their use. FE does not guarantee that a fund will perform in line with its FE Crown Fund Rating as it is a reflection of past performance only. Likewise, the FE Crown Fund Rating should not be seen as any sort of guarantee or assessment of the creditworthiness of a fund or of its underlying securities and should not be used as the sole basis for making any investment decision. https://www.trustnet.com/learn/learnaboutinvesting/FE Crown Fund Ratings.html

4 FE Alpha Managers rate the performance of a fund manager over their career regardless of the number of funds they have managed or number of places worked. They are designed to distinguish fund managers who have consistently performed well over the longer term. Only the top 10% of managers will receive this accolade. Measured from 01/01/2000 the rating considers all fund managers running IA unit trusts and OEICs, Investment Trusts and offshore collectives for sale in the UK, with at least one fund being an IA unit trust or OEIC.

5 © 2020 Morningstar. All Rights Reserved. The information contained herein: (1) is proprietary to Morningstar; (2) may not be copied or distributed; and (3) is not warranted to be accurate, complete or timely. Neither Morningstar nor its content providers are responsible for any damages or losses arising from any use of this information. The outperfomance figures are based on rankings of our A share classes where available and I share classes for those funds that do not have an A share class.
202003-1115010
RELATED FUND
SICAV
Class I EUR
A diversified growth portfolio of around 70-100 small- and mid-cap European companies. We seek high quality, innovative companies that can demonstrate durable and attractive rates of growth and grow much larger over the longer term.
View More...
3YR Return
(Annualised)
2.52%
RELATED FUND
SICAV
Class I USD
A high conviction global equity fund for which we seek to identify companies on the right side of change. The portfolio typically consists of typically 60-80 stocks representing our most compelling bottom-up growth ideas, often derived from technological innovation and secular disruption.
View More...
3YR Return
(Annualised)
18.64%
RELATED FUND
SICAV
Class I EUR
Diversified all-cap portfolio offering exposure to typically 60-80 of our best growth ideas in Japan. We seek to buy durable companies where we believe we have an insight into the potential for rising shareholder value typically coming from structural changes or fundamental transformation.
View More...
3YR Return
(Annualised)
9.52%