BLOG
Will the Past Repeat itself in a Disrupted World? (Don't Look Back in Anger)
October 2019
The notion that history may rhyme but does not repeat itself is arguably more relevant than ever in the post-global financial crisis world. For investors, secular change has been an ongoing challenge when using historical perspectives to determine future sources of returns.

For many of us, careers and educations have been established in a global economic era driven by China's ascent, the post-WWII demographic expansion, free trade and movement, and rising living standards. In addition to this, we have become accustomed to governments' ability to act as a stabilising or accelerating force on the economy through fiscal spending.
However, in recent years the factors that had meaningfully influenced the global economic profile over the previous 50 years have changed markedly. This is significant. If the regime has changed along with free trade, the commodity and inflation cycle and government balance sheet strength, then it follows that the behaviour of markets, factors and economic patterns may have changed as well.

While this conclusion may seem logical in theory, investors have been more reluctant to accept this change in thinking, because it is complex and controversial with respect to a lot of embedded capital.
We believe there are three key reasons that support our rationale:

1) The Chinese economy is growing at a rate we haven't seen persist since the 1970s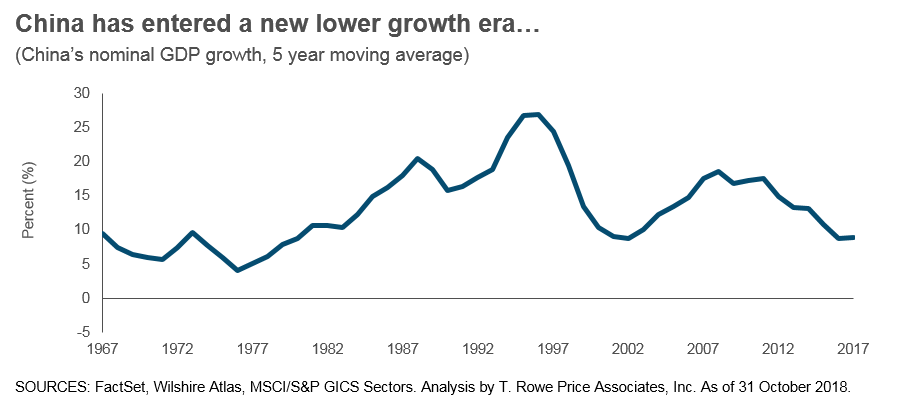 As of 31 October 2018
This isn't cyclical – it is one of the major secular changes in our environment. We are witnessing the result of the world's second largest economy reaching maturity, having passed the peak growth of its one-off industrialisation phase. This phase saw an average annual growth rate of 9.52% for the last 30 years1, but this phase seems to have come to an end.

The evolution in China's economic model has broad consequences. Most notable for estimates of future economic growth rates is the impact on commodity prices, as well as the impact on the global growth and inflation backdrop.
China's impact on commodities

China's future economic trajectory is significantly less dependent on commodities than during its initial expansionary phase. This changes the equation for commodity prices in a way no backward-looking model can accurately predict.
China's impact on growth and inflation backdrop
The world became accustomed to persistent commodity price inflation during China's expansionary phase. This is going to be hard to manufacture when demand for commodities is largely falling, and in an era where supply – of oil, at least – is rising.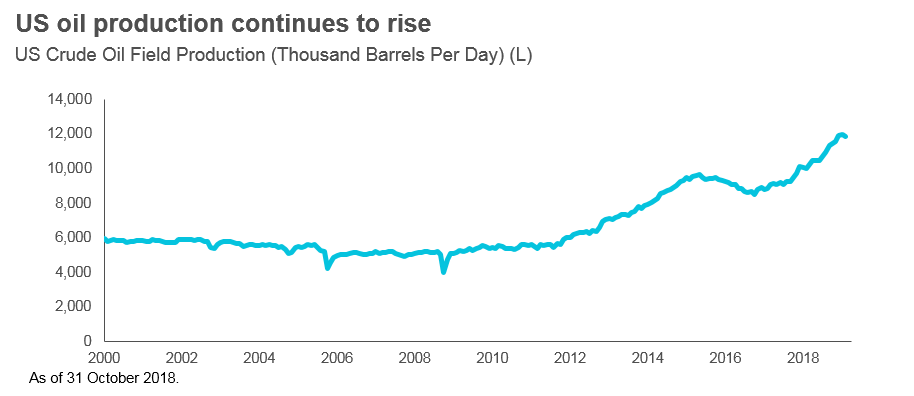 2) An intersection of technological progress and cheap financing has accelerated change and disruption

Inventors and innovators can now take an idea and bring it to market at a speed that is unprecedented. The foundation of the internet has acted as a platform for many companies to disrupt their industries and any historic pricing power that prevailed.

Rewards for innovators creating market share and pricing power are great, especially for natural monopolies targeting huge global addressable markets. Those on the wrong side of market share redistribution are struggling to re-assert themselves because historical tastes, preferences, advertising mediums and brand values are all shifting.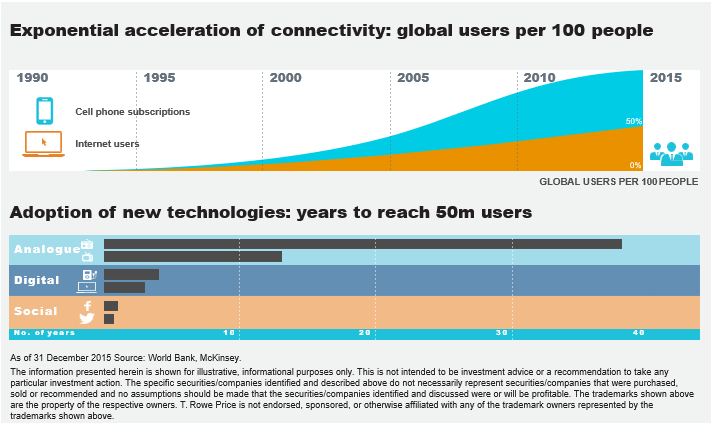 3) Politics is always full of oddities, but this era feels really unusual.
While stimulus was intended to create employment and real wage growth, the most obvious outcome of stimulus has been the wealth divide growing to historic proportions. We know and feel this as a society, but the outcome of the ensuing protest vote seems highly dispersed and unpredictable.

Will Brexit solve income inequality in the UK? It's highly unlikely, but the rhetoric sounded clean and simple. One outcome of the ongoing lack of real wage growth will be the need to deal with changing policy and the surprises that come with more intervention by governments in the fields of economics and regulation. Those dimensions will need thoughtful assessment, and there are no clear answers at the aggregate level.

Betting on the extremes, or reacting to changes in momentum, alongside the levered risk parity capital, hasn't been the way to get the best out of a portfolio in the past few years. Being gently contrarian and applying some old-fashioned risk control remain a good first line defence.

The wealth divide is a growing issue for society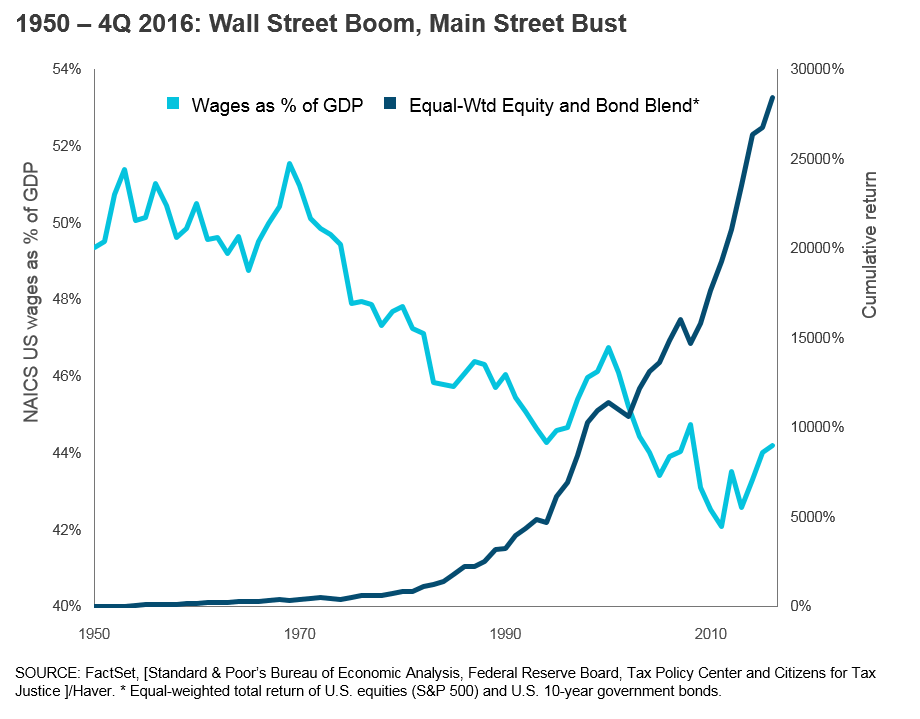 What does this mean for investors?
All these changes are by no means an exhaustive list of factors influencing a shifting economic profile. However, they can give us some perspective on how much evolution there has been in the underlying fabric of asset markets.

We live in an era where secular change has fundamentally altered the way in which the market has always performed, as well as the factors that have influenced market movements. Investors cannot rely solely on past insights to form a view of future returns: acknowledging and identifying change, and applying these insights via our stock picking, sits at the centre of our investment approach. Our framework is based on stock-specific insights about improving returns in the future.

While we have a healthy respect for the past and its teachings, we believe history has to be viewed in tandem with a vision of the future. We believe we can best serve our clients by identifying the changes that matter to the market and each stock we own – as well as those stocks we choose not to own.


1Source: Tradingeconomics.com; National Bureau of Statistics of China; growth rate between 1989 – 2019.

IMPORTANT INFORMATION
This material is being furnished for general informational and/or marketing purposes only. The material does not constitute or undertake to give advice of any nature, including fiduciary investment advice, nor is it intended to serve as the primary basis for an investment decision. Prospective investors are recommended to seek independent legal, financial and tax advice before making any investment decision. T. Rowe Price group of companies including T. Rowe Price Associates, Inc. and/or its affiliates receive revenue from T. Rowe Price investment products and services. Past performance is not a reliable indicator of future performance. The value of an investment and any income from it can go down as well as up. Investors may get back less than the amount invested.
The material does not constitute a distribution, an offer, an invitation, a personal or general recommendation or solicitation to sell or buy any securities in any jurisdiction or to conduct any particular investment activity. The material has not been reviewed by any regulatory authority in any jurisdiction.
Information and opinions presented have been obtained or derived from sources believed to be reliable and current; however, we cannot guarantee the sources' accuracy or completeness. There is no guarantee that any forecasts made will come to pass. The views contained herein are as of the date noted on the material and are subject to change without notice; these views may differ from those of other T. Rowe Price group companies and/or associates. Under no circumstances should the material, in whole or in part, be copied or redistributed without consent from T. Rowe Price.
The material is not intended for use by persons in jurisdictions which prohibit or restrict the distribution of the material and in certain countries the material is provided upon specific request.
It is not intended for distribution to retail investors in any jurisdiction.
RELATED FUND
SICAV
Class I USD
A high conviction global equity fund for which we seek to identify companies on the right side of change. The portfolio typically consists of typically 60-80 stocks representing our most compelling bottom-up growth ideas, often derived from technological innovation and secular disruption.
View More...
3YR Return
(Annualised)
18.64%