OUTLOOK
Growth or Value in Equity Markets?
June 2018
A handful of giant tech companies have led the global bull market, thanks to their rapid earnings growth. While privacy and political issues bear watching, we believe the growth potential of these firms outweighs regulatory risks. The tech giants have been the driver of an extended cycle of outperformance for growth investors. Whether growth continues to lead in the second half will depend on the outlook for the global economy, interest rates, and energy prices.

TECH GIANTS: RAPID GROWTH OUTWEIGHS PRIVACY CONCERNS
The technology sector continued to lead global equity markets in the first half of 2018. Much of that leadership was concentrated in a handful of US and Chinese mega-cap companies with dominant platforms in internet search, social media, cloud computing and video streaming. Revenue and earnings growth among large tech firms has exploded, far outpacing the broad market.
Tech Platform Companies Have Led the Bull Market
Cumulative Revenue Growth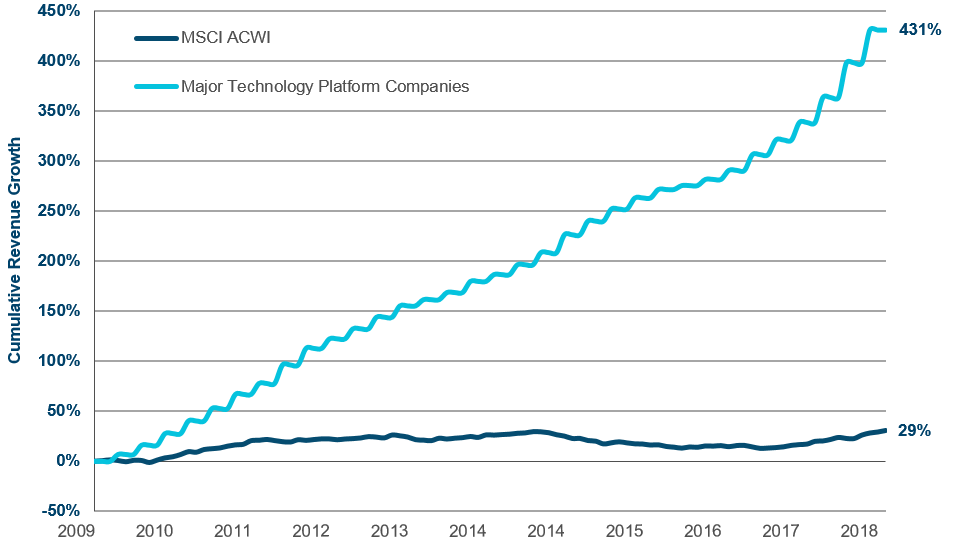 As of 31 May, 2018
Aggregate revenue growth for the following companies: Facebook, Alphabet, Amazon, Apple, Netflix, Microsoft, Baidu, Alibaba, Tencent. Source: FactSet Research Systems Inc. All rights reserved.
For illustrative, informational purposes only. This is not intended to be investment advice or a recommendation to take any particular investment action. The specific securities identified and described do not necessarily represent they were purchased, sold or recommended by T. Rowe Price and no assumptions should be made that the securities identified and discussed were or will be profitable.
PRIVACY CONCERNS EMERGE IN 2018
Commanding market positions have allowed these 'tech titans' to leverage powerful economies of scale, producing impressive returns for investors. However, they have drawn the ire of some policymakers concerned about data privacy and political manipulation. These concerns flared in early 2018, leading some analysts to speculate that the platform giants might be due for a correction.

GROWTH POTENTIAL DWARFS REGULATORY ISSUES
In our view, the growth potential of these major tech platforms dwarfs the risk of a political or regulatory backlash. While investors will definitely need to keep an eye on the longer-term risk of government intervention, it certainly hasn't manifested itself in any kind of meaningful change to the trend of increasing dominance and massive fundamental and financial strength.

TECH SUPPORTS 'GROWTH' STYLE, FOR NOW
Tech strength has helped drive relative outperformance for the growth investment style through much of the current bull market―a trend that persisted in the first half of this year. Whether growth continues to lead value in the second half largely will depend on the outlook for economic growth, interest rates, and energy prices. Higher oil prices have boosted the energy sector, while improved net lending margins should support the financial sector as interest rates rise. On the other hand, rate-sensitive value sectors such as utilities, telecommunications and consumer staples could continue to perform poorly.

OPPORTUNITIES FOR VALUE INVESTORS
Ex-US equity markets appear to offer some attractive potential opportunities for value investors. This is especially true in emerging markets, where some large-cap companies that are dominant in their national markets have been shunned by investors because of macroeconomic factors beyond their control. This means investors can buy companies with substantial scale and competitive strengths at prices that are relatively attractive, in our view.

201806-518272
IMPORTANT INFORMATION
This material is being furnished for general informational purposes only. The material does not constitute or undertake to give advice of any nature, including fiduciary investment advice, and prospective investors are recommended to seek independent legal, financial and tax advice before making any investment decision. T. Rowe Price group of companies including T. Rowe Price Associates, Inc. and/or its affiliates receive revenue from T. Rowe Price investment products and services. Past performance is not a reliable indicator of future performance. The value of an investment and any income from it can go down as well as up. Investors may get back less than the amount invested.
The material does not constitute a distribution, an offer, an invitation, a personal or general recommendation or solicitation to sell or buy any securities in any jurisdiction or to conduct any particular investment activity. The material has not been reviewed by any regulatory authority in any jurisdiction.
Information and opinions presented have been obtained or derived from sources believed to be reliable and current; however, we cannot guarantee the sources' accuracy or completeness. There is no guarantee that any forecasts made will come to pass. The views contained herein are as of the date noted on the material and are subject to change without notice; these views may differ from those of other T. Rowe Price group companies and/or associates. Under no circumstances should the material, in whole or in part, be copied or redistributed without consent from T. Rowe Price.
The material is not intended for use by persons in jurisdictions which prohibit or restrict the distribution of the material and in certain countries the material is provided upon specific request.
It is not intended for distribution to retail investors in any jurisdiction.