BLOG
Investment opportunities in a fundamentally disrupted world
August 2019
We live in an era of unprecedented waves of disruption and change, both in size and speed, washing through the global economy and society. We believe there are investment opportunities across the world in the companies that are either driving or harnessing that change.

Disruption in its various forms — technological, political, economic, and monetary — has determined the direction of global financial markets in the recent past, and this is likely to continue.
New forms of disruption are shaping markets
Global financial markets are not immune to these forces. The corporate landscape continues to be reshaped by a revolutionary combination of technological innovation and changing consumer preferences, which is upending established business models.

Meanwhile, political risks are adding to the uncertainty. These include the trade dispute between the US and China, the possibility of a disorderly Brexit, and growing disenchantment with the European Union among several nationalist-focused political parties in various European countries.

Although many investors equate disruption with the major technology platform companies, the effects also are being felt across a host of other sectors and industries. Energy markets, for example, are being disrupted by the rise of shale fracking and the increased competitiveness of solar and wind energy.
Winners and losers of secular shift
Companies that are challenged by disruptive forces or major secular changes are likely to experience slower revenue and earnings growth over the next 10 years. The hit to corporate valuations as a result could be dramatic.

Our research shows around a third of the S&P 500 by market capitalisation is being affected by some level of secular challenge1. A similar bifurcation is playing out in other global equity markets, such as Japan.

Conversely, structural change may have made selective emerging markets equities more attractive. This is as a result of fundamental shifts in demographic growth, consumption patterns and corporate earnings profiles that have developed over the past decade. We believe this gives emerging markets strong growth potential, with a widening and deepening opportunity set.

What does this mean for investors?
Global financial markets are being reshaped by disruptive forces in the form of technological advancements, shifting consumer trends, geopolitical tensions and burgeoning populist sentiment.

The influence that disruption is having on equity markets means the value and growth universes may have fundamentally changed. For instance, structurally challenged companies often see their valuations compress more than their earnings, making them unattractive for investors to hold.

Whether disruption stems from technological innovation, consumer preferences or the political and regulatory climate, we aim to understand it first and then find the stocks that are on the right side of any monetisable change that may be evolving. We have found that there can be significant rewards for investing in the companies driving or capitalising on disruption; equally, investing in companies being disrupted can potentially lead to major losses.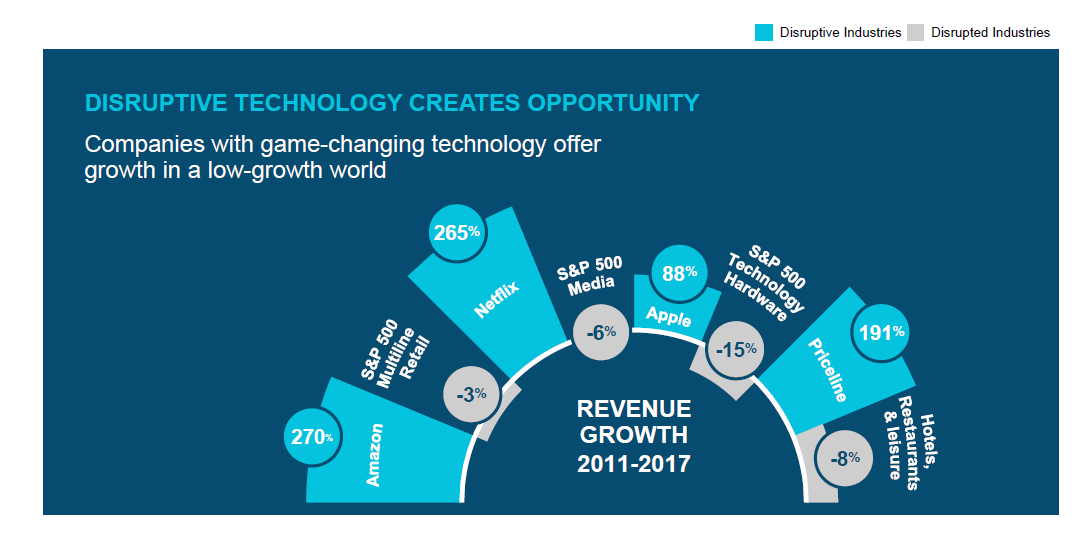 Past performance are not a reliable indicator of future performance. The specific securities identified and described do not represent all of the securities purchased, sold, or recommended for the portfolio, and no assumptions should be made that the securities identified and discussed were or will be profitable. Source: T. Rowe Price.
Correctly identifying the winners and losers in this competitive struggle will remain the key to portfolio outperformance. In a period where growth and inflation are likely to remain subdued, we can still find attractive opportunities in companies characterised by growth and improvement.

In a market that has itself been disrupted by excessive amounts of debt in the global ecosystem – as well as low growth and inflation – these stocks may not be obvious to find, which means investors cannot afford to be on autopilot. We believe in identifying specific catalysts for change and analysing how it will impact future corporate profits. Active portfolio management will likely be the best way to navigate this disruptive environment over the coming decade.

High-quality active managers can benefit from having a longer-term investment horizon, which allows them to make the kind of investments that potentially will add value in portfolios over the next five to 10 years.
1 Source: T. Rowe Price analysis.



IMPORTANT INFORMATION
This material is being furnished for general informational and/or marketing purposes only. The material does not constitute or undertake to give advice of any nature, including fiduciary investment advice, nor is it intended to serve as the primary basis for an investment decision. Prospective investors are recommended to seek independent legal, financial and tax advice before making any investment decision. T. Rowe Price group of companies including T. Rowe Price Associates, Inc. and/or its affiliates receive revenue from T. Rowe Price investment products and services. Past performance is not a reliable indicator of future performance. The value of an investment and any income from it can go down as well as up. Investors may get back less than the amount invested.
The material does not constitute a distribution, an offer, an invitation, a personal or general recommendation or solicitation to sell or buy any securities in any jurisdiction or to conduct any particular investment activity. The material has not been reviewed by any regulatory authority in any jurisdiction.
Information and opinions presented have been obtained or derived from sources believed to be reliable and current; however, we cannot guarantee the sources' accuracy or completeness. There is no guarantee that any forecasts made will come to pass. The views contained herein are as of the date noted on the material and are subject to change without notice; these views may differ from those of other T. Rowe Price group companies and/or associates. Under no circumstances should the material, in whole or in part, be copied or redistributed without consent from T. Rowe Price.
The material is not intended for use by persons in jurisdictions which prohibit or restrict the distribution of the material and in certain countries the material is provided upon specific request.
It is not intended for distribution to retail investors in any jurisdiction.
RELATED FUND
SICAV
Class I USD
A high conviction global equity fund for which we seek to identify companies on the right side of change. The portfolio typically consists of typically 60-80 stocks representing our most compelling bottom-up growth ideas, often derived from technological innovation and secular disruption.
View More...
3YR Return
(Annualised)
18,83%
RELATED FUND
SICAV
Class I USD
A growth-oriented portfolio of typically 120-140 companies, seeking to harness the best ideas of our global research team. The fund offers broad exposure to the global equity universe, both developed and emerging markets, investing in around 30 countries.
View More...
3YR Return
(Annualised)
15.45%