MARKET OUTLOOK
The macro view: recession unlikely despite slowing growth
June 2019
Executive Summary
Overall, we are cautiously optimistic about global economies and financial markets
Widening trade disputes and populist politics have created notable risks, which could put pressure on corporate earnings in late 2019
Monetary expectations have shifted dramatically since the beginning of the year, with the Federal Reserve now seen as likely to cut interest rates
For equity investors, much will depend on whether earnings growth can shake off geopolitical risks and reaccelerate in the second half of the year
Economic growth and supportive monetary policy should be positive for bonds. However, trade tensions and US dollar strength would suggest a cautious approach to emerging market debt.
Global growth has slowed
Following a strong upswing in equity markets in the first three months of 2019, the mood changed in the second quarter as concerns about the strength of global growth returned. There were several reasons for this, one of which was a sharp slowdown in corporate earnings growth in the US.

After making stellar gains in 2018, in part owing to US corporate tax cuts, U.S. earnings growth decelerated in the first quarter of 2019. All is not lost, however. The consensus earnings forecast is for a reacceleration later in the year, but achieving that result will require faster economic growth, particularly outside the US.

The key challenge, in our view, is that the global economic outlook remains subdued. Most developed economies are growing below their potential, while earnings momentum has turned negative in Europe and Japan. The strong US dollar is taking its toll on emerging markets, acting as a form of monetary tightening that increases borrowing costs; an unwelcome occurrence for economies that are only just beginning to recover.

US and global earnings growth has stalled
Cumulative growth in earnings per share by region
December 2013 – May 2019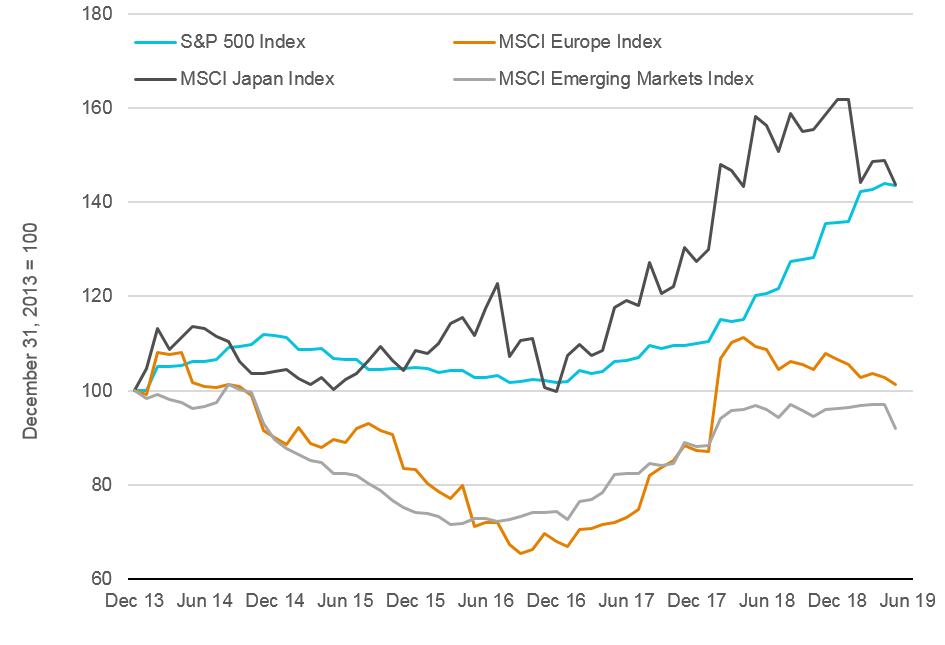 Past performance is not a reliable indicator of future performance.
Sources: Standard & Poor's (See Important Information), MSCI (See Important Information). T. Rowe Price calculations using data from FactSet Research Systems Inc. All rights reserved.

Trade wars are the main geopolitical risk
At present investors are facing geopolitical risks from several angles. In Europe, for example, recent elections have shown that populism continues to be a powerful political force. However, trade appears to be the most significant political risk currently facing investors.

As threats of trade wars and tariff hikes have intensified, investors have become more uncertain about the future direction of economic policy. Increased uncertainty can foreshadow a decline in economic growth and employment in following months. Uncertainty reigned in late 2018 as concerns about trade wars dominated the agenda, and it was much the same in May as fears of an escalating trade war came to the fore once again. The US and China exchanged barbs in the form of tariff hikes, the US imposed sanctions against Chinese telecoms giant Huawei, and the Trump administration briefly threatened to impose tariffs on Mexico.

While the US and Mexico managed to reach a deal in June that aims to avoid tariffs, the dispute between the US and China rumbles on. Despite a deal appearing within reach, there are several reasons why neither China nor the US may be in a rush to compromise. In 2020, President Trump faces re-election, so he may stand to benefit from putting off any agreement until then. Meanwhile, China may believe that denying Trump any success in the negotiations will damage his re-election prospects, allowing them to negotiate with his successor.

Escalating trade disputes are fuelling uncertainty
Economic policy uncertainty indices
December 2013 – May 2019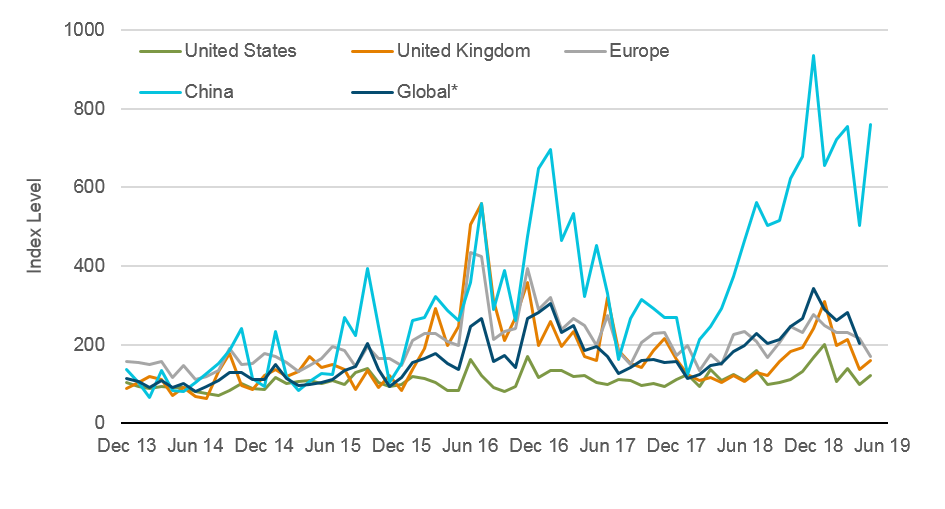 *Global Index through April 30, 2019
Source: Economic Policy Uncertainty, policyuncertainty.com.
©2019 by Economic Policy Uncertainty.

Risk of recession low despite slower growth
During the first half of 2019, financial markets displayed unusual behaviour. On the one hand, falling bond yields and an inverted US Treasury yield curve – where longer-term yields fall below short-term yields – seemingly signalled concerns about slowing growth. Equity markets, on the other hand, made strong gains and appeared to reflect a positive outlook.

At the same time, market expectations for US monetary policy shifted in the first half, which should be positive for investors. With slower growth on the horizon, investors now believe that the Federal Reserve will seek to support markets by cutting rates rather than hiking them further.

Yet despite the headwinds that are buffeting the global economy, we believe the risks of an economic downturn, whether in the US or globally, are limited. In our view, at present there is little evidence of any imbalances that would suggest a recession is imminent.

A key variable in this story, however, is China. Growth in the world's second-largest economy has already slowed, and further deceleration could have a negative impact at a global level. The Chinese government responded to slower growth in late 2018 by easing credit and boosting spending, but the results were not necessarily as positive as desired.
Invest strategically during uncertain times
We believe the second half of 2019 will see an environment of positive growth, low inflation, and market pressure on central banks to lower interest rates. This should support further market growth, although we are cognisant that there are several risks lurking over the horizon.

With trade disputes and populist politics creating potential downside risks, any flare-ups could be detrimental for financial markets. Any escalation of trade uncertainty could cause global sentiment to fall, dragging down hopes that corporate earnings growth will resume later in the year.
For US equity markets to continue to rise, we will need to see the reappearance of corporate earnings growth. Looking beyond the US, the prospects for equities are also tied to earnings. However, the prospects here look bleak - unless there is a stronger than expected Chinese stimulus.

In bond markets, slow but positive economic growth, limited inflation pressures, and friendly central banks should create a supportive environment in the second half. However, bond investors may wish to take a cautious approach with emerging market debt, which could struggle amid trade tensions and a stronger US dollar.

In this climate, we believe investors are best served by keeping a disciplined, long-term perspective. Holding a globally diversified portfolio will help to smooth any bumps along the way and make the most of potential investment opportunities as they arise.
Important Information
London Stock Exchange Group plc and its group undertakings (collectively, the "LSE Group"). © LSE Group 2019. FTSE Russell is a trading name of certain of the LSE Group companies. Russell® is a trade mark of the relevant LSE Group companies and is used by any other LSE Group company under license. All rights in the FTSE Russell indexes or data vest in the relevant LSE Group company which owns the index or the data. Neither LSE Group nor its licensors accept any liability for any errors or omissions in the indexes or data and no party may rely on any indexes or data contained in this communication. No further distribution of data from the LSE Group is permitted without the relevant LSE Group company's express written consent. The LSE Group does not promote, sponsor or endorse the content of this communication.

MSCI and its affiliates and third-party sources and providers (collectively, "MSCI") makes no express or implied warranties or representations and shall have no liability whatsoever with respect to any MSCI data contained herein. The MSCI data may not be further redistributed or used as a basis for other indices or any securities or financial products. This report is not approved, reviewed, or produced by MSCI. Historical MSCI data and analysis should not be taken as an indication or guarantee of any future performance analysis, forecast or prediction. None of the MSCI data is intended to constitute investment advice or a recommendation to make (or refrain from making) any kind of investment decision and may not be relied on as such.

The S&P 500 Index is a product of S&P Dow Jones Indices LLC, a division of S&P Global, or its affiliates ("SPDJI"), and has been licensed for use by T. Rowe Price. Standard & Poor's® and S&P® are registered trademarks of Standard & Poor's Financial Services LLC, a division of S&P Global ("S&P"); Dow Jones® is a registered trademark of Dow Jones Trademark Holdings LLC ("Dow Jones"). T. Rowe Price's product is not sponsored, endorsed, sold or promoted by SPDJI, Dow Jones, S&P or their respective affiliates, and none of such parties make any representation regarding the advisability of investing in such product nor do they have any liability for any errors, omissions, or interruptions of the S&P 500 Index.

This material is being furnished for general informational purposes only. The material does not constitute or undertake to give advice of any nature, including fiduciary investment advice, and prospective investors are recommended to seek independent legal, financial and tax advice before making any investment decision. T. Rowe Price group of companies including T. Rowe Price Associates, Inc. and/or its affiliates receive revenue from T. Rowe Price investment products and services. Past performance is not a reliable indicator of future performance. The value of an investment and any income from it can go down as well as up. Investors may get back less than the amount invested.

The material does not constitute a distribution, an offer, an invitation, a personal or general recommendation or solicitation to sell or buy any securities in any jurisdiction or to conduct any particular investment activity. The material has not been reviewed by any regulatory authority in any jurisdiction.

Information and opinions presented have been obtained or derived from sources believed to be reliable and current; however, we cannot guarantee the sources' accuracy or completeness. There is no guarantee that any forecasts made will come to pass. The views contained herein are as of the date written and are subject to change without notice; these views may differ from those of other T. Rowe Price group companies and/or associates. Under no circumstances should the material, in whole or in part, be copied or redistributed without consent from T. Rowe Price.

The material is not intended for use by persons in jurisdictions which prohibit or restrict the distribution of the material and in certain countries the material is provided upon specific request. It is not intended for distribution to retail investors in any jurisdiction.