BLOG
Secular Risk: the Way the World is Changing
September 2019
In a world characterised by significant change across various sectors, companies and markets themselves, how can investors distinguish between those changes that are cyclical or determine whether there is a deeper structural change at work?
Short-term changes or structural shifts?
The waves of disruption washing through the economy and society are unprecedented both in size and speed. We try to identify long-term, secular forces at work in the markets. These should not be confused with short-term, cyclical swings that may lead to profits or losses in a given quarter but tell us little about a company's potential to create long-term wealth for shareholders.

Especially for the technology industry, that distinction may be particularly important in 2019, following a powerful cyclical upswing in the tech industry in the previous few years. Faster global growth and tax incentives enabled to businesses growing their spending on software, hardware and services. However, these factors are short-term drivers of growth across the board not particular to any fundamental behaviour related to a company.

While it has diversified into businesses that are less sensitive to fluctuations in demand, Microsoft is an example of a software player that has remained partially exposed to the cyclicality of the PC market.

It earns money on every new computer sold with Windows and the Office suite preinstalled, which does not bode well as this market gains more competitors.

The power of secular forces
We believe that – looking beyond the cyclical swings – innovation has unleashed powerful secular market forces which effects are stronger than the tricky macroeconomic environment that is troubling some sectors.

Secular risk is the emergence of a new competitive force, technological advance, change in consumer habit or regulatory change that is structural and long term. For companies on the wrong side of change – i.e. those being disrupted – secular risk results in slower top-line growth rates, lower margins and/or compression in the valuation multiple.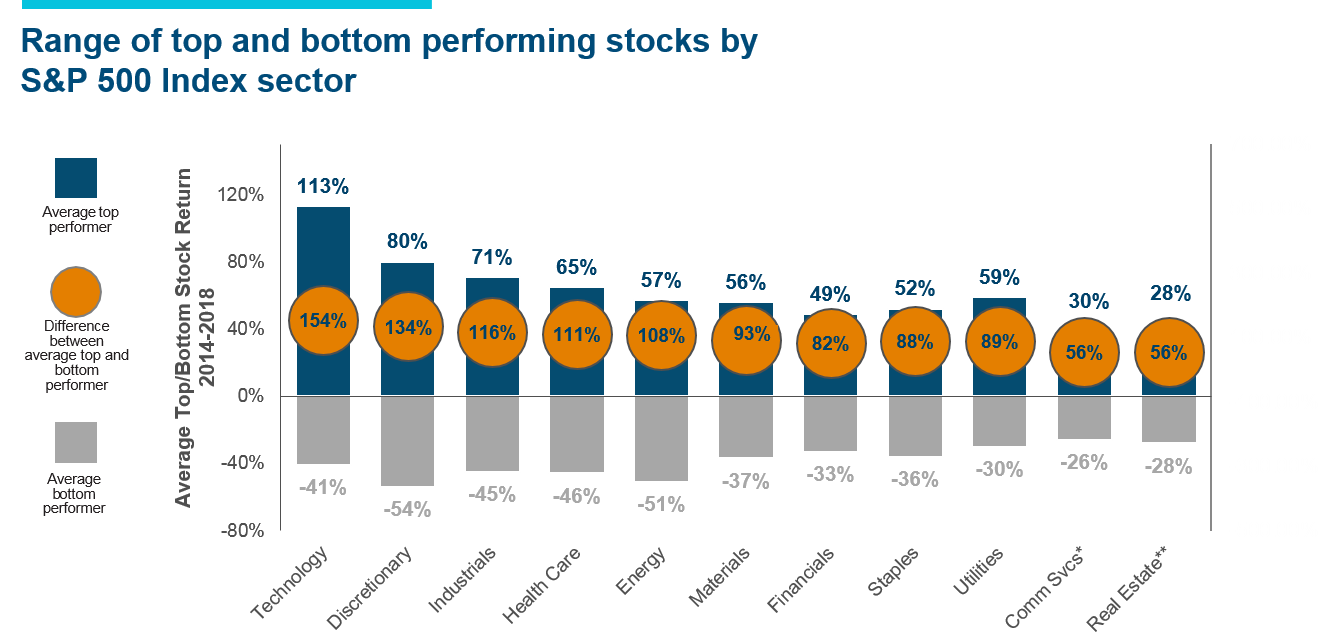 Past performance is not a reliable indicator of future performance.
As at 31 December 2018
* Effective 28 September 2018, S&P Dow Jones Indices and MSCI broadened and renamed the Telecommunication Services Sector as Communication Services.
** On 31 August 2016, S&P Dow Jones Indices and MSCI moved stock-exchange listed Equity REITs and other listed real estate companies from the Financials Sector of their Global Industry Classification Standard (GICS®) to a new Real Estate Sector.
Source: Wilshire Atlas and Financial data and analytics provider FactSet. Copyright 2019 FactSet. All Rights Reserved.
S&P 500 Index shown as representative of global equity markets.

This is not cyclical or some temporary market share loss; it is structural. We believe these disrupted companies' top-line revenue growth, the earnings per share growth, and valuation multiple will be lower in the next 10 years compared to the last 10 years.

Our analysis indicates that approximately 31% (compared to 20% two years ago) of the US stock market is impacted by secular risk. Furthermore, 35% (compared to 24% two years ago) of the S&P 500 earnings are derived from companies facing secular risk1.

This indicates the pervasiveness of disruption, and the pace with which disruptive forces impact the world. Unlike with cyclical swings that tend to benefit an industry broadly, only those companies positioned on the right side of change stand to gain from secular changes.

Alphabet (Google) has become one of the most powerful companies in the world by harnessing the power of the internet and mobile telephony, among other technologies. It provides a platform that links content creators, advertisers and customers.

As a result, these and other 'platform companies' benefit from significant network effect: the more users on the platform, the more value it provides each of them.

What does this risk mean for investors?
Given its dramatic effects on future earnings potential, navigating secular risk is critical to investment success. Relying on traditional mean reversion for companies is more difficult than in the past, particularly for value investors.

A company that encountered difficulties in the past due to a market share loss of cyclical downturn might turn around with new management or by buying back stock, driving mean reversion. But that becomes more difficult if they are secularly challenged companies.
It is important to identify companies that are secularly challenged because their earnings may drop while their valuation multiples compress dramatically. The emergence of secular risk creates a powerful tailwind for active investing and poses a significant challenge for passive investing over the next five to 10 years.

This is no time for investors to be on autopilot, as the difference between those companies driving disruption and those being disrupted can be significant. As active managers with an established research team, we aim to understand these secular forces and find the companies that are on the right side of change, as this can bring great rewards to investors.

We believe there are opportunities in carefully selected quality companies where we have specific insight about improving future economic returns – and we try not to pay too much for them.

1 Source: T. Rowe Price analysis.
The specific securities identified and described do not represent all of the securities purchased, sold, or recommended for the portfolio, and no assumptions should be made that the securities identified and discussed were or will be profitable.
IMPORTANT INFORMATION
This material is being furnished for general informational and/or marketing purposes only. The material does not constitute or undertake to give advice of any nature, including fiduciary investment advice, nor is it intended to serve as the primary basis for an investment decision. Prospective investors are recommended to seek independent legal, financial and tax advice before making any investment decision. T. Rowe Price group of companies including T. Rowe Price Associates, Inc. and/or its affiliates receive revenue from T. Rowe Price investment products and services. Past performance is not a reliable indicator of future performance. The value of an investment and any income from it can go down as well as up. Investors may get back less than the amount invested.
The material does not constitute a distribution, an offer, an invitation, a personal or general recommendation or solicitation to sell or buy any securities in any jurisdiction or to conduct any particular investment activity. The material has not been reviewed by any regulatory authority in any jurisdiction.
Information and opinions presented have been obtained or derived from sources believed to be reliable and current; however, we cannot guarantee the sources' accuracy or completeness. There is no guarantee that any forecasts made will come to pass. The views contained herein are as of the date noted on the material and are subject to change without notice; these views may differ from those of other T. Rowe Price group companies and/or associates. Under no circumstances should the material, in whole or in part, be copied or redistributed without consent from T. Rowe Price.
The material is not intended for use by persons in jurisdictions which prohibit or restrict the distribution of the material and in certain countries the material is provided upon specific request.
It is not intended for distribution to retail investors in any jurisdiction.
RELATED FUND
SICAV
Class I USD
A high conviction global equity fund for which we seek to identify companies on the right side of change. The portfolio typically consists of typically 60-80 stocks representing our most compelling bottom-up growth ideas, often derived from technological innovation and secular disruption.
View More...
3YR Return
(Annualised)
18.64%