INVESTMENT INSIGHTS
EM Corporate Bonds: A compelling risk-return trade-off
November 2019
For investors who generally regard emerging market (EM) assets as risky and volatile, it often comes as a surprise that EM corporate bonds have delivered equity-like returns, with a fraction of the volatility. They also have less credit risk and interest-rate exposure than many bond sectors.
Credit Quality
By the end of September 2019, default rates for EM high-yield corporates were running at less than 1% a year—comparable to those in developed markets. The J.P. Morgan CEMBI Broad Diversified index had a yield to maturity of 5.1%, with an overall investment-grade rating of BBB-. Investors were earning the bulk of their yield from exposure to the triple B and double B credit categories, accounting for roughly 60% of the index. In most other asset classes, that level of income stream would entail more exposure to frontier or triple-C bonds, neither of which is a big part of the EM corporate index (CCCs are less than 4%).

Return vs. Volatility
Over the past decade, EM corporates have delivered nearly 3% a year more than EM equities, with just over a quarter of the volatility (Display 1) and they have delivered a better risk-return trade-off than most fixed income. EM corporates have returned roughly 2% a year more than euro high yield, at a significantly lower level of annualized volatility, and have been less volatile than US high yield.

We believe this pattern of volatility is likely to continue, because the average credit quality of the asset class has increased over time. New issuance has become increasingly dominated by the higher-quality parts of EM, notably Asia investment grade and Asia double B credit.

Interest-Rate Risk
We believe EM corporate debt is a reasonable allocation in a variety of interest-rate environments. In a rising interest-rate environment, it has lower duration than many other credit categories (Display 2), with attractive yield.

In a falling interest-rate environment, particularly when fears of recession are looming, EM corporate debt's relatively high credit quality should help it to outperform other higher-yielding asset classes, as it has in periods of volatility in the past decade.

Emerging markets corporate debt, like any other risk asset, goes through patches of volatility. But in the past decade it has offered investors better compensation for risk than any other EM asset class, and market inefficiencies and information gaps have offered frequent opportunities for active managers to outperform the index. For investors looking for higher yield or emerging markets exposure, we believe that EM corporates have a valuable part to play in long-term portfolio allocation.
Display 1: Attractive Long-Term Return vs. Volatility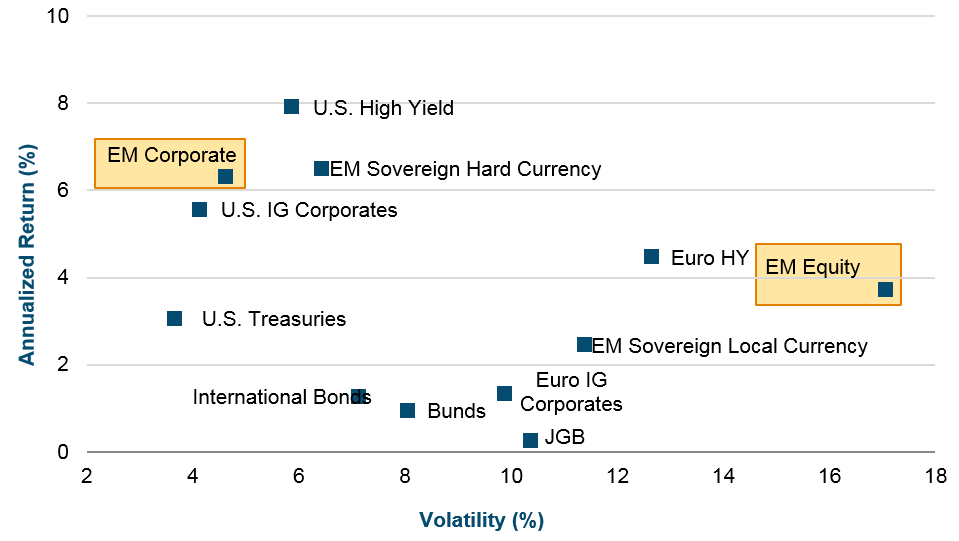 Display 2: Attractive Yield vs. Interest-Rate Risk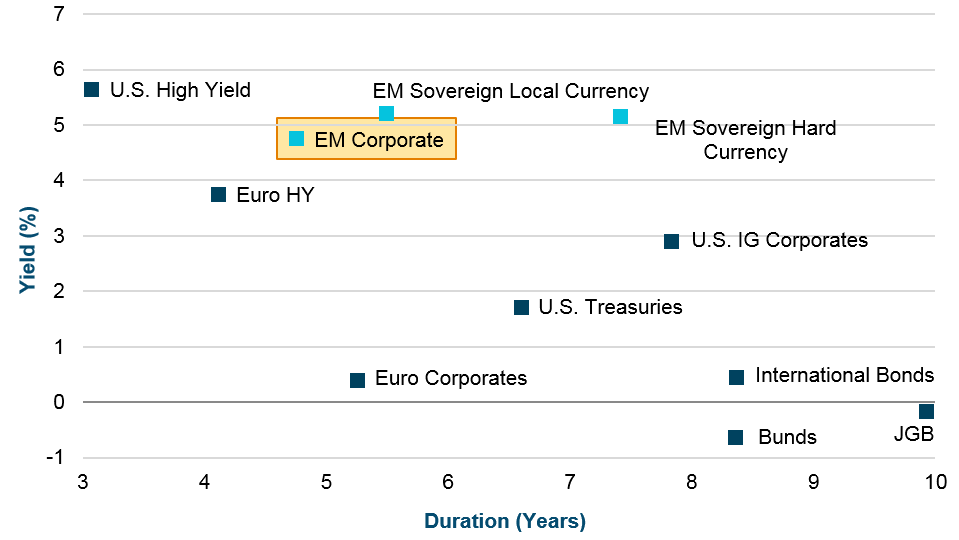 Past performance is not a reliable indicator of future performance.
As of 30 September 2019. Returns are in US dollars. Volatility refers to annualized standard deviation. EM Sovereign Hard Currency—J.P. Morgan EMBI Global; EM Sovereign Local Currency—J.P. Morgan GBI – EM Global Diversified; EM Corporate—J.P. Morgan CEMBI Broad Diversified; Euro High Yield—Bloomberg Barclays European High Yield; US High Yield—Bloomberg Barclays U.S. High Yield; US Investment Grade—Bloomberg Barclays U.S. Corporate Investment Grade; Euro Investment Grade—Bloomberg Barclays European Corporate Investment Grade; U.S. Treasuries—Bloomberg Barclays U.S. Aggregate—U.S. Treasury; International Bonds—Bloomberg Barclays Global Aggregate ex U.S.; Bunds—Bloomberg Barclays Global Aggregate – German Bund; JGB—Bloomberg Barclays Global Aggregate – Japanese Government Bond; EM Equity—MSCI EM Index. Source: Bloomberg Barclays, J.P. Morgan, MSCI. See Additional Information.
Additional Information
Bloomberg Index Services Ltd - Bloomberg Index Services Limited. BLOOMBERG® is a trademark and service mark of Bloomberg Finance L.P. and its affiliates (collectively "Bloomberg"). BARCLAYS® is a trademark and service mark of Barclays Bank Plc (collectively with its affiliates, "Barclays"), used under license. Bloomberg or Bloomberg's licensors, including Barclays, own all proprietary rights in the Bloomberg Barclays Indices. Neither Bloomberg nor Barclays approves or endorses this material, or guarantees the accuracy or completeness of any information herein, or makes any warranty, express or implied, as to the results to be obtained therefrom and, to the maximum extent allowed by law, neither shall have any liability or responsibility for injury or damages arising in connection therewith.
JP Morgan - Information has been obtained from sources believed to be reliable but J.P. Morgan does not warrant its completeness or accuracy. The index is used with permission. The Index may not be copied, used, or distributed without J.P. Morgan's prior written approval. Copyright © 2019, J.P. Morgan Chase & Co. All rights reserved.
MSCI - MSCI and its affiliates and third party sources and providers (collectively, "MSCI") makes no express or implied warranties or representations and shall have no liability whatsoever with respect to any MSCI data contained herein. The MSCI data may not be further redistributed or used as a basis for other indices or any securities or financial products. This report is not approved, reviewed, or produced by MSCI. Historical MSCI data and analysis should not be taken as an indication or guarantee of any future performance analysis, forecast or prediction. None of the MSCI data is intended to constitute investment advice or a recommendation to make (or refrain from making) any kind of investment decision and may not be relied on as such.
IMPORTANT INFORMATION
This material is being furnished for general informational and/or marketing purposes only. The material does not constitute or undertake to give advice of any nature, including fiduciary investment advice, nor is it intended to serve as the primary basis for an investment decision. Prospective investors are recommended to seek independent legal, financial and tax advice before making any investment decision. T. Rowe Price group of companies including T. Rowe Price Associates, Inc. and/or its affiliates receive revenue from T. Rowe Price investment products and services. Past performance is not a reliable indicator of future performance. The value of an investment and any income from it can go down as well as up. Investors may get back less than the amount invested.
The material does not constitute a distribution, an offer, an invitation, a personal or general recommendation or solicitation to sell or buy any securities in any jurisdiction or to conduct any particular investment activity. The material has not been reviewed by any regulatory authority in any jurisdiction.
Information and opinions presented have been obtained or derived from sources believed to be reliable and current; however, we cannot guarantee the sources' accuracy or completeness. There is no guarantee that any forecasts made will come to pass. The views contained herein are as of the date noted on the material and are subject to change without notice; these views may differ from those of other T. Rowe Price group companies and/or associates. Under no circumstances should the material, in whole or in part, be copied or redistributed without consent from T. Rowe Price.
The material is not intended for use by persons in jurisdictions which prohibit or restrict the distribution of the material and in certain countries the material is provided upon specific request.
It is not intended for distribution to retail investors in any jurisdiction.
RELATED FUND
SICAV
Class I USD
ISIN LU0596126465
A diversified portfolio of typically 100 to 150 securities in mainly corporate bonds from emerging market issuers. We would expect the bulk of value added to come from security selection, with the rest from sector selection. We employ a long-term investment horizon, combined with low portfolio turnover.
View More...
3YR Return
(Annualised)
6.11%