Amy Bennett
Lead Manager, Business Continuity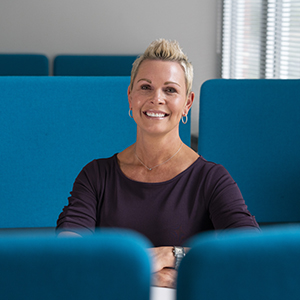 "The goal is to connect a current associate who is a veteran or comes from a veteran family with a new hire who is also a veteran. They'll help make introductions, get them involved with VALOR, our firm's resource group for veterans, and help answer any questions they may have during this transition."​
Three years ago, Amy Bennett had just retired after 21 years of active duty in the U.S. Army. She had served in a range of leadership positions such as a company commander for the first military police unit deployed in Operation Iraqi Freedom, and as lead operations officer for the National Guard's response to the civil unrest in Baltimore in 2015. While serving on active duty in the Maryland National Guard, Amy realized that she liked and excelled in emergency management and organizational resiliency roles. "I really enjoyed working with FEMA and the Maryland Emergency Management Agency, training for and responding to emergency events," she says.
Through her professional network, Amy learned that companies like T. Rowe Price also have an internal need to create resiliency plans. In the private sector, this type of work is called business continuity. "The senior business continuity manager announced she was retiring. My current boss remembered that he had my resume in his desk and he called me," Amy recalls.
Now in her role as Assistant Vice President in Business Continuity, Amy and her team prepare for events or circumstances that could pose risks to the entire organization. She ensures the firm can respond appropriately and in a manner that wouldn't hinder critical functions at T. Rowe Price. "This could be a physical risk, something like COVID, a security threat, weather event, or something that could have financial or reputational impacts on the company," Amy explains.
To effectively manage the firm's response to potential incidents, Amy is in a unique position to observe a range of leaders as they participate in working groups. "I get to peek behind the curtain, and what I see time and time again is how our leaders and managers are constantly walking their talk. They consistently put associates and clients ahead of anything else in the organization," she says. "That motivates me to come to work and do my job well every day because they go above and beyond to put our stakeholders' minds at ease in both big and small ways."
Amy's military background cultivated her ability to lead and manage in the face of potential threats. Still, she has encountered some unique hurdles during her transition to the business world. "I thought the military used a lot of acronyms!" Amy says. "But the financial industry is a whole other ballgame." It took her at least a year to think in the terms and vernacular of her new industry.
It's just one example of the many challenges veterans like Amy have encountered while transitioning from military life to the private sector. But navigating these obstacles inspired her to be one of the founding organizers of VALOR @ T. Rowe Price, the firm's business resource group for veterans that was launched in November 2019.
As one of the authors of the group's charter and co-chair of its Maryland chapter, Amy says VALOR supports veterans and veteran families at the firm and in the community. The group also works to develop a talent pipeline to attract and retain more veterans at T. Rowe Price. In support of this initiative, Amy and other women in the VALOR group will be featured in a virtual, veteran-focused Chat & Learn hosted by Power to Fly, a job searching platform specializing in gender diversity and inclusion. They will answer questions from job-seeking veterans and discuss how their military experience prepared them for careers at T. Rowe Price. The event is free and anyone can register here.
With all in-person events canceled due to the COVID-19 pandemic, VALOR hosted a virtual, two-week "Ruck March" to raise funds for a nonprofit organization called Stop Soldier Suicide. "September is Suicide Awareness Month. We wanted to draw attention to the fact that there's an epidemic of 22 military veterans per day who take their own lives," Amy says. "Almost every single former service member knows someone affected by this suicide crisis, either directly or indirectly. It's devastating."
Upwards of 200 T. Rowe Price associates raised nearly $43,000 for this cause during the virtual Ruck March. "We challenged associates to move their bodies in some way hike, bike, run, walk, do push-ups and share through posting pictures or experiences," she says. In addition to raising funds for an important cause, the Ruck March event also encouraged associates to get moving while bringing attention to the work that VALOR hopes to accomplish.
For example, VALOR is launching a sponsorship program to continue supporting veterans joining T. Rowe Price. "The goal is to connect a current T. Rowe associate who is a veteran or comes from a veteran family with a new hire who is also a veteran. They'll help make introductions, get them involved with the VALOR group, and help answer any questions they may have during this transition," she explains.
Just as Amy ensures that T. Rowe Price stays resilient in the face of potential threats, she's also on a mission to look out for her fellow veterans. With her help and their colleagues' support, veterans have the resources needed to overcome any challenges and showcase their strengths.