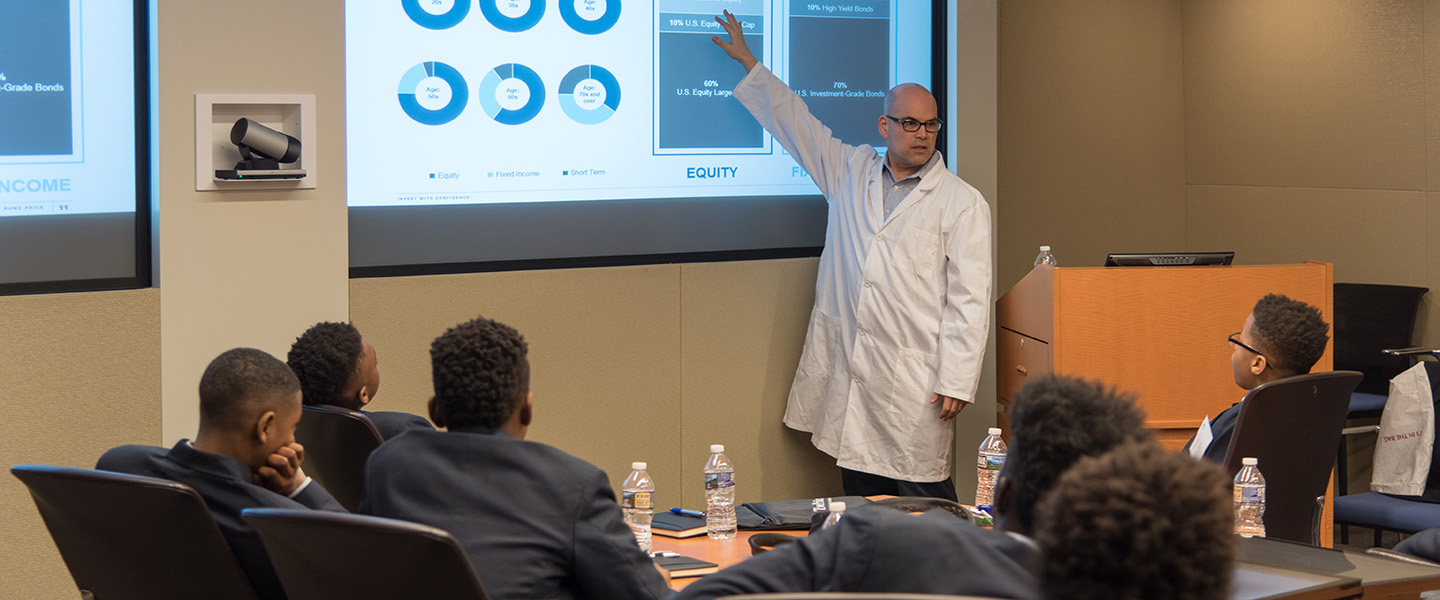 Bridging School and Workplace Experiences:
Career Days Offer Learning Opportunities for
Students and Associates
7/22/2019 | By Corporate Editorial Group
Every year, T. Rowe Price provides hundreds of high school students across the globe an opportunity to participate in a Career Day, an event designed to provide them with insight into the professional workforce and help them develop workplace skills. The firm recently hosted events in Baltimore, Colorado Springs, Sydney, and London.
Based on what would be most valuable to them, each Career Day is tailored to the group that is participating. Activities include learning about financial education through the firm's Money Confident Kids® program, guidance on job profiles and career paths, resume writing and interview skills, and interacting with a panel of T. Rowe Price associates.

The events in London and Sydney have a specific focus on female empowerment. T. Rowe Price's London office partnered with Eden Girl's School to celebrate International Women's Day, which included self-confidence-building exercises and an activity focused on identifying common attributes of famous female leaders.

Dayna Ambris, senior consultant in Corporate Social Responsibility, says, "The objective of our London event was to explore female empowerment, teach the students about the investment management industry, and help them develop soft skills such as communication, team work, and presentation delivery."

In Baltimore, T. Rowe Price hosted Baltimore Collegiate School for Boys, a charter school in Baltimore City that looks to address the educational crisis for boys in urban settings.
Career Days highlight a variety of the career paths available at T. Row Price. Watikqua Lange, program manager in Corporate Responsibility, in Baltimore, says "Career Days provide an opportunity for the firm to not only educate students about investment management, but to also build an awareness of the myriad careers available in the industry. They hear first-hand from our associates who have diverse backgrounds and took different paths in their professional careers."
Students from Baltimore Collegiate School for Boys also learned about financial concepts through the firm's Money Confident Kids® program, which focuses on goal setting, spending versus saving, inflation, asset allocation, and investment diversification.
Jack Johnson Pannell, Jr., the founder and executive director of Baltimore Collegiate School for Boys, described in a thank you note how students are applying what they learned. "One Gent just told me that he's helping his mother with a household budget; she wants to buy a car and a new house. He volunteered that he knew how to budget and make wise spending decisions because of his visit at T. Rowe Price. Another boy's grandmother said she would buy a few shares of [a stock] for her son just to introduce him to the financial markets." 

The firm welcomed students from Atlas Preparatory School to our Colorado Springs office to participate in a variety of activities that included team building exercises. Students were also able to interact with a panel of associates over lunch, asking them questions about the industry and their careers. Jessica Isensee, site communication specialist in Colorado Springs, says, "Career Days provide a great opportunity to connect with students in our community, providing them practical resume tools and networking experience with our associates."

Money Confident Kids is a registered trademark of T. Rowe Price Group, Inc.
The Money Confident Kids ® program is not available in all jurisdictions from T. Rowe Price.