Tracee Hamlett
Senior Technology Project Manager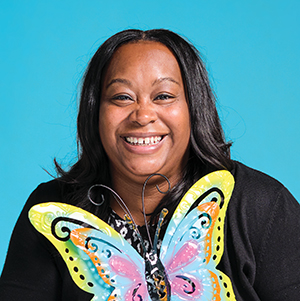 "T. Rowe Price is a company that cares about your family, and your work-life balance—it supports employees. Last year, 2020, was a test for all of us. I appreciated the communication from leadership on both work from home and social issues."
When Tracee Hamlett interviewed for a job at T. Rowe Price back in 2018, she immediately felt at home with her future colleagues. "Everyone was in sync. We all clicked," she recalls. "That just solidified my thoughts about working for T. Rowe Price." Shortly after, Tracee joined the firm as a member of the Enterprise Security Group.
Today she is a senior technology project manager in Technology Operations, and that feeling of belonging she encountered at the interview is still present every day at work. "I have not regretted one moment," she says while thinking back on the past three years she's spent working at the firm. Recently, we caught up with her to find out more about her work life at T. Rowe Price:
What did you do before coming to T. Rowe Price?
I was a program manager, managing cyber projects in a governance role within cybersecurity. In addition to managing projects, I managed policies and mapped those policies back to ISO standards. I majored in pre-law, but computers always intrigued me. So, very early in my career, I learned how to take apart computers and put them back together. I also ordered computer parts and learned to install memory and hard drives on employees' computers.
What keeps you excited about your job every day—is it your colleagues or the work you're doing, or a combination of both?
It's a combination of both. I work with awesome people that I learn from daily. I also enjoy what I'm doing. We manage policies, processes, standards, and guidelines, ensuring that policies are updated annually.
I'm also one of the privacy leads at T. Rowe Price, and I have the great opportunity to conduct privacy impact assessments and privacy by design reviews. Security is the responsibility of all of us, and I enjoy doing my part to make sure the firm is protected.
I am also part of a team that manages internal and external audits and assessments. Audits and assessments ensure the firm is doing what it says it's doing to keep our client and employee data secure.
What are you passionate about at work? How does T. Rowe Price support and encourage that work?
I'm passionate about helping others, being creative, learning, and taking the initiative. T. Rowe Price supports and encourages learning and developing new or existing skills. The firm offers many learning opportunities and encourages you to take training. In addition, self-development is supported and encouraged.
What skills are needed to succeed in your role?
Project management skills, people skills, understanding technology, and the ability to problem-solve and provide solutions.
What advice would you give someone who wants to work at T. Rowe Price?
It's a great place to work. T. Rowe Price is a company that cares about you, your family, and your work-life balance—it supports employees. Last year, 2020, was a test for all of us. I appreciated the communication from leadership on both work from home and social issues. Often employees are not able to see or hear from leadership on a personal level. The level of transparency confirmed that I was not the only person adapting to the new normal or who may have been struggling to adapt.
What type of person thrives within the culture at T. Rowe Price?
You have to be a hard worker, a team player, and passionate about what you do. If you aren't, it will show up in your work. Sometimes you need to work independently and not be afraid to use your voice to say if you agree or disagree and provide ideas.
What's the most common misconception about working in tech at a company like T. Rowe Price?
It's a financial company, but it takes technology to make everything work. When people see T. Rowe Price, they see a financial company. They don't see what's behind the curtain, such as the people, process, tools, and technology that helps make it all work.