Tonya Alonzo
Senior Manager, VP of Retirement Plan Services
12/01/19 | By Corporate Publishing | Faces of T. Rowe Price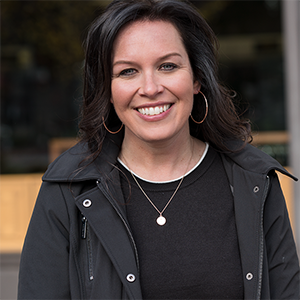 "We always come back to putting the clients first, to be able to help the clients live successful lives. But really, the firm models that spirit by putting the quality of life of it associates front and center."
Tonya Alonzo was a human resource manager at a major corporation when friends who were already working at T. Rowe Price convinced her to apply with the firm. "One thing that drew me to T. Rowe Price was what I heard about work-life balance fit into the firm's culture," she recalls. More than 12 years later, Tonya is now a Senior Manager and Vice President in Retirement Plan Services. She leads the department responsible for corrections to all multi-million dollar retirement plans.
Initially, Tonya was reluctant to start over a new job after almost ten years with her former employer. "But T. Rowe Price valued all my prior experiences as well as the skills I learned elsewhere. And then I quickly acquired more and more responsibility in new positions here," she says. "At other companies, it's almost as if they believe, 'If we didn't see it, you didn't do it.' But obviously, that's not actually the case."
Tonya encountered another pleasant surprise in the diversity of opportunities available at T Rowe Price, even though most candidates know it only as a financial services company. "You don't necessarily need to be seeking out a financial position," Tonya explains. "We hire former teachers who want to do client services, for example. "Beyond the range of professional opportunities available, Tonya would also encourage others to apply with T. Rowe Price because of the work culture. It prioritizes work-life balance in addition to inclusion and giving back to the community.
"Everyone here wants to make other people's lives better," says Tonya, who is also the Chair of the PRIDE business resource group at the Colorado Springs office. "That's why the firm created three business resource groups dedicated to advancing key elements of our diversity and inclusion efforts."
PRIDE @ T. Rowe Price, for example, aims to ensure all Lesbian, Gay, Bisexual, Transgender + (LGBT+) associates are comfortable bringing their full selves to work. "My role within PRIDE, as well as with the firm, revolves around the diversity that I want the associates and leaders to feel every day when they come to work," she says.
In Tonya's experience, T. Rowe Price encourages to put their beliefs into practice. All get paid time to volunteer, and the firm will also match their charitable donations. Tonya herself sits on the board of Inside/Out Youth Services, a non-profit that empowers, educates, and advocates for Lesbian, Gay, Bisexual, Transgender, Questioning + (LGBTQ+)  youth in southern Colorado.
Inside/Out provides services such as support groups, a recreation center, community outings, leadership development opportunities, sexual health education, suicide prevention education, and career and financial skills building. "It's one of the organizations that T. Rowe Price often partners with," she says. "Anytime we do an anti-bully day, for instance, we raise money for them. It all intersects."
Her teams also know how important diversity is to her. "I have a motto: Tomorrow cannot look like today," Tonya says. "If we keep hiring the same types of candidates, nothing will ever evolve or change. But by focusing on hiring for diversity of thought, we're more likely to pursue different paths to even better futures."
Part of building teams with diverse perspectives is also attracting and retaining female associates in the mostly male-dominated finance industry. "As a woman in finance, you feel like you have to put in more hours or take on more commitment to have a stronger presence at the table," says Tonya, who was chosen to be a formal mentor at the firm's Women's Round Table. "At T. Rowe Price, I would say that women can be themselves and balance family life, and still have confidence sitting at that table."
"T. Rowe Price's been good to me through the great benefits, how they value my time, and their understanding," reflects Tonya. "We always come back to putting the clients first, to be able to help the clients live successful lives. But really, the firm models that spirit by putting the quality of life of its associates front and center."