Lauren Bloom
Head of Defined Contribution and Intermediaries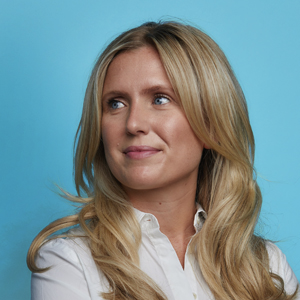 "Women tend to be good at building relationships, cultivating them over the long term, listening, and thinking about the best way to solve issues, which are all traits of a great salesperson."
After a decade at a Canadian investment firm, Lauren Bloom was intrigued by the opportunity to work at T. Rowe Price because of its foundation in active management, a broad global presence, and a diversified platform of strategies. However, once she began the interview process, she also caught a glimpse of the firm's unique workplace culture. It became, for her, the deciding factor in accepting a position at T. Rowe Price. "They really took the time to get to know me," Lauren says. "I could tell they wanted to make sure that I fit with the company and also that the company was a fit with me. There's a quote that the founder of T. Rowe Price said, 'If our clients succeed, our firm will succeed,'" she recalls. "That was something I align with, and I needed to join a firm that had that same value."
As head of Defined Contribution and Intermediaries for T. Rowe Price in Canada, Lauren promotes investment solutions with gatekeepers and across a range of intermediary platforms, including recordkeepers, banks, and retail wealth platforms. "I'm passionate about building relationships and helping clients solve challenges to reach their goals," she says.
Her days are spent mentoring associates on her team, building relationships with colleagues across the globe, and discussing market trends and investment solutions. She also continually interacts with clients and prospects to understand their challenges better. "We then leverage the resources that we have at T. Rowe Price to propose creative solutions and become a valued partner with those companies."
But it's not all work and no play for Lauren. When she needs to get out of the city and thoroughly relax, she heads to her cottage in the district of Muskoka, a popular vacation destination located just a few hours outside of Toronto. There, she can unwind with family and friends, enjoying activities like swimming, boating, and paddleboarding. "The cottage is where I can enjoy an early morning coffee while sitting in my wooden Muskoka chair watching the sunrise," she explains.
Then, when she returns to Toronto, she's refreshed and ready to hit the ground running in the high-pressure world of sales. Although it has historically been a male-dominated industry, Lauren believes that is changing. "A career in asset management is incredibly fulfilling. Not only are the challenges complex, but the market itself is dynamic. You are surrounded by incredibly intelligent individuals that you share and debate perspectives and views – you're constantly learning. I have been fortunate to work for companies that value mentorship, offer coaching, and, through sponsorship, have helped me rise in my career."
For Lauren, sales is ultimately about people and trust. "Given the choices clients have, I have found that truly listening to them, their needs, and having the ability to connect enables me to bring the best ideas forward in ways that solve the client's problems. Women tend to be good at building relationships and cultivating them over the long term," she says. "Many of us are also strong communicators and naturally empathetic. But, for the most part, we also do an excellent job of listening and then really thinking about the best way to solve issues. These are all traits of a great salesperson. We're fortunate because T. Rowe Price has an exceptional platform of strategies that we can offer our clients," Lauren says.
The firm's thoughtful approach to sales also results in better client relationships. In the spring of 2019, Lauren attended T. Rowe Price's executive women's roundtable forum in New York. Clients and company leaders came together to discuss the challenges women face in business. Female CEOs led a panel on how they overcame barriers in their careers, and speakers discussed topics such as conscious leadership. "The day was not about T. Rowe Price pushing products to senior executives at some of our largest client firms," she recalls. "It was about talking through the challenges we may experience and how to work in teams with both women and men."
As Lauren reflects on her career at T. Rowe Price, she also recalls another stand-out event that took place just a few months after joining. She and other newly hired associates were invited to Baltimore to meet with the company's CEO, chairman, and head of Human Resources. "We could ask the executives anything we wanted, and they were interested in hearing constructive feedback," she remembers. "It showcased the thoughtfulness of the firm and their desire to get to know us as individuals. For a firm this big, that's pretty incredible."