Community Commitment
Investing in our
communities
HOURS VOLUNTEERED BY OUR ASSOCIATES IN 2022
"The T. Rowe Price Foundation's contribution allowed us to complete a new facility on the west side of Baltimore City and serve the community directly."
Joe Jones, CEO and President, Center for Urban Families, Baltimore, Maryland
Baltimore associates mentor students through Big Brothers Big Sisters of the Greater Chesapeake


24 associates biked 460 kilometers from London to Paris to raise more than £100,000 for the Royal British Legion
Committed by the T. Rowe Price Foundation to nonprofits focused on racial justice.1
New York associates volunteer with the USO to build bikes for service members' children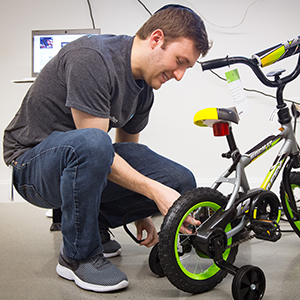 T. ROWE PRICE FOUNDATION
Supporting and enhancing community life.
Since 1981,  the T. Rowe Price Foundation has been working with nonprofits to identify innovative solutions that improve educational outcomes for youth, empower individuals, and enrich community life.

direct grants awarded by the
T. Rowe Price Foundation in 2022

The firms's London office hosts a Career Day for girls on International Womens's Day

Colorado Springs associates volunteer with Pikes Peak Habitat for Humanity
given by associates through the workplace in 2022

Watch video: Making a world of difference through Kiva.