Paola Rosa
Investment Liaison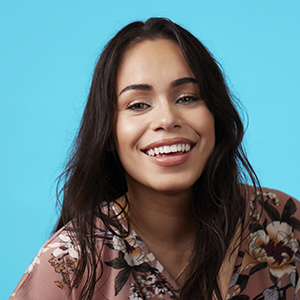 "I don't think I would have been in this role if I didn't make my intentions heard. So don't feel afraid to speak up, be unapologetic about it, and make your voice heard. I'm kind of exactly where I want to be right now."
Paola Rosa is an investment liaison at T. Rowe Price. In this Q&A, learn more about her career path and how she recently landed her goal position. She also discusses the importance of diversity and how her Brazilian background shaped her work ethic.
When Paola Rosa was working toward her degree in economics at McDaniel College in Maryland, she went to an internship fair where she met with a representative from T. Rowe Price. "I remember being super nervous and very excited at the same time," she recalls. "But I ended up getting the job."
For the next three months, Paola worked at the Portfolio Services Department in Owings Mills. "I really loved how welcoming everybody was and how much I was learning from everybody around me. They were all so willing to help." After that, Paola decided she wanted to stay on and work at T. Rowe Price full time.
As a young hire and a woman, Paola knew that she would have to work hard to get to where she wanted to be, but she was unfazed. "A big thing my Brazilian parents instilled in me was to always work your butt off," she says. "You should be grateful for the opportunities that you have. Not everyone has them." Armed with that advice and bolstered by the inspiration she takes from author Jordan Peterson, Paola got to work.
That was four years ago. Three months ago, Paola was promoted to her goal position as investment liaison at T. Rowe Price. We sat down to speak with her about her personal experience working at the firm.
Tell us about being an investment liaison. What does your work day look like? And what skills and education do you need?
I support the fixed income, emerging market bonds, and global high income strategies, so I have a hybrid role. We support the firm's portfolio managers and their strategies with reports, deliverables, and ad hoc data requests. The reports we send are mainly performance and holdings related.
You need pretty good Excel skills if you're in my role. There's a lot of macro usage, so understanding the VBA code behind those macros is key. When I first got to T. Rowe Price, my manager pushed me and had me write some Excel macros, which I'd never done before. He made that my project for the rest of the year, so I learned all about XML encoding.
You're brand new in this position. Tell us about how you got it.
I was working on the derivative strategic operations team and was ready for the next step in my career. I found a job externally and was prepared to go, but my managers said they would match the offer. I was very flattered. It felt so great to be supported.
The investment liaison team always intrigued me because they work with high-ranking people at the firm, like the portfolio managers, the front office, and all those internal stakeholders. So right around the time when my job hunting was happening, the investment liaison came to me and offered the position. I ended up staying because I found an internal opportunity that I really liked. I'm happy I did because it was the right move.
What's the work culture like at T. Rowe Price?
T. Rowe Price has been very supportive of the women at the firm. I don't ever feel discriminated against or highlighted for being a woman in a good or bad way. Instead, I am treated as an equal, which makes me happy and encourages me to stay at the firm. It really shows how good T. Rowe Price is at keeping their core values in mind.
In honor of Hispanic Heritage Month, let's discuss how T. Rowe Price fosters diversity.
It's not necessarily that anybody's going out of their way to make me feel comfortable. It might actually be the opposite—that it's just not an issue, a non-factor to consider. Of course, for people who do want more attention in that area of their life, there are programs like WAVE @ T. Rowe Price, MOSAIC, and others to help people feel more included. But I've never felt excluded.
In your opinion, does diversity of thought and experience strengthen the work culture at T. Rowe Price?
Diversity is so important for that reason—not for diversity of color, but for the diversity of thought. That takes precedence—having good ideas and values and different ethnicities and cultures to pull from. Coming from a Hispanic background, I might have very different core values than somebody from a different cultural background. I see very different cultural values at T. Rowe Price.
How does that play out in the work that T. Rowe Price does or within the work culture that it has?
We're always looking for new ways to do things. We're always looking to improve and expand. And you can't do that if you have the same mindset everywhere you go. You have to have different opinions, histories, and cultures.
What advice would you give to a young woman early in her career?
In his book, "12 Rules for Life", Jordan Peterson talks about going after what you want. I don't think I would have been in this job if I didn't make my intentions known. So don't feel afraid to speak up, be unapologetic about it, and make your voice heard. I'm kind of exactly where I want to be right now.