Dan Everett
Associate Client Engagement Manager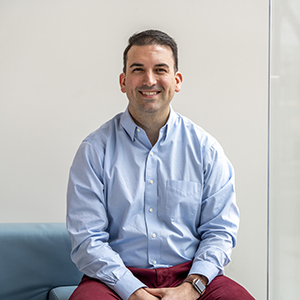 "The military teaches you to be loyal and to trust yourself in uncertain situations. We're also taught to be curious, seek out solutions, be resilient, and work with teams. I think those are all linked directly to the values of T. Rowe Price."
After five years with the Marines plus studying economics at the University of Maryland, Dan Everett began looking into opportunities at large financial firms in the local area. He kept hearing great things about T. Rowe Price. "Everyone always talked about the very supportive and understanding work environment," Dan says. "It sounded like a great place to work."
He had joined the U.S. Marines right after high school and served as an operatormaintainer, trained to repair and operate sophisticated radio communication equipment. "I wanted to go to a big university, and I knew the Marine Corps could help me pay for it," he recalls. "I deployed twice to Iraq. In 2003, we augmented the infantry units during the Iraq War, and then I deployed again in 2005 to support the efforts to help stabilize the country."
Seven years ago, he joined T. Rowe Price in back-office operations. "We worked on transfer agent fund management, reconciling trades, and handling the mechanics behind bringing in and sending out assets."
Early on, Dan's manager encouraged him to sit in with other departments and pursue projects that interested him, such as improving how the firm leverages and uses investment professionals with clients. "In 2017, if you wanted to work with an investment or portfolio specialist, you just picked up the phone or emailed them," Dan explains. "That was fine when it was maybe 30 to 50 people. But with almost 100 external associates and over 150 different relationship managers, they needed a better way to manage that."
Dan and his colleagues helped transition that process from email and phone to the firm's customer relationship management software (CRM). "Seeing it go from idea to execution was very rewarding," Dan remembers. "Due to the nature of the work, I also had access to and developed strong relationships with a range of senior investment leaders at the firm."
Ultimately, Dan impressed management with his ability to see projects through to completion. He was offered his current role as Associate Client Engagement Manager within the U.S. intermediaries channel.
"I often hear that I'm organized, I always have a plan, and that I'm forward-thinking," Dan says. "Those are skills I learned in the military, and I've always been encouraged to use them here at the firm, too. In the corporate world, folks can be too focused on their particular role, but T. Rowe Price can be like the military. We all have the specific tasks we're good at, but you always have your eye on the project as a whole and step in when something needs to get done."
Over the years, veterans at the firm have informally found each other and connected over their shared backgrounds. However, it wasn't until recently that the new veteran resource group, VALOR @ T. Rowe Price, became official. "We can now really support veterans and recognize our past and future contributions," says Dan. "The new business resource group is big for many veterans at T. Rowe Price because the firm formerly recognized that we contribute positively to workplace culture. It acknowledges that our experiences help the firm to achieve strategic goals."
As a leader on VALOR's Community Engagement committee, Dan wants to highlight how veterans add value to the firm. "The military teaches you to be loyal and to trust yourself in uncertain situations," he says. "We're also taught to be curious, seek out solutions, be resilient, and work with teams. I think those are all linked directly to the values of T. Rowe Price."
It all comes back to the firm's core objective of helping clients achieve their financial goals. "Everything you do should be focused on helping improve their situation," Dan says. "It's like they say in the Marine Corps, 'Leave every situation better than you found it.'"