Katie Deal
Washington Policy Associate Analyst
5/29/2019 | By Corporate Publishing | Faces of T. Rowe Price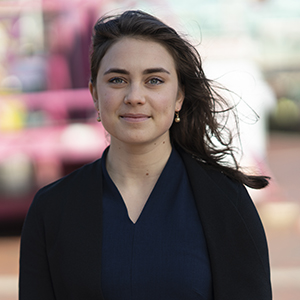 "If our job is to help people have confidence in their futures and achieve whatever they have planned, their identities absolutely influence their goals and should not only be taken into account, but celebrated."
Those hired to work in regulatory research at financial services firms typically have previous experience at regulatory agencies or have had a hand in making legislation on Capitol Hill. But T. Rowe Price saw potential in Katie Deal and hired her right after she graduated from the University of Virginia.
"I most certainly did not look like a policy expert coming out of school," says Katie, who studied African-American studies, history of civil rights law, and urban planning at UVA. "T. Rowe Price took a risk on me because they recognized my potential to become the kind of policy analyst they could use," she says. "They noticed that I care a whole lot about research and about understanding why things work — not just what the outcomes are."
Asking the right questions is important to Katie — it's why she was immediately attracted to T. Rowe Price's unique focus. "In other places where I interviewed, there was so much emphasis on what products they delivered or who their fabulous CEO was," Katie says. "But at T. Rowe Price, the focus was really on why the firm is successful, how valuable every single person is in our culture, and how we can help each other get better." The integrity of the process and how it fuels T. Rowe Price's work culture truly inspired Katie.
Now an associate with the firm, Katie gets to tap into her background in civil rights law through her work with T. Rowe Price's Pride advisory group. "The group's goal is to make sure that what we do as an asset manager, which includes the products that we provide to people and the kind of work environment that we create for our associates, is as open and inclusive as possible," Katie explains. After all, people's goals and their identities are intrinsically linked. "The Pride advisory group does a great job of making sure that an essential facet of someone's life — who they love, who their partner is, and the way that they engage with the world — is encompassed with their goals and is celebrated too," she says.
As a woman in finance, Katie can appreciate systems that support individuals and their goals. "Even from an early stage, T. Rowe Price has made sure that women who are portfolio managers and investment analysts have the resources that they need to be successful," she says. She feels fortunate to be able to give back some of that support through mentorships at the firm.
What's more, the systemic inequality that exists within the finance industry is continuously discussed and addressed. "Because we're aware of those problems, and because we've been leaders in figuring out how to implement changes in our own organization," she says. "We can make sure that any inequities are immediately addressed and fixed – thanks to not only the proactive women who work at T. Rowe Price but also due to the people who don't identify as women who are our incredible allies."
When Katie first made the transition from academic studies to working at T. Rowe Price, she was so focused on diving into the details of asset management that she lost sight of the big picture. That is, improving the lives of clients. Her manager then gave her some invaluable advice, "If we do our jobs well, then someone in a pension plan somewhere might be able to retire a whole year early. Our clients are the men and women who wake up every single day to go to work so that they can invest in their futures, their kids can have a better life, and they can enjoy the last years of their life."
Retirees like her father are always at the forefront of Katie's mind while at work. "I can just visualize my dad coming home from work on his last day and his shoulders already looking like they were two inches lower, and just seeing the weight of the world be lifted off them," she says. "When I do my job the best that I can, I'm making sure that someone else has the opportunity to have a couple more days that are theirs, that they've earned, and I've achieved what I've set out to achieve."