Rita Li
Senior Data Scientist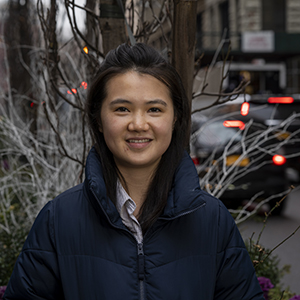 "One of my favorite things about the job is the team I work with. It's a diverse team of people who are good at very different things. That's the kind of secret ingredient that makes great data science teams deliver outstanding projects."
When Rita Li joined T. Rowe Price three years ago, she hadn't realized she was the first woman hired at the Technology Development Center in New York. "It didn't occur to me until day one when a manager was introducing people, and they were all male," she says. "I felt proud to break that gender barrier. These days it's more balanced, however. Women now represent about half of the Center's data scientists."
Rita, who is now a Senior Data Scientist, knew she wanted to pursue this career after doing a statistics project as an undergraduate at the University of Michigan. "I enjoyed being able to see how data science and predictive modeling can bring down the cost for a lot of different fields," she says. "I was focusing on medical for that group project. But I was able to see how industries ranging from finance to sports could use data science and get many benefits."
As a graduate student at New York University, Rita interned at Major League Baseball (MLB). There, she used predictions and extrapolations to improve business initiatives and new market development opportunities. After graduating with a master's degree, Rita joined a large insurance company as a data scientist and worked with different actuarial tables.
Her interest in data took a new direction when she interviewed with T. Rowe Price and spoke with Jordan Vinarub, who oversees the Technology Center. "He discussed the idea of creating this agile and cutting-edge technology that uses new tech, data, and algorithms. It had the potential to transform the way that we were doing investments and distribution," she recalls. That ambitious and inspiring mission combined with the kind of resources and stability a large company can offer sealed the deal for her.
Software engineers and data scientists working at the Technology Development Center use technology as a strategic differentiator for the firm. For instance, they've improved marketing strategies for a variety of client groups by creating customer segmentation and propensity modeling.
In her current position, Rita works with data to build predictive modeling and deliver insights. "We are currently working with both the investment and distribution sides," she says. Despite her years of experience and degrees, Rita's current responsibilities stem from skills she's learned while at the firm. "I came here with more of a stats and math background and very little understanding of database knowledge or cloud technology" she says. "The job that I'm doing every day is not something I had expertise in before. I learned it here over the past three years."
Rita and her associates recently selected three areas where they want to develop skills. Their goal is to not only deepen their existing knowledge but also broaden their horizons. "I committed to learning more about cloud technology and domain knowledge, especially on the marketing and investment side. The third skill involves staying on top of trends and cutting-edge developments in data science, such as what's on the frontier in artificial intelligence," she says.
Rita says she's never worked in such an agile environment before, noting that it's one thing to commit to delivering something within a timeframe. But it's quite another to consistently check in and stay ahead of testing and problem-solving along the way. "One of my favorite things about the job is the team I work with every day. It's a diverse team of people who are good at very different things," she says. "For example, someone will be excellent at simulating data while someone else is good at cloud-based design and knowledge sharing. That's the kind of secret ingredient that makes great data science teams deliver outstanding projects."
As the first female addition to such an innovative team, Rita has given back to help other women excel in the field. She recently spoke at a Society of Women Engineers panel for college students and volunteered at a local high school by offering career advice and participating in rsum workshops.
"I think that being a woman in tech is an advantage because you bring a refreshing new perspective to teams. You need to recognize it's a strength," she says. "You have to be prepared to be the only female in many situations and industries."
Rita advises all those about to embark on their careers to put faith in their contributions. "Even if you've just joined and don't think you know many things, find the courage to express yourself," she says. "Don't be afraid to voice your opinion you were hired for a reason."