Christine Carolan
Director of Consultant Relations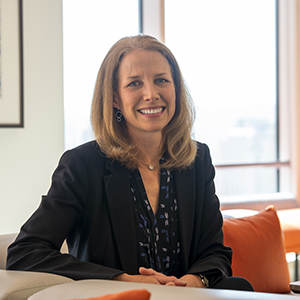 "Women looking for a career in sales, particularly in this industry, will find an incredible network of women who have grown up through the organization. They're more than happy to mentor and advise those who are just starting their sales careers."
Christine Carolan calls herself a boomerang employee– that is, after 13 years at T. Rowe Price, she left but soon came back. "I quickly realized how much I missed the culture," she says. When Christine first joined as a sales executive in 1996, the firm's reputation in the retirement plan marketplace attracted her. "When I left in 2010 and then came back in 2016, it was all about the culture and the people," she explains.
Christine is currently the Director of Consultant Relations for the Retirement Plan Services division. "My team's job is to build and grow our relationships with retirement plan consultants and advisors around the country," she says. "It's a combination of sales and relationship management. We are responsible for establishing relationships with highly influential consulting firms, presenting T. Rowe Price's products and services to them, and developing strategic solutions to support their business needs. In many ways, we serve as a liaison between consultants and the vast resources of T. Rowe Price."
She never intended to make a career in sales. However, in one of her early positions in the marketing department of a major corporation, her manager pointed out that she could excel in that area. "I was amazed because I consider myself reserved, if not shy. Those are not typical traits that one associates with sales," Christine says. "What I've learned over the years, though, is that selling is ultimately about listening and problem-solving. You have to build relationships to understand your clients' needs and then work to put together a solution that addresses their challenges."
Those skills are all the more important in the retirement planning industry. "Our clients face so many challenges," she explains. "It's not just about selecting the right investments. They're also working through administrative challenges and constantly evolving regulatory requirements that affect the retirement plans and benefits they offer to their employees."
When she first joined T. Rowe Price, Christine sold bundled retirement solutions, investments, and recordkeeping to plan sponsors in the Midwest. "I then relocated to San Francisco where I took over the large market territory and became a sort of team leader for our sales group," she recalls. Over the course of her career in sales, Christine has worked with an extensive network of consultants. "Then, a major consulting company recruited me. I thought it would be interesting to try my hand at something different and get to know the industry from the other side of the table," she says.
A few short years later, she had a greater appreciation for what she had left at T. Rowe Price. In the end, she rejoined the firm as a sales executive selling services to large employers throughout the West. "I gained a lot of great experience while I was away and experienced different approaches to management and leadership," she says. "At other firms, there are so many directives pushed down from above. But at T. Rowe Price, there's a much more collaborative approach. As an employee here, you always have the feeling there's an open door to management and that your opinion and ideas matter."
Early in her career with T. Rowe Price, Christine saw this approach in action. She was trying to land a new client and wanted senior management to get involved in the finals presentation. Not only did senior management show up, but one of the division presidents gave the client a ride from their hotel to the dinner and then drove them home. "We won that deal, and they're still a client today," says Christine. "It resonated with the clients to see the team come together without the sense that senior executives were standing back and expecting everybody else to do the work. Instead, they witnessed this incredible hands-on approach. It changed the way that I thought about leadership and my career."
When she started her career, Christine says she was unique to be a woman in sales. "As much as the financial services world has historically been male-dominated, the human resources world has not," she says. "The services that my team is delivering to the marketplace are very much about human resources and employee benefits. Throughout my career, although I was one of the few women in sales, I found it easy to connect with the human resources professionals who are making these decisions."
The number of women in sales at T. Rowe Price has grown exponentially since Christine started. "Women looking for a career in sales, particularly in this industry, will find an incredible network of women who have grown up through the organization. They're more than happy to mentor and advise those who are just starting their sales careers. We even have a whole group called Women in Sales that focuses on collaborating and offering those opportunities for other women to grow in their roles."
With 18 years at T. Rowe Price and work experience that spans three other firms, Christine has the perspective to share career wisdom. "I would advise women in this business to recognize their strengths and lean into them," she says. "Sometimes, women who are contemplating sales careers feel that they need to adapt and take on a different persona. You don't. You bring different strengths and perspectives. Once you leverage that, you can be true to yourself, which is going to make you the most comfortable and most successful in your role."