Chiho Amano
Office Manager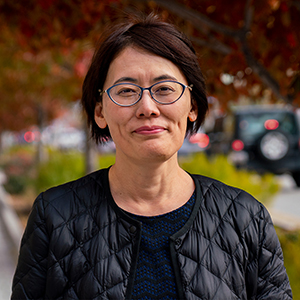 "Through corporate responsibility activities, associates have the opportunity to get to know each other, work together, and connect with the community."
When Chiho Amano first began working at T. Rowe Price, the Tokyo office had only three associates. However, throughout her 28-year career, she has watched it grow to accommodate more than 70 employees. "At the time, I was working at an insurance company and wanted a change," Chiho says.
She was pleasantly surprised to find senior executives present at the interview. "I never thought the company president or plan manager would be present at an interview to fill a position like research assistant," she recalls. "I got the sense that they were interested in learning about potential hires and understanding their core qualities."
Today she serves as Office Manager. But she started as a research assistant to the fund manager, visiting different companies, doing some translation, and preparing research data. Over the next two decades, Chiho also explored many other roles like associate analyst and compliance officer.
In her current role, Chiho takes care of all office-related and facilit-yrelated activities and also supports associates and manages the office environment. "I have also been a kind of liaison manager with offices in Baltimore and London and also some of the APAC offices," she explains. In her current position, her responsibilities include identifying volunteer events that will give back to the community and engage associates in other activities outside of work. "It develops their relationships across departments," says Chiho.
Tokyo associates recently participated in a charity marathon, raising one million yen (about US $10,000) to support local non-profits. "Our associates organized a team for the relay race," she explains, "so they also did a lot of practice and training by themselves before the event. In doing so, they developed a good relationship and friendships as well."
Chiho is consistently impressed by the firm's dedication to volunteer work and social responsibility. "It's a significant part of the company that associates aren't always competing with each other in regards to performance," she says. "By developing and encouraging social responsibility activities, associates have the opportunity to get to know each other, work together, and also have a good relationship with the community."
Unfortunately, all in-person volunteering events are canceled for the time being due to the current pandemic. Therefore, Chiho is helping her office use the budget earmarked for those projects by donating to the Red Cross, Doctors Without Borders, and other organizations providing support during the global health crisis.
That type of outreach is just one of the many duties that falls under her umbrella of responsibilities. "I find it fun to juggle so many tasks and make sure the office environment is good for everyone," says Chiho. "When a very senior person comes to visit our office, they will speak to any associate – regardless of position," she adds.
While looking back on her time with T. Rowe Price, there's one memory, in particular, that continues to stand out as a prime example of how much the firm values its associates. "In 2008, when Lehman Brothers declared bankruptcy and so many in our industry were losing their jobs, the firm took very seriously its responsibility to reassure us," she says. T. Rowe Price has always opened up new doors for her, encouraging her to pursue what interests her in the industry as well as provide training on new skills. "It's given me a lot of different opportunities," she says.
As a witness to the Tokyo office's successful growth, Chiho has some advice for those just getting their start. "On the first day, rather than just trying to learn only things about the business, get to know one another by talking to each other," she advises. "There are many different types of professionals working in the same company. Without working together and focusing on each other, we cannot grow."