Kate Maddock
Senior Learning Consultant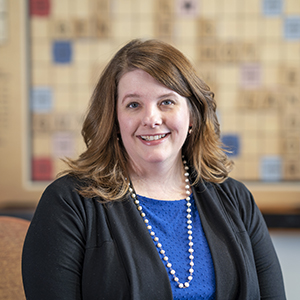 "Once I did the interviews and researched the company, I realized that T. Rowe Price would be a perfect cultural fit for me. It was clear that their values include integrity, diversity, inclusion, and putting clients first."
As a Senior Learning Consultant at the Colorado Springs office, Kate Maddock is integral to the growth of T. Rowe Price associates. In addition to facilitating classes like new hire trainings or ongoing development, she also manages vendor relationships, oversees marketing for Enterprise Learning programs, maintains program content based on learning needs, and assists with instructional design. "I love helping people tap into their potential," Kate says. "Whether it's job-specific training or classes on productivity and project management, I see people have those 'aha moments.' They feel it click and realize how they can use new skills to make a difference."
While Kate has found her niche at T. Rowe Price, she was unsure about her career path before joining the firm over 18 years ago. As a recent college graduate, Kate didn't know much about the firm or the financial services industry when she applied for a position in the retail service department.
"Once I did the interviews and researched the company, I realized that T. Rowe Price would be a perfect cultural fit for me. It was clear that its values include integrity, diversity, inclusion, and putting clients first. My favorite quote from Thomas Price Jr. is, 'If you take care of your clients, your clients will take care of you.' I feel like that's true for both internal and external clients."
Kate joined the retail services division. After a few months, a supervisor tapped her to work on a temporary assignment on the retirement plan side. "I was doing well in my position. But I had also let my manager know that I was interested in exploring other opportunities and career paths," she says. During the job rotation, her manager continued to check in with her to learn what type of work most interested her.
"Just before my first anniversary with the firm, I moved into a client-facing role in retirement plan services, where I interacted directly with the plan sponsors at different companies," Kate recalls.
It's relatively common for associates at T. Rowe Price to try out various roles in different divisions. According to Kate, there are now even more temporary rotational positions available. That means employees can spend six months getting to learn another side of the business. "Many times, even in leadership, you see a new supervisor in one group who had never worked in that group before," she says. "Still, they have great leadership skills, and that's always transferable."
In 2008, she transitioned to the learning consultant role, where she's been ever since. "Over the years, I've had different managers with different styles. But our conversations always included discussions of what I'm doing well, what interests me, and what other opportunities exist," she says. "Our managers' leadership styles are based on having those conservations about where their associates are and where they want to be."
With the recent disruption of the COVID-19 pandemic, most T. Rowe Price associates are currently working off-site. Kate now spends much of her time helping them continue to thrive and grow while working from home. "I'm doing a lot more consulting with regard to virtual training, showcasing how the technology works and sharing best practices," she says. "No one should have to put a hold on their development because they're not in the office."
Looking back on her 13 years facilitating learning programs for T. Rowe Price, one specific training really stands out. "As part of our PRIDE @ T. Rowe Price business resource group, we offer training on how to be an ally, and we've had a lot of really positive feedback on that," she says.
The training aims to increase awareness, inspire people to think about and empathize with others, and learn practical ways to be supportive. "It's been enlightening to see people on the path to becoming a better ally," she says. "It's helped me continue to learn things as well."